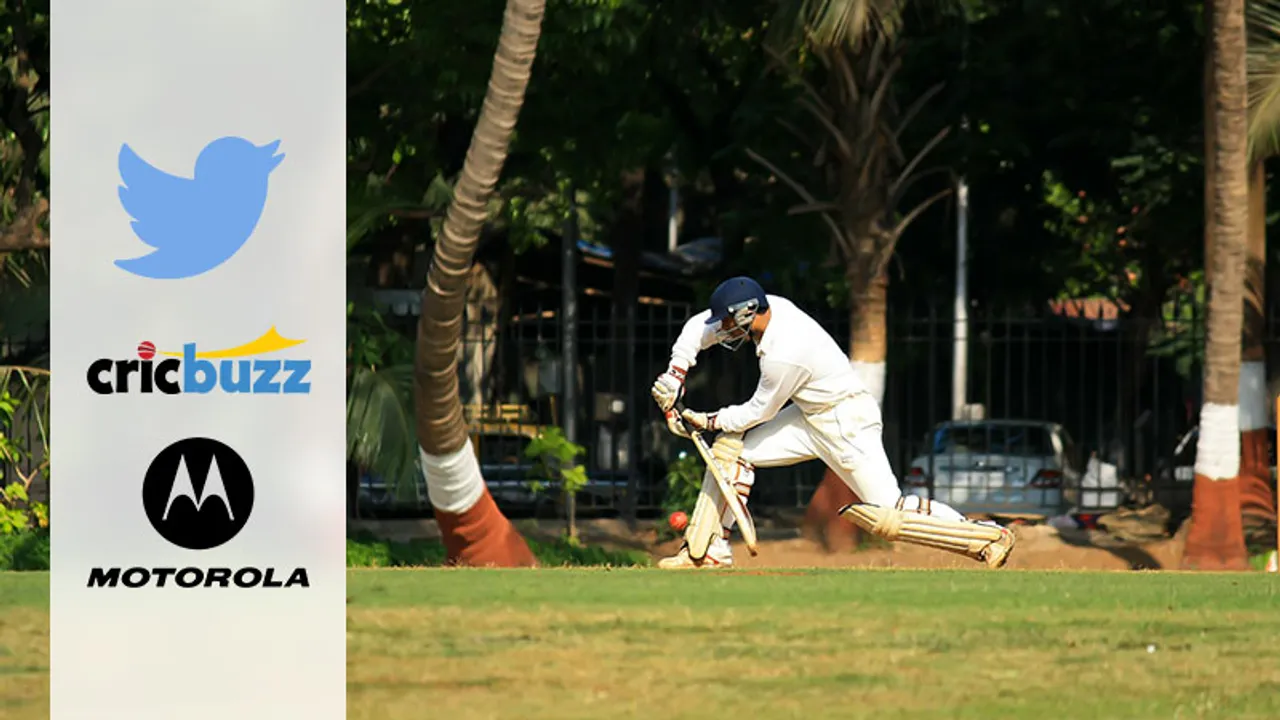 Cricket fans rejoice as Twitter Cricbuzz Motorola partnership is here for an In-Stream Live Video Sponsorship Deal for #IndVsAus series.
The place for live Cricket conversation, Twitter has capitalized on the #IndVsAus series to strike up a partnership with Cricbuzz and Motorola India for an In-Stream Live Video Sponsorship Deal.
The Twitter, Cricbuzz and Motorola India partnership ensures that fans have access to analysis videos from ace cricket commentator Harsha Bhogle during the ongoing #INDvsAUS series.
Is Hardik Pandya the seam-bowling all-rounder India had been searching for all these years? @bhogleharsha shares his thoughts. pic.twitter.com/UE7ETd2yG7

— Cricbuzz (@cricbuzz) September 25, 2017
#INDvsAUS has been a success for India, with the hosts taking an unassailable 3-0 lead in the series. The excitement will now go up a notch as India set their eyes on a whitewash, while Australia try and salvage some pride. Through it all, fans will get a breakdown of the key moments through Harsha Bhogle on @Cricbuzz's handle, ensuring that they never miss out on the action.
Twitter's In-stream video sponsorship product enables publishers to monetize video content while making it easy for advertisers to reach engaged audiences and sponsor exclusive content.
Twitter plays a key role in facilitating both content creators and brands to capture the excitement from broadcast and distribute it to fans and audiences across the platform, far beyond their existing followers. Audiences can immediately relive that moment or experience it for the first time on their mobile phones while they engage in conversations on Twitter. So don't miss out on the action and catch the buzz on Twitter!
"Twitter has always been the destination for live sports conversation and is also home to live, conversational video. Twitter's In Stream Video Sponsorship product has been adopted by premium media partner and brands globally and we're excited that cricket fans on Twitter won't miss out on key insights from Harsha Bhogle during the India-Australia series thanks to Cricbuzz and Motorola India." said Aneesh Madani, Head of Sports Partnerships, Asia Pacific, Twitter.
"We are delighted to be the first digital sports destination from India to do an In Stream Video Sponsorship deal with Twitter. Twitter is a key partner for conversations around our special video blogs with our voice of cricket, Harsha Bhogle. It's great to have a premium brand like Motorola India take these videos to the timelines of cricket fans throughout the India-Australia series." said Pankaj Chhaparwal, CEO, Cricbuzz
"Cricket is the biggest sport in India and keenly followed by our TG, thereby becoming a key reach vehicle for us. We know that while our audience watches cricket on TV or digital platforms, the conversations about it happen real-time on Twitter, and we wanted to be a part of these live conversations. We have been following a multi-screen media approach as a part of our integrated communications, and ensure we are not just advertising during big sports events but are also actively present during live conversations, and hope to make this a continued strategy. We are happy to be the first In Stream Video Sponsor for cricket analysis videos on Twitter through a partner like Cricbuzz. " said Rachna Lather, Marketing Head, Motorola India.