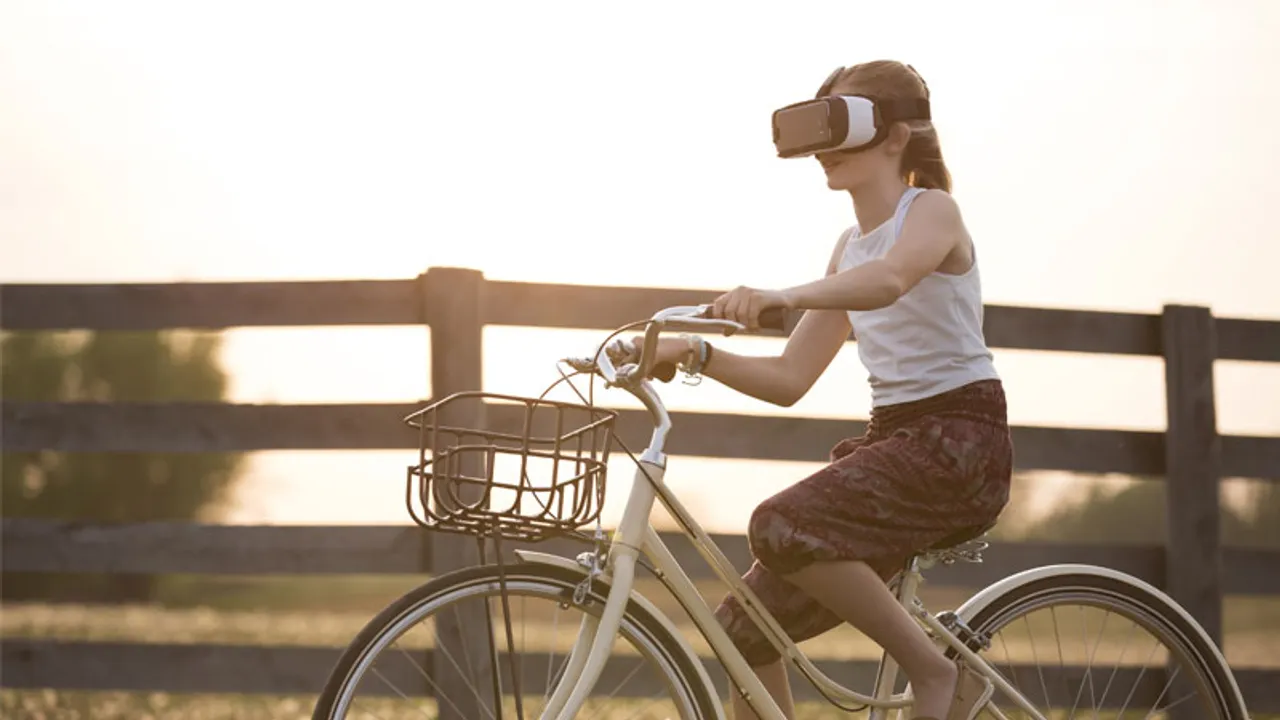 Facebook's Oculus Go, an all new standalone headset that does not require cables, or a computer will be launched next year.
The Oculus Go, priced at $199 was produced and will be marketed for the masses, and has been designed to be easily operated by people haven't experienced Virtual Reality before. Playing games, watching movies, and even video chat with friends will be possible with the Oculus Go and its orientation tracking and it will be shipped with a 3DOF controller, with Dev kits shipping in November.
Facebook has invested heavily in virtual reality hardware in hopes the technology, which offers a 360-degree panoramic view of faraway or imaginary spaces, will move from a niche interest to a widely used platform for gaming, communication and business applications.
In 2014, Facebook paid $3 billion to acquire Oculus and retain its employees.
The Oculus Go is billed as simpler than the Rift, which went on sale last year, or the Vive system made by HTC Corp (2498.TW). Both of those require desktop computers to operate.
"I think you're going to see these a lot on airplanes, because it's way better than the back-of-the-seat monitor or my phone," Mike Schroepfer, Facebook's chief technology officer, said in an interview to Reuters.
Schroepfer said the device is aimed at people who do not have Samsung smartphones. Oculus and Samsung Electronics Co 005939.KS already sell a device, named Gear VR, that when paired with certain Samsung phones is similar to Oculus Go.
Alphabet Inc offers a rival headset, Google Daydream, that works with yet more smartphones.
"The Oculus Go has potential to be a huge driver of growth," if people like the titles and apps on it, Stephanie Llamas, vice president of research at Super Data, said in an email.
Project Santa Cruz
Parallelly, Facebook is also said to be working on Project Santa Cruz, a completely untethered, positionally tracked headset.
Over the past year, Facebook has brought in fully tracked 6DOF controllers to enable true hand presence in a standalone form factor. This helps deliver Rift-like immersive content in a standalone headset and will be made available to developers by next year.
Facebook is also cutting down the price for the Rift from $499 from $399 worldwide.
Facebook is expected to ship 213,000 Rift systems this year, while HTC is expected to ship 305,000 Vive systems, according to Super Data research, per Reuters.
Beyond price cuts and new products, Facebook is trying different ways to attract people to the virtual-reality medium.
Oculus for Business
An all-in-one solution for businesses looking to integrate VR for workplace training, collaboration, retail sales, and much more. Each bundle includes Rift, Touch, three sensors, extra facial interfaces, and a four-meter dual input cable. Available for sale online (at www.oculus.com/business), the bundle also includes dedicated customer support, as well as a new commercial license and warranty, and is priced at $900.
New Oculus Software

Rift Core 2.0
The first major redesign of the core Rift software experience includes two systems: Dash and a completely re-designed Oculus Home.
Dash
The new UI and universal menu experience in Rift. Bring your entire PC desktop and dock of apps to an overlay that carries across your virtual space; use intuitive Touch controls to work and play in VR.
Oculus Home
Opens up the platform for customization and expression. Design your own place in VR with environments, decorative elements, and interactive gadgets. You can also share and visit your friends' places to see what they've created, with more opportunities for co-presence in the future.
Social VR Products
Venues
Venues is a brand new experience launching next year that lets you watch concerts and catch premieres of new movies and TV shows with thousands of people. More announcements about the content line-up coming next year.
3D Posts on Facebook
A native 3D media type in Facebook News Feed. Facebook is opening up the power of immersive experiences to everyone with the ability to share virtual content beyond the boundary of the headset in full interactive 3D. Starting with objects created in Oculus Medium and marker drawings from Facebook Spaces, and opening to more VR content types soon.
Live 360 video in Facebook Spaces: Brings the wealth of Live 360 content from Facebook into social VR. People can view Facebook Live 360 videos in Spaces to feel like they're anywhere in the world with friends in real-time. Rolling out this year.
Immersive 3D entertainment in Facebook Spaces: A new way to experience art and entertainment created specifically for VR with your friends in Spaces. Starting with animated short stories created in Quill.
Kits in Facebook Spaces: Anyone in Spaces can make their very own kit (like a game or a set of decorations) that they can save in their space, use again and again, and share with friends. It will be launched sometime this year.
Share in Gear VR: With the new Share API you can easily allow people to post content from your app straight to Facebook, from selfies to pieces of art.
Livestreaming comments in Gear VR: Now, when you livestream from Gear VR, you can see the comments your friends make on Facebook displayed inside your headset—making streaming more interactive than ever before.
New Content
EXPERIENCES:
Coco
Pixar's first VR experience, with the visual and storytelling magic only they could produce. Coming to Rift November 15 and Gear VR November 22, the day of the film's release.
Space Explorers
New project from Emmy winners Felix & Paul Studios, Space Explorers lets you prepare for launch with NASA's astronauts. Coming to Gear VR and Rift in early 2018.
Stranger Things/Face Your Fears
This brand-new experience in fan-favourite Face Your Fears directly ties to Netflix's Stranger Things when your VR headset takes you to The Upside Down. Launching on Halloween.
Blade Runner Memory Lab
Uncover a thrilling conspiracy in the world of the Blade Runner: 2049 motion picture from Alcon Entertainment. The second of three Blade Runner: 2049 experiences coming to Rift October 19 and on Samsung Gear VR October 26.
Games
Echo Combat
Ready At Dawn, the creators of Echo Arena (Critic's Choice Best VR Game at E3) announced Echo Combat, an expansion to the Echo universe. Take flight with this zero-g FPS in 2018.
Lone Echo
Lone Echo earned a score of 89 on Metacritic in July, and fans have made it one of the most popular titles on the Oculus platform.
MARVEL Powers United VR - Thor Reveal
Facebook revealed Thor as a new playable character in the cast of MARVEL: Powers United VR. The game will launch in 2018 with more than 20 playable characters.
Respawn - Oculus Partnership
Respawn Entertainment, the legendary creators behind beloved franchises like Titanfall and Call of Duty, is partnering with Oculus and going all-in on a major VR title due for release in 2019.
Developer Products
Explore API
A brand new API. The company is opening the power of their recommendation engine to let developers create custom stories and boost discoverability of their content on mobile VR.
New Oculus Avatars
Oculus Avatars introduced a new look, with more options for skin, hair, and clothing for a more personalized appearance. Developers will also be able to design custom clothing and accessories that match the theme of their game and app. New Oculus Avatars will launch in early 2018.
Additionally, Avatars will enable cross-platform support. And, later next year, the system will incorporate technology for more dynamic avatars, with lip-synced mouth movement, eye movement, and facial expressions.
Lost Frame Capture
A new Oculus Debug feature that shows you exactly where you're not hitting frame rate so you can more efficiently test and improve your Rift apps before submitting.
Multiview
A rendering technology that lowers the overhead on mobile, to allow developers more freedom and richer scenes. Developed over four years in partnership with Khronos, Unity, Unreal, AMD, and NVIDIA. When enabled, Multiview renders a scene only once, making draw calls cheaper and giving the CPU more room to hit frame rate.
(Without this feature, engines render the scene twice: first to render the left-eye image, and then again for the right-eye image.) An automated technique, Multiview can increase draw call performance by up to 40%.
Tools to Build Safe Communities
New APIs, alongside Facebook's existing Rooms and Recently Met APIs, make it easier for developers to build safety features into their social apps and experiences. They are starting with dedicated platform features to allow in-app blocking and reporting, available free to developers using the Rooms API. More features for more monitoring, reporting, and enforcement will come next year.
With inputs from Reuters.