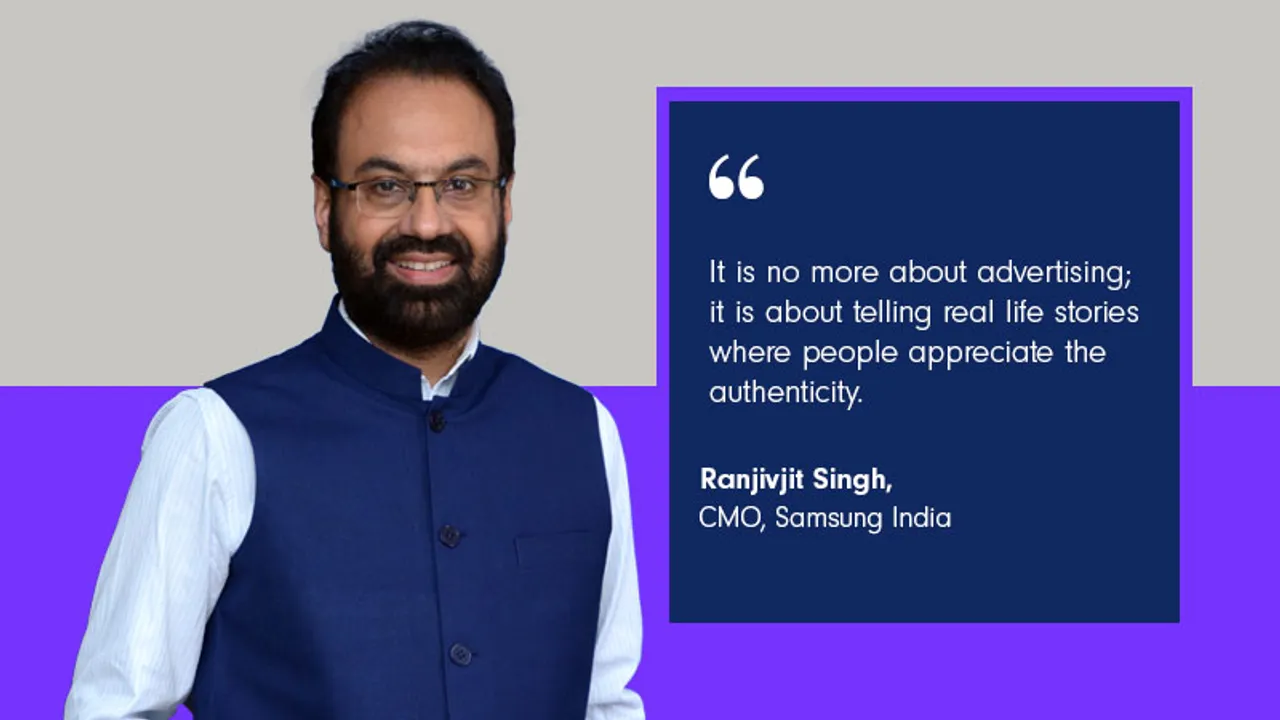 Relevant, emotional, inspirational stories are essential to engross and engage digital audiences, shares Ranjivjit Singh CMO, Samsung India. 
There's a sustained shift towards digital platforms by brands and consumers, globally. India is no exception, given its increasing rate of smartphone usage. Estimates indicate that smartphone penetration in India will touch 520 million by 2020, with the country emerging as one of the world's largest smartphone markets.
Interestingly, Nielsen research reveals that Indians venturing online use their mobile phones as their primary screen, with video streaming services being enjoyed by 92% of the smartphone users.
Countering Complex Challenges
For companies seeking to engage with digital savvy consumers, the challenges are more complex than those faced in engaging with conventional audiences. More so because the attention span of digital audiences is brief as the digital world is awash with myriad messages and inducements.
Consequently the content companies put out, the visual and the verbiage needs to be extremely captivating, else eyeballs will be minimal and transitory at best. Brands are turning to human interest stories that are real, relevant, emotional and inspiring because they tend to connect better and aid quicker recall among audiences. Understanding this reality, Samsung India has placed customers at the centre of its digital campaigns—just as it does while undertaking research and innovation activities.
Keeping the emotional angle in mind, Samsung launched campaigns showcasing how their products and services have helped people achieve what they thought they can't. These include campaigns on the Samsung Smart Class, Samsung Technical School, Samsung Customer Service Vans, and the latest QLED TV.
Each of these has taken online storytelling to greater heights of engagement with the audience, as attested by their warm reception.
The Samsung Smart Class campaign #SapneHueBade showcases how access to latest technology is helping students from remote areas to dream bigger. It captures the success story of Sadanand Ugale a student of Jawahar Navodaya Vidyalaya, Aurangabad, who hails from a remote village called Chinchada in Maharashtra. He secured a study trip to Australia and now dreams of achieving bigger things. The TVC highlights commitment of Samsung in using innovation in transforming communities, thereby ensuring a better life for people via its citizenship initiatives.
Launched in association with Navodaya Vidyalaya Samiti in 2013, Samsung Smart Class today, is available in over 500 Jawahar Navodaya Vidyalaya schools managed by the Government of India's Ministry of Human Resource Development. It has benefited over 250,000 students from all backgrounds by providing modern education. For this, more than 8,000 teachers have been trained in using interactive teaching technology.
 Credible, Captivating Narratives
The second #SapneHueBade celebrates an inspiring story of Seema Nagar, who hails from a small village of Rajasthan. She defied gender stereotype and went on to pursue training at Samsung Technical School in ITI, Jaipur. Today, she dreams big and wants to set up a 'Service Centre' in her village.
Samsung has 21 such centres across India, launched in collaboration with the Ministry of Micro, Small and Medium Enterprises and Department of Technical Education in various states. The schools have trained more than 3,000 youths, helping them in securing employment.
Similarly, Samsung India's popular campaign showcasing how its doorstep customer service brings a moment of joy to consumers in the hinterlands crossed 100 million YouTube views in barely seven weeks of its release. By February 2017, #SamsungService became the world's highest-viewed advertising video in the consumer electronics and smartphones category and the highest-viewed YouTube advertising video across all categories in India.
A meaningful brand will narrate its story in a powerful way and one that connects with its consumers. At the end of the day, consumers will remember the story and that is what will help create a strong brand recall.
These campaigns showcase the brand ethos of Samsung—helping communities, caring about consumers at every step and bringing in innovative technologies to solve real life problems. India is a market of cities and villages and Samsung wants to be present at all consumer touch points, be it digital or conventional media.
Being present in India for over two decades now, Samsung has grown as a brand along with the country. A strong connect with the Indian consumers has only been possible due to the long-lasting relationships that the brand has cultivated in all these years. Taking this to the next level, Samsung has adopted a different communication approach. While product advertising exists, Samsung has been consciously shifting towards emotional storytelling.
It is no more about advertising; it is about telling real life stories where people appreciate the authenticity.
As digital transformation gains momentum, it's imperative for brands to narrate unique stories and engage consistently and actively with audiences. The Internet has rightly empowered consumers to share their own experiences instantly with a wide-ranging audience and for brands to appeal to them the conversations have to be relevant, engaging and two-way.
For that to happen, brands need to wrap their products and services in inspiring real-life stories. This helps consumers identify with the stories instantly and even accept them as part of their lives.  Such storytelling elevates brands by helping them stand out amidst the clutter, making them more memorable for consumers. In today's digital universe, brands that form deeper and more meaningful connections will thrive and those that don't won't.
The writer is Ranjivjit Singh Chief Marketing Officer – Samsung India