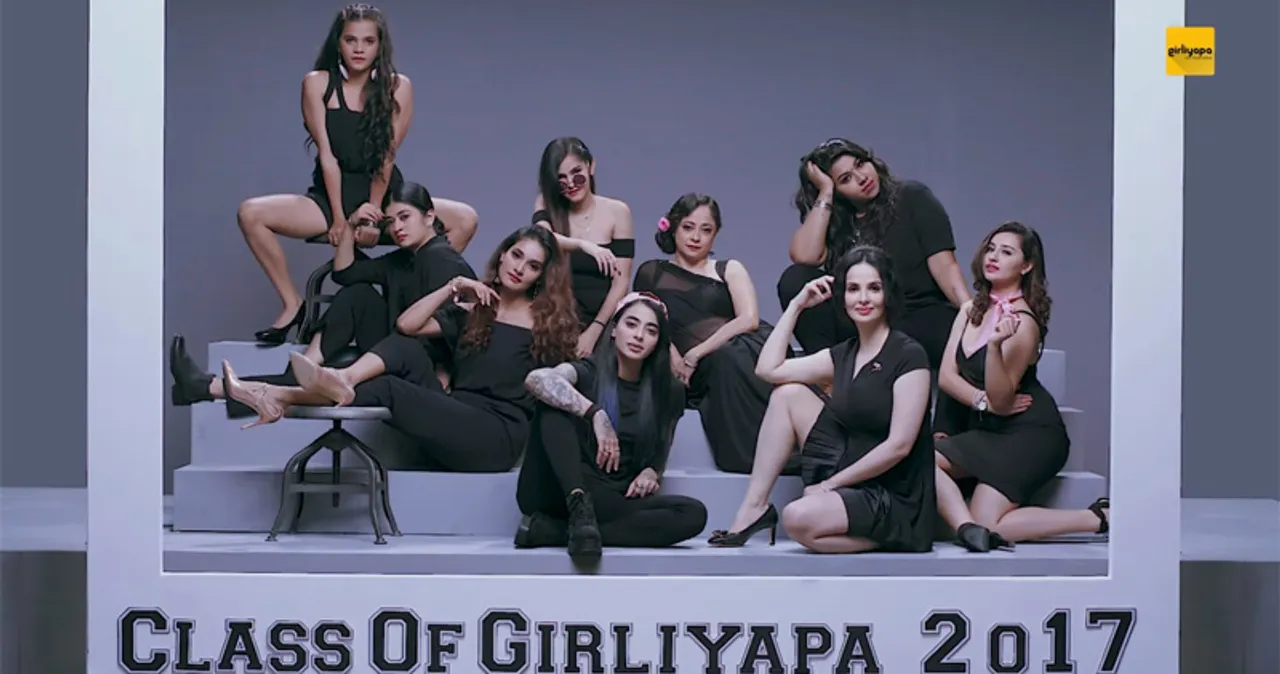 Social Samosa takes a look Whisper's Sit Improper - defying the myth that women have to behave and sit properly, according to society standards.
Hey girls! How many times have you been told to sit properly, with legs folded and hands in place? Or hide the bra strap that's peeking out or not talk loudly? How many times have you been constrained to being a 'proper girl? Addressing this issue, feminine hygiene brand, Whisper, seeks to challenge the idea of how a woman should behave properly, especially, when menstruating with their 'Sit Improper' digital campaign.
The campaign kickstarted with a video conceptualized by Leo Burnett and a small teaser done by TVF's women centric channel Girliyapa.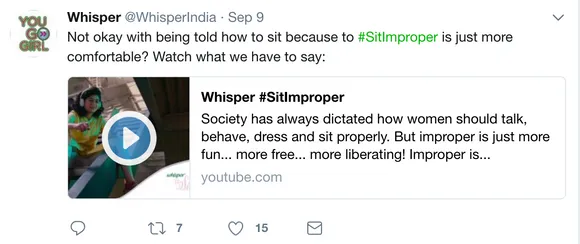 Content tie-up with Girliyapa
The class of Girliyapa featuring popular faces like Bani J, Mukti Mohan, Nidhi Bisht, Srishti Srivastava, Sheeba Chaddha, Sanaya Pithawalla, Meghna Kaur, Rukhsar Rehman, and Tia Sebastian took a dig at a popular phrase 'Sit Properly' which girls have always been confronted with. The video has got more than 3 lakh views.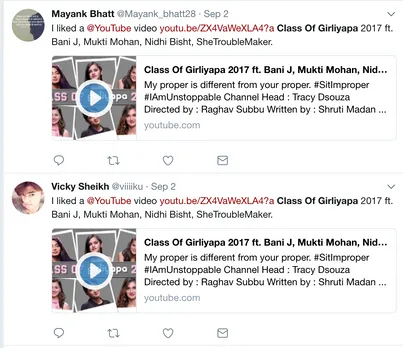 As part of the Whisper's Sit Improper' campaign, Girliyapa released a video, in association with the sanitary brand which was a spoof of Badshah's alleged 'sexist' song, Mercy, that is filled with misogynist lyrics . Titled, "Shut down this moral police, for god's sake it's 2017', asked people to keep their unsolicited advice to themselves and not bother girls, by trolling and slut shaming them.
Girliyapa's 'How to Be A Perfect Employee' took forward the 'campaign. It had subtle integration of the brand in the video and in a fun manner highlighted how some people think that girls use menstruation as an excuse to get away with work at office.
In Girliyapa's video titled 'What happens in a Girls college', the 'Sit Improper' storyline was also weaved in the plot. In a light hearted manner, it showed how at every step, a girl goes through the scrutiny of the society.
Social media strategy: 
Girlyapa is further promoting the campaign on their social media pages as well. Using the hashtag #SitImproper and #IAmUnstoppable, from contests to illustrations, there is a lot of fun activities going on to highlight the Whisper Sit Improper campaign. The posts are also very interactive and are made engaging to keep the audience hooked on to their content.
Go TAG that Tomboy in your life! #CollegeGirliyapa #SitImproper #IAmUnstoppable @whisperindia pic.twitter.com/LQdiWsNPKk

— Girliyapa (@Girliyapa) October 7, 2017
Don't tell me how to sit atleast! #SitImproper #IAmUnstoppable pic.twitter.com/lxfgRJYtNC

— Girliyapa (@Girliyapa) September 3, 2017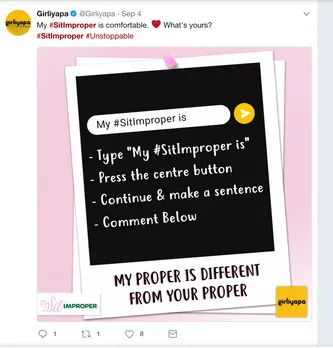 Let me sit and chill, please! #SitImproper #IAmUnstoppable pic.twitter.com/2GJRC9rQLG

— Girliyapa (@Girliyapa) September 14, 2017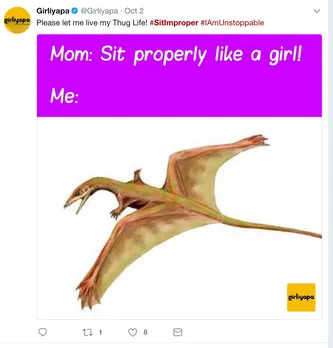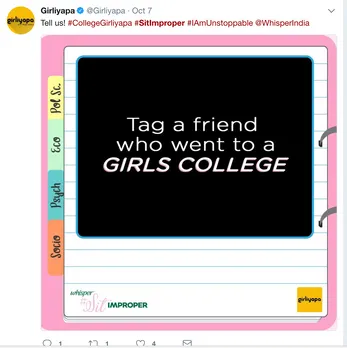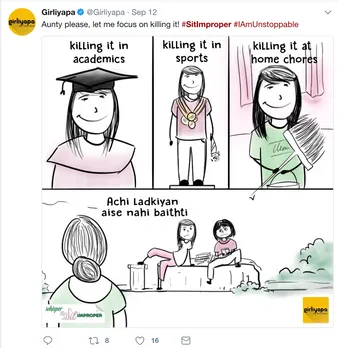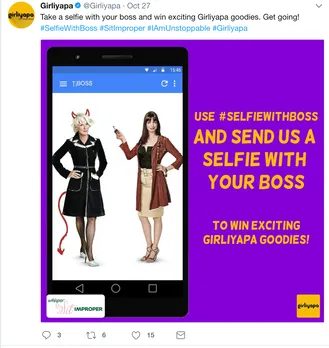 Tell us the things you do to impress your boss! (Apart from actually working).   #SitImproper #IAmUnstoppable #PerfectEmployee @whisperindia pic.twitter.com/L80W4HTcFG

— Girliyapa (@Girliyapa) October 26, 2017
Social chatter:
The contests from Girliyapa, invited women to share their Improper pictures and stand a chance to get featured in their video, saw huge participation. Also #SelfieWithBoss became a huge hit among the girls as they shared their pictures with their boss to win goodies from Girliyapa.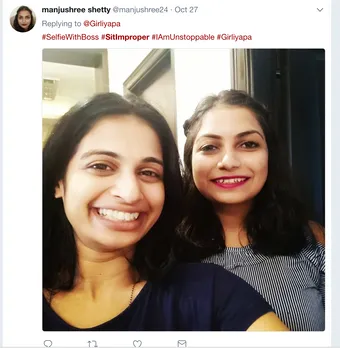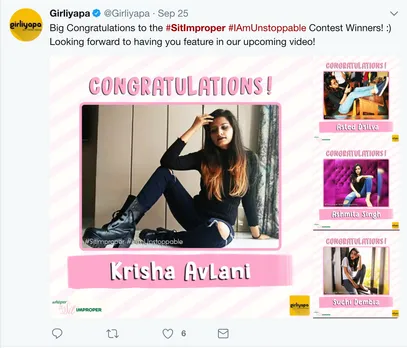 Hashtag reach: 
According to hashtag monitoring tool Keyhole #SitImproper has reached 1.5 million audiences and has acquired 1.6 million impressions on Twitter.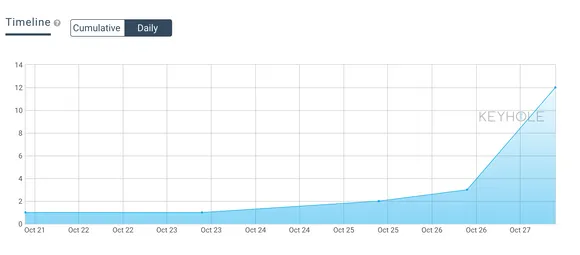 On the other hand, #IAmUnstoppable reached 1.6 million unique users and has garnered more than 1.6 million impressions on Twitter.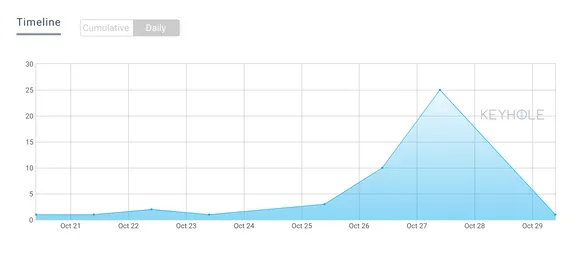 In spite of a thriving social media presence on You Go Girl's India handle, Whisper ran, Sit Improper largely through content tie ups.
Menstruation is still considered a tabooed topic by many and bold attempts from brands in the women hygiene space is permitting more conversations and allowing women to share their experience through great ads in this space.
Whisper has created break-through campaigns in the past with 'Don't Touch the Pickle',  which went on bring glory to India's metal tally at Cannes. Talking about the new #SitImproper campaign, it takes the communication in the female hygiene category ahead with their great content and brilliant execution across all the social media platforms.