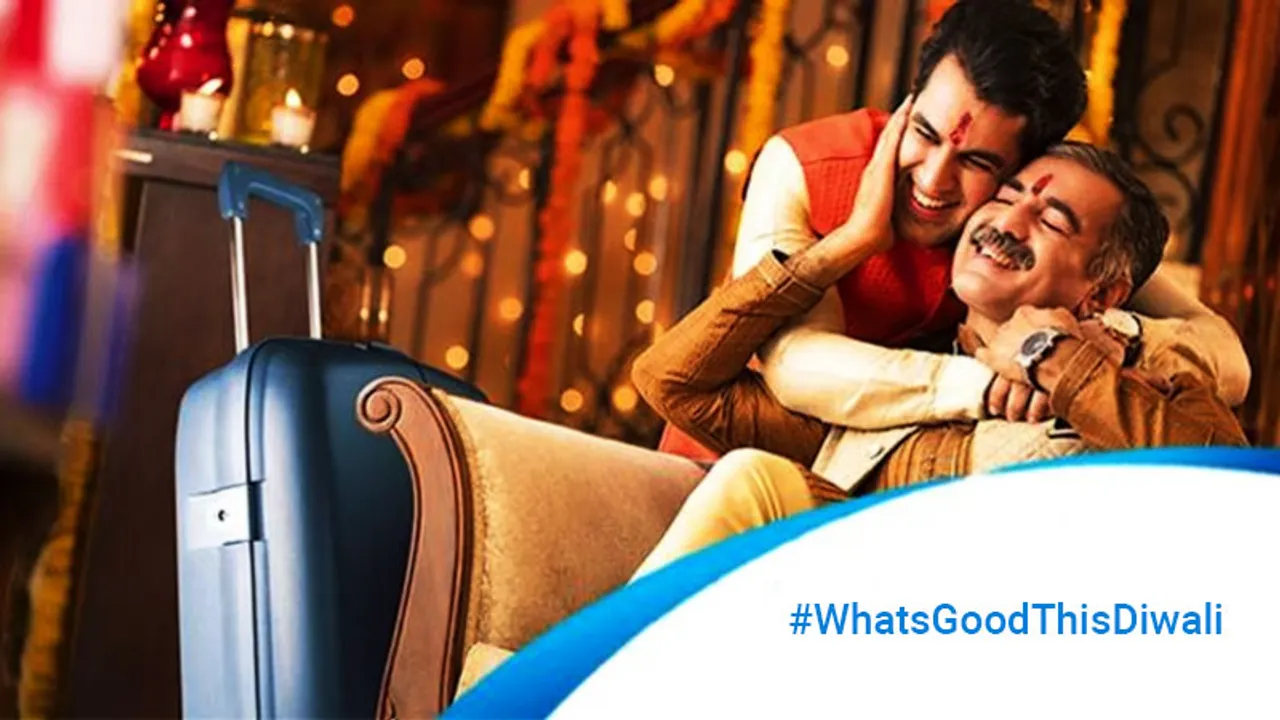 Brand
Citi
Gifting loved ones is an integral part of Diwali celebrations and key to spreading festive cheer. However, brands& retailer clutter consumer's mind space with'never before sales' to gain consumer's share of wallet while they are hunting for gifting options. This is making gifting transactional and consumers are not putting as much thought in choosing the perfect gift.Citi observed this trend anddecided to change this pattern.
Objective
Citi used their insight into current gifting trends during Diwali and constructed their campaign, #WhatsGoodThisDiwali around bringing back the thoughtfulness associated with gifting during the festival of lights.
Execution
Citi applied a social first approach recognizing Facebook as the platform with maximum reach and most popular social media channel for exchanging warm wishes among users during Diwali.
In order to execute and deliver a campaign that leveraged this insight, Citi partnered with a number of brands during Diwali such as Apple, Amazon, Myntra and Snapdeal for some exciting offers for #WhatsGoodThisDiwali
Citi partnered with Apple for the exclusive launch of the iPhone 8 and covered the entire GTM, right from pre-order, to launch at store and post launch offers across both online & offline retail touch points.
The brand also offered added incentives to online shoppers through their partnership with Amazon, Myntra and Snapdealduring their flagship Diwali sales.
Citi also spotted a surge in the travel category and offered exclusive deals to maximize the incentive for Citi consumers on Makemytrip who were travelling back home during the festive season to visit their loved ones.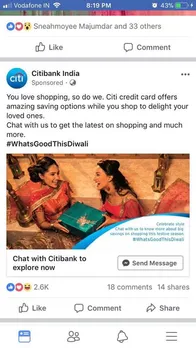 Relevant ads were targeted towards users based on their preferences communicating the benefits of Citi's offers, and the company even offered personal 1-on-1 assistance through Facebook Messenger.
Citi also ran an engagement activity on Facebook to drive the concept of thoughtful gifting and crowdsourced gifting ideas by encouraging consumers to share their ideas & stories around what they are gifting this year. The idea was to inspire their followers by engaging them with authentic user generated content and seed the thought of #WhatsGoodThisDiwali.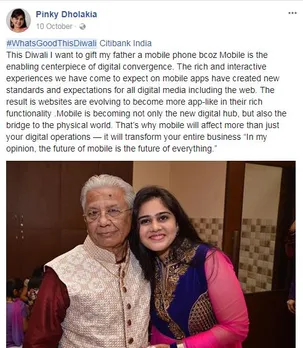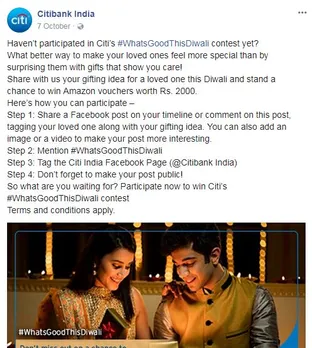 The spirit of goodness was extended by Citi as they tied up with St. Jude India child care centers, as they pledged to contribute 100 INR for every 5 transactions of 2500 INR each.
Results
Citi recorded over 5.1 million overall impressions along with generating more than 63K conversations over Facebook Messenger where consumers spent an average 1 minute interacting with Citi.
Participation in the engagement activity, the contest held to crowdsource gift ideas managed to reached over 1.3Mn people and Citi recorded the highest ever engagement rate of 39% during this campaign.
#WhatsGoodThisDiwaliworked wonders for Citi as they recorded their highest ever credit card spends in October 2017 growing at 10% over last festive season and 25% over September 2017.