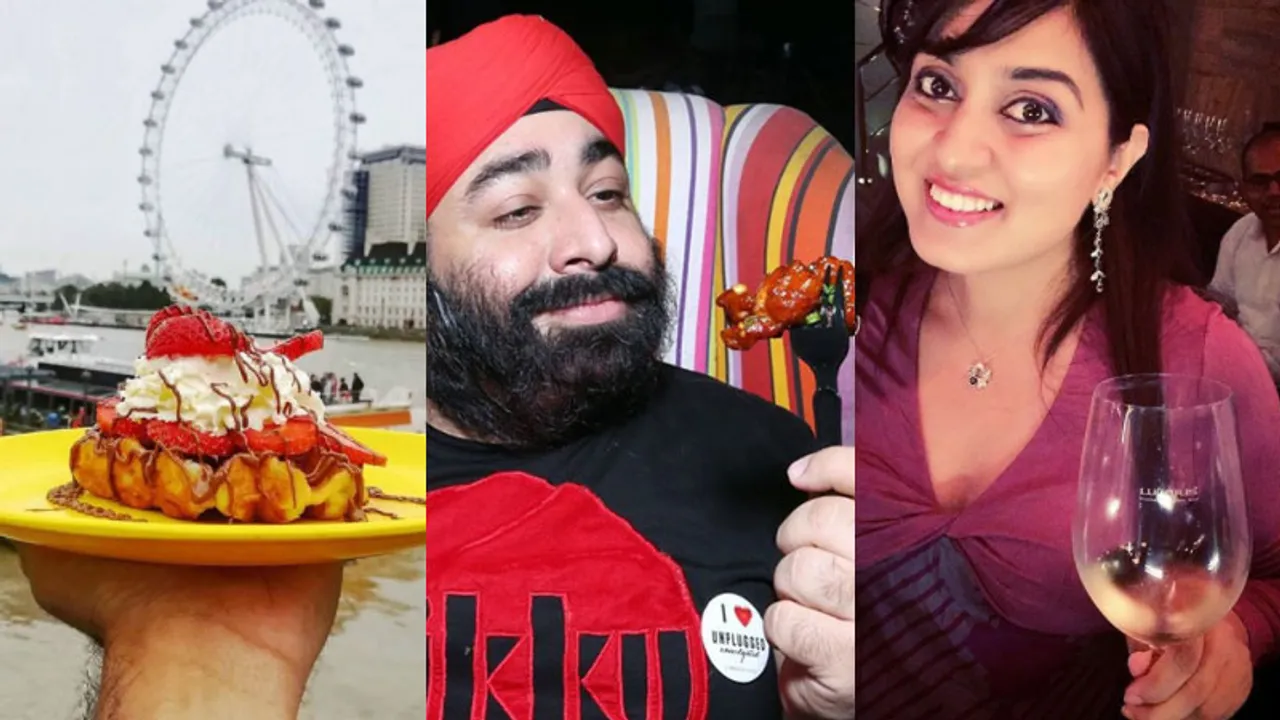 Indian Food influencers and for that matter food influencers from around the world take their readers and followers go through the world of good food by enticing them with mouth watering pictures and showcasing their culinary art.
These Indian food influencers tempt the readers to join them in discovering the vast gastronomical world and experience the taste of different cuisine.
Let's just face it, brands, agencies, and the common foodie - we all need food influencers in our lives, for different objectives of course.
Here is a list of 20 popular Indian food influencers and they no, are in no particular order.
After having left a plush corporate career, Kalyan Karmakar, a popular Bengali food and travel blogger based in Mumbai can go to any extent in search of a good meal. His recipes at Finely Chopped are simple and often display his penchant for cooking and love for different cuisines. Karmakar has also written a book titled 'The Travelling Belly, Eating Through India's Bylanes', which is a journey through the crowded lanes of India's food havens.
Dr Kuheli Bhattacharya, as her profile describes, is a compassionate doctor, the marathon movie watcher, the moody philosopher,  wanderlust traveller, doctor by profession, a foodie by passion and a writer at heart. At foodietrails, Bhattacharya loves to take the readers through the lipsmacking journey of her life food, travel and lifestyle stories.
Deeba Rajpal's Passionate About Baking blog reflects her passion in making as well as developing recipes that use fruit, mainly in desserts. She loves to bake using alternate grains like oats etc. Food styling and collecting props is her other obsession.
4. Divine Taste
Anushruti RK, a recipe developer, food writer and photographer based in Mumbai, specializes in pure vegetarian and sattvik recipes. Her blog page Dive Taste on Facebook has more than 11,500 followers.
Saffron Trail by Nandita Iyer, focuses on the combinations of healthy and tasty dishes that can be easily cooked at home. Her creativity is reflected in a mere glance of her blog which has recipes like Pumpkin Oats Porridge, Pumpkin French Toast, Lemon Coconut Loaf and other exotic dishes.
Archana Doshi's Kitchen is one of India's leading recipe and food discovery website that gives the readers credible and confident 'DIY' solutions for everyday cooking. Her blog has different recipes and videos filled with rich content like menu plans, special diets, dinner ideas, lunch box ideas and more. Archana has been extensively covered across newspapers and TV channels.
Nisa Homey's blog reflects healthy and low calorie recipes for the readers in the form of breakfast, lunch and dinner ideas. The menus range from Pepper and egg sandwich, curry leaves rice, Chia seed pudding smoothie and others.
Maria Goretti's journey from a VJ to being a chef is an interesting one. In fact, she had never dreamt of being a chef, but her attempt to feed her then young son healthy recipes created an interest to experiment and cook. Her blog will take the readers from healthy recipes to irresistible desserts. Maria is also the author of the book - From my Kitchen to Yours and on her digital channel on #fame, she shares her culinary art and some lip smacking recipes with the viewers.
Padhus Kitchen features simple Indian Vegetarian recipes, healthy recipes, kids friendly recipes, Indian festival recipes, traditional South Indian Vegetarian recipes, cooking basics and lot more.
10. Mallika Basu
Mallika Basu, is an Indian cook, food writer, and the author of Miss Masala: Real Indian Cooking for Busy Living. Her blog has a wide array of vegetarian and non-veg recipes. Some quick recipes for sweets and condiments are also shared on her blog.
11. Aromatic Cooking
It is a very detailed blog of vegetarian and vegan recipes from Indian and world cuisine with step by step pictures.
12. CookingwithSapna
You can find all kinds of recipes, from healthy breakfast to comforting dinner and sumptuous desserts on Sapana Behl's blog.
Bengalis love to eat and Sandeepa aka Bong Mom realized that this is the reason why Kolkata is teeming with all The Madras Tiffins, the Punjabi Dhabas, the Tibetan Delights, the Chinese Chow Chow and the Timbuktu Taverns. Bong Mom CookBook has a good collection of Bengali recipes and all the recipes may not be authentic, but innovation thrown in to give a great twist in taste.
14. Marigoldhemlata
You can find a good collection of vegetarian, non-veg and vrat recipes on Hema's food blog.
15. Swapna cuisine
The recipes posted on Swapna's blog are a reflection of her Syrian Christian origins, culinary tastes acquired during her stay in North India and Middle East.
16. Foodomania
Kavitha Ramaswamy's blog Foodomania has easy step by step pictorial guides on how to make a dish from start to end.
17. VeggieZest
Pallavi, a Vancouver based blogger writes about vegan & vegetarian recipes in her blog VeggieZest. Readers will find recipes from different parts of the world, some of these she may have tried at a restaurant and loved it so much that she had to recreate them at home. Pallavi loves fusion recipes, which are her original recipes and she experiments with Indian food and gives it a more modern and contemporary twist.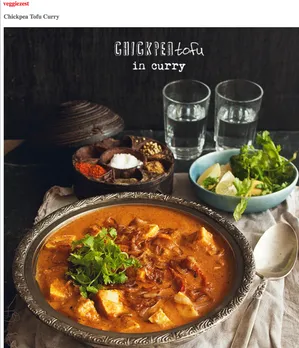 18. Raks Kitchen
Rajeswari Vijayanand shares some easy South Indian and North Indian recipes in her blog Raks Kitchen. The step by step pictorial guide with each recipe is extremely useful in understanding the recipe.
Rohit Haryani traverses through Mumbai tasting and reviewing the best that the city has to offer. He curates his Instagram account which has more than 85.6k followers.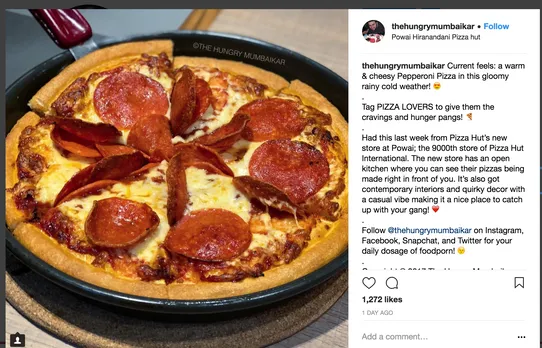 20. My Yellow Plate
Himanshu Sehgal, the Delhi-based engineer has been travelling throughout the country to place popular food on his yellow plate and photograph it against stunning backdrops. His Instagram account and website named 'My Yellow Plate' captures his food and travel escapades across the country. His Instagram account boasts of 24.9K followers.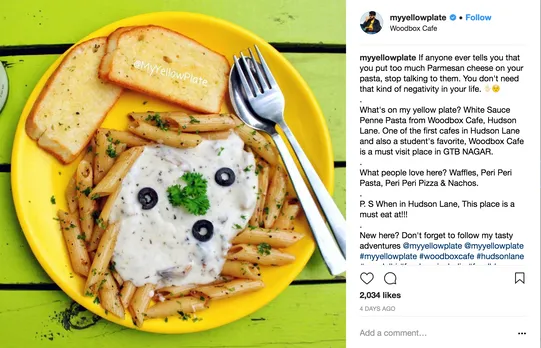 21.MisterTikku
Tikku Ji or GST as known to many ensures that when people meet him, they leave with a smile. His blog takes the reader through the world of mouth watering food in Delhi.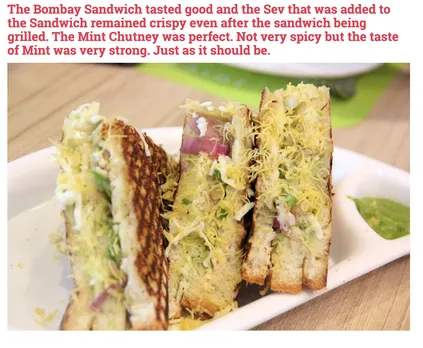 22. Rocky & Mayur
Rocky and Mayur, are India's favourite foodies, you must remember them as the co-anchors of the cult TV show, Highway on My Plate. Their Instagram account has an interesting mix of their travel and food escapades in the country.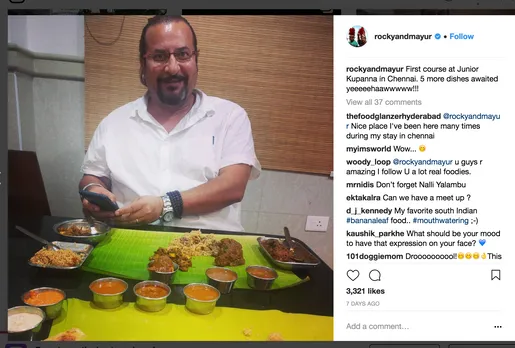 23. Myfoodstory
Richa Gupta believes in posting recipes on her blog myfoodstory.com, which are quick, easy and creative to make every day cooking more fun.
24. BakewithShivesh
Creating simple yet beautiful recipes is the core of 'Bake With Shivesh'. Shivesh, the young blogger from Delhi has also won the Oulook Social Media award in 2016 and got featured in Vogue's list of "20 Under 26" in 2017.
Do you know of any Indian food influencers or food bloggers that should be added to this list? Let us know your recommendations in the comments below or write to us on team@socialsamosa.com
The article is a part of our Social Throwback series that recaps the year that was for the industry.