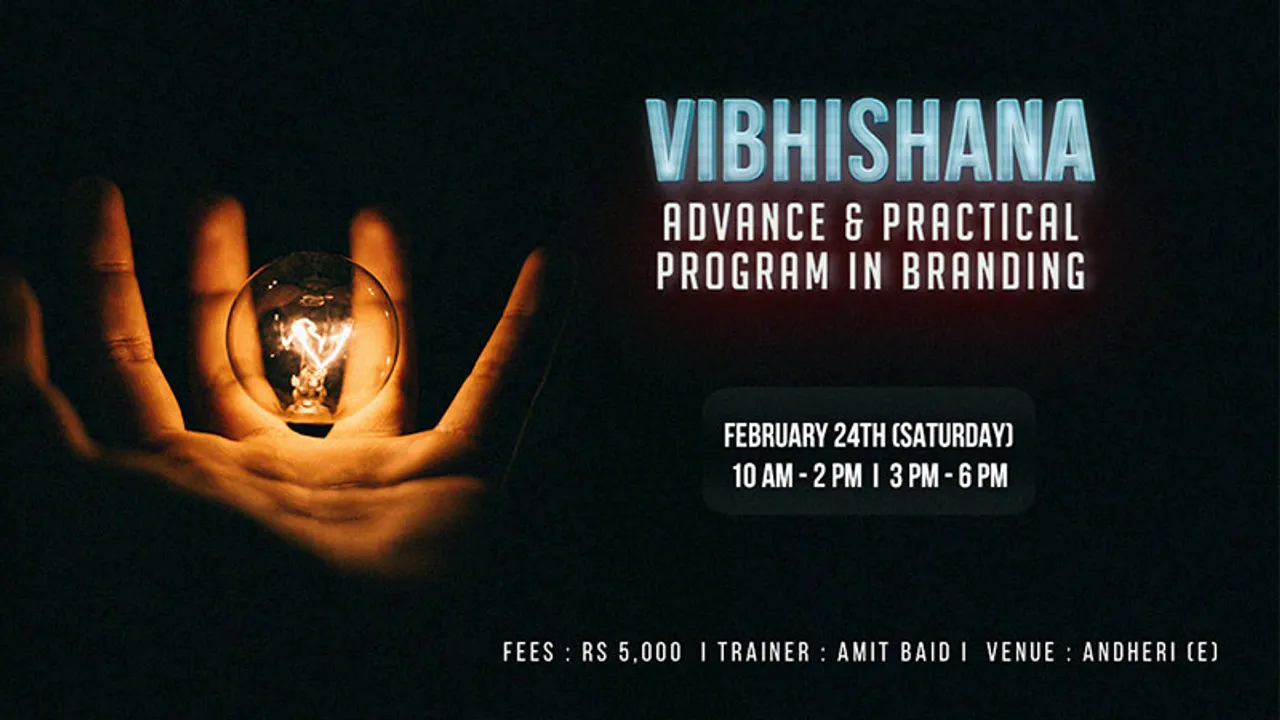 "Your brand is what other people say about you when you are not in the room," said Jeff Bezos, CEO, Amazon, one of the world's richest men, who stresses on the absolute cruciality of branding for businesses to flourish.
The world may have changed since then, although of the many things that haven't, branding remains one of them. In the digital realm of businesses small and big, vying for the attention of the new age consumer, each and every one of us that is affiliated with a business, from agency owners and marketing heads to the Copywriter and brand manager, possessing an astute understanding of branding and advertising is a must!
Vibhishana: Advanced & Practical Program in Branding, the place to be for every executive working in the digital media industry to learn, understand and equip themselves with the knowledge of branding and advertising that will reflect in your work from the very next day.
The curriculum for Vibhishana: Advanced & Practical Program in Branding is based on actual industry practices, with the knowledge that helps you even in day-to-day activities and decisions at work.
Over 90% of the content and material discussed at the event is unavailable online, therefore attending the elite congregation of hungry minds is a definite must for every digital media marketer and executive in the industry.
Not to mention, each and every portion of the curriculum is substantiated with India specific Case Studies for a much more deeper and relevant understanding.
Conducted by Amit Baid, an industry veteran who has previously occupied the role of a Creative Director across many agencies and has worked on brands such as DLF, Hub town, ICICI Home search, HDFC Realty, MCHI, VBHC, Hiranandani - Retail, Videocon, Samsung, CNBC, Times of India, Cox & Kings and more.
Held at the A. B. See Peninsular Pvt. Ltd. 702 Crescent Business Park, Sakinaka, Andheri East, with a comprehensive and comfortable schedule.
The workshop will be held on January 20th, 2018 Saturday from 10 AM to 6 PM, with a brief 1-hour break between 2 PM and 3 PM wherein all attendees will be provided with refreshments and lunch.
Attending the Vibhishana: Advanced & Practical Program in Branding involves a fee of INR 5000 INR, wherein Certificates will be issued upon the completion of the event.
Modules
I) Brand-Identity:
Naming: Questions to Be Asked Before Naming, Sound, Length, Texture, Culture, Future Readiness, Legal Angle (ROC, TM), Why Coinage Works Better?
Logo: Questions to Be Asked Before Defining The Logo, Key Parameters, Target Setting, Endurance Test, Application Test (How Much is a Must), Creative Versus Business Angle, Category Influence, Cultural Nuances
B. Briefing: Fundamental and Supplementary Questions of a Brief, Pre-Brief Dipstick, Imbibing Historic References and Case Studies, Boundaries Versus Creative Freedom, Insurance Against Inefficient Creative and Kick starting Ideas, Self-Evaluation
C. USP: What's Not a USP, Single World Definitions, What To Do When You Don't Know, Can USP Be Manufactured?
D. Positioning: Defining, Understanding, Practicing, Repositioning, Why Positioning Is the Engine of The Communication, Common Mistakes in Positioning
E. Setting & Measuring Targets: Setting Accurate Parameters, Reference Numbers, How to Apply Instant Research To Evaluate Campaigns and Agencies
II) Decoding Real 360-Degree Advertising:
Optimising Budgets By Mixing ATL, BTL, Digital Separating Facts From Opinions For Apt Investments Claimed Versus Real 360-Degree Communication The Right Proportion, Basis
Categories
III) To Approve or Not To Approve a Communication:
The 7 Parameter Checklist
Spontaneous Versus Surgical Evaluation
Cautions of Instant Research
Peon Test!
What's Clutter?
Who Reads Body-Copy?
Understanding and Managing Risk in Communications Celebrity Endorsement :
1. When To Use
2. What To Pay
3. Working With them 4. How to Optimise
IV) The Legal Angle
1. Can I use Sachin Tendulkar (Or Monalisa) and Not Pay?
2. Distinguishing Between Caution and Over-Caution.
V) Common Bluffs of Advertising/Advertising People:
Understanding, Handling & Motivating Creative A. Agencies/People
B. True/False Assumptions
C. Category Learnings & Myths D. Usual Falls