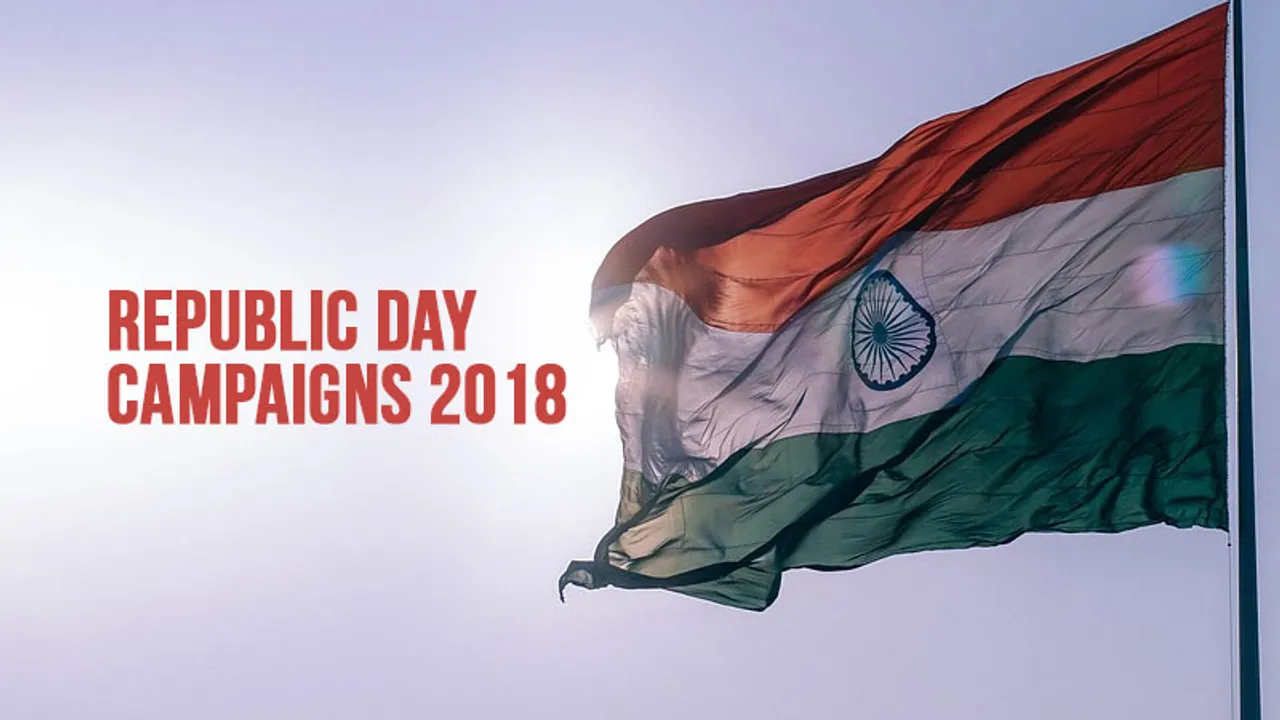 One of the two most patriotic days of the year arrives today, and like each year, brands have taken the opportunity to roll out their contributions to Republic Day campaigns 2018
Brands have been channeling their patriotism in the form of creativity on social media platforms all over such as Facebook, Twitter, and YouTube. Some of the notable brands that have launched their respective Republic Day campaigns 2018 are, Mother's Recipe, Ixigo, Bisleri and many others. While some brands opted for video campaigns such as Mother's Recipe and Bisleri, some brands opted to convey their wishes to their fellow countrymen through creative illustrations.
Patriotism remains one of the key motivating factors that strongly resonate with the Indian audience and Republic Day along with Independence Day remain the two most important national occasions for brand to leverage.
Social Samosa presents to you a list of Republic Day 2018 campaigns that were spotted on social media on the momentous occasion of India's 69th Republic Day!
Mother's Recipe
https://www.facebook.com/imissmymothersrecipe/videos/2103522753008169/
Bisleri
Ixigo
ALTBalaji
Support #WomenInGreen #TheTestCase #BreakingTheGlassCeiling #RepublicDay #JaiHind pic.twitter.com/t4z07Kvewz

— Ekta Kapoor (@ektaravikapoor) January 24, 2018
1mg
https://www.facebook.com/1mgOfficial/videos/1849875838418043/
Truebil
https://www.facebook.com/truebil/videos/1621639551262861/
WWE 
ThoughtScoot
https://www.facebook.com/thoughtscoot/videos/1555789671171265/
Exide Care
Fearless young minds. And little hearts filled with hope. It's the children of a nation today who shape its tomorrow. This #RepublicDay, let's join these young ones as they come together and pledge to drive our nation ahead, with our thoughts and action. #WhatDrivesYou pic.twitter.com/eHmZg5cG9a

— Exide Care (@ExideCare) January 22, 2018
History TV18
This #RepublicDay we salute the Indian Soldier. On frozen battlefields and sun scorched outposts; in the remotest corners, far from all comfort, India's #RealHeroes stand ready to serve and protect the motherland. @adgpi #AmarJawan #Republicday2018 #HappyRepublicDay pic.twitter.com/cKI8Xb2d5v

— HISTORY TV18 (@HISTORYTV18) January 26, 2018
Child Rights and You India
Remember the national pledge all of us learnt back in school?
Let's take a trip down memory lane and think about what it truly means. For all of us.
Happy #RepublicDay! pic.twitter.com/Yv0FMcrEwX

— Child Rights and You (@CRYINDIA) January 19, 2018
Honor India
https://www.facebook.com/HiHonorIndia/videos/2230650960285767/?ref=tahoe
Godrej Aer
#ContestAlert
It's time to answer the 1st question of our #RepublicDay quiz. Then, follow our page, answer the other 3 and you could win aer goodies! pic.twitter.com/bCAuIOxb3w

— Godrej aer (@godrejaer) January 26, 2018
Wonder Cement
https://www.facebook.com/wondercement/videos/1559663050779630/
Flipkart
https://www.facebook.com/flipkart/videos/10156181536768559/
TVF Qtiyapa
https://www.facebook.com/sabqtiyapahai/posts/1590372861038797
Box8
https://www.facebook.com/Box8.in/posts/775873682598438
Reliance Trends
https://www.facebook.com/RelianceTrends/videos/1588775504544720/
Myntra
https://www.facebook.com/myntra/videos/10156121540728221/
Amazon India
https://www.facebook.com/AmazonIN/posts/803257053201435
Amazon Prime Video India
https://www.facebook.com/AmazonVideoIN/videos/1844105208964649/
These were some of the Republic Day campaigns 2018 spotted by Social Samosa. If you think we may have missed out on some, do let us know at team@socialsamosa.com