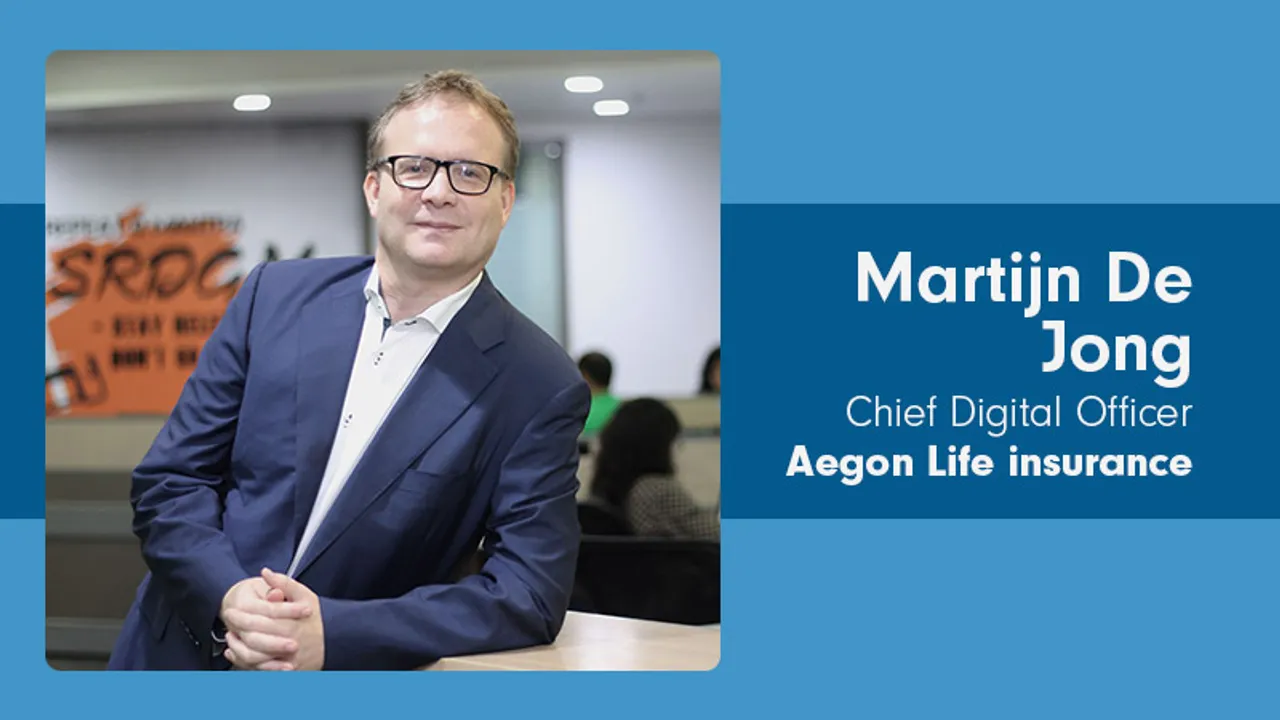 From digital brand tribes to mar-tech innovations, Martijn De Jong, Chief Digital Officer, Aegon Life shares is two cents on social media marketing for BFSI brands.
Encapsulating the brand's marketing journey in 2017, Martijn De Jong shares exciting insights and trends on the BFSI marketing space.
Excerpts:
1. From digital campaigns to influencer marketing, the Indian advertising and marketing landscape has evolved in the last few years. What were the 3 news things that you learnt as a marketer in 2018?
Under leveraged potential of content marketing. Indian market is ripe now to leverage the content marketing to the fullest. Amount of content consumed today provides ample opportunity for branding and marketing especially when it's targeted and in vernacular languages.
Digital brand tribes become advocates. In a cluttered market space, brands that create a tribe of believers survive for the long run. A tribe that breathes the same values as the brand. A great example of this, and my favourite, is Lemonade.
Leveraging AI and Bot-Knowledge to solve marketing problems. We are running a number of global pilot projects around hyper personalization and marketing optimization using the power of AI.
2. Social media is now coming of age in India. How has the active presence of social media in a consumers' life, changed consumption trends in the BFSI industry?
Brands that use social for listening and as a customer care extension, have limited scope to grow socially. Social should be recast into the integrated marketing mix seamlessly to provide branding solutions.
The challenge is to build a deeper understanding and relationship with each individual customer, which requires an individualized approach based on listening and data.
3. Which was Aegon Life's most successful marketing campaign in 2018? What was the one thing that you think worked in favour of the brand and you would not hesitate doing again?
As follow up from our successful I decide campaign in 2017 - which recently won the award for best integrated digital marketing campaign - and put the power in the hands of the customer again we recently launched the Aegon Toh Tension Gone campaign.
We firmly believe that the consumer's interaction with finance is changing in India. With rising e-wallet culture and digitization of money consumers interact differently with money. One experiment that has gone right of us is when we decided to go 'Direct-to-customer'. Our campaign in 2018 is a living example of what we believe in. we want consumers to make an informed choice about protection and insurance.
Aegon Toh Tension Gone is the premise, where we believe our focus is to rekindle the connect between Aegon and Indian consumer.
4. AR, VR, bots, influencer marketing – how is Aegon Life catching up with the evolving marketing trends? Have you tried any of these? If yes, how was the experience?
We have run a number of trials with bots and just signed a distribution agreement with a company that intends to sell life insurance via their chatbot. We keep monitoring this space and also very interested in voice technology from Google and Amazon Alexa.
Influencer marketing is part of our marketing mix and we mainly do this via trusted and well-connected bloggers who regularly write about personal finance
5. 3 innovating marketing tactics that you wish to implement for Aegon Life in 2018.
Our philosophy is based on building hypothesis, testing them in multiple innovative ways, analyzing the results and then continuously improving based on this cycle.
We try to create a climate where people feel empowered and confident to ty out new and innovative ways of working. This also means that we have tried most of the new marketing tactics and we will continue to do so in 2018.
The innovative marketing tactics of which we want to do more of in 2018 are:
Personalized communication – segment of one with customers
Hyper-targeting of prospects
Build integrated campaigns around content, social, ATL and digital mediums like Google
6. How do you think brand custodians can become more creative in leveraging and making their brands stand out among the clutter these days?
Being relevant is the key for brands in today's age, where brand communication from multiple brands ends up as white-noise. Product offerings need to be tailored in accordance with the relevance aspect of things. Brands that do not respond to needs of consumers by staying relevant, often get replaced with a brand that is sensitive about this.