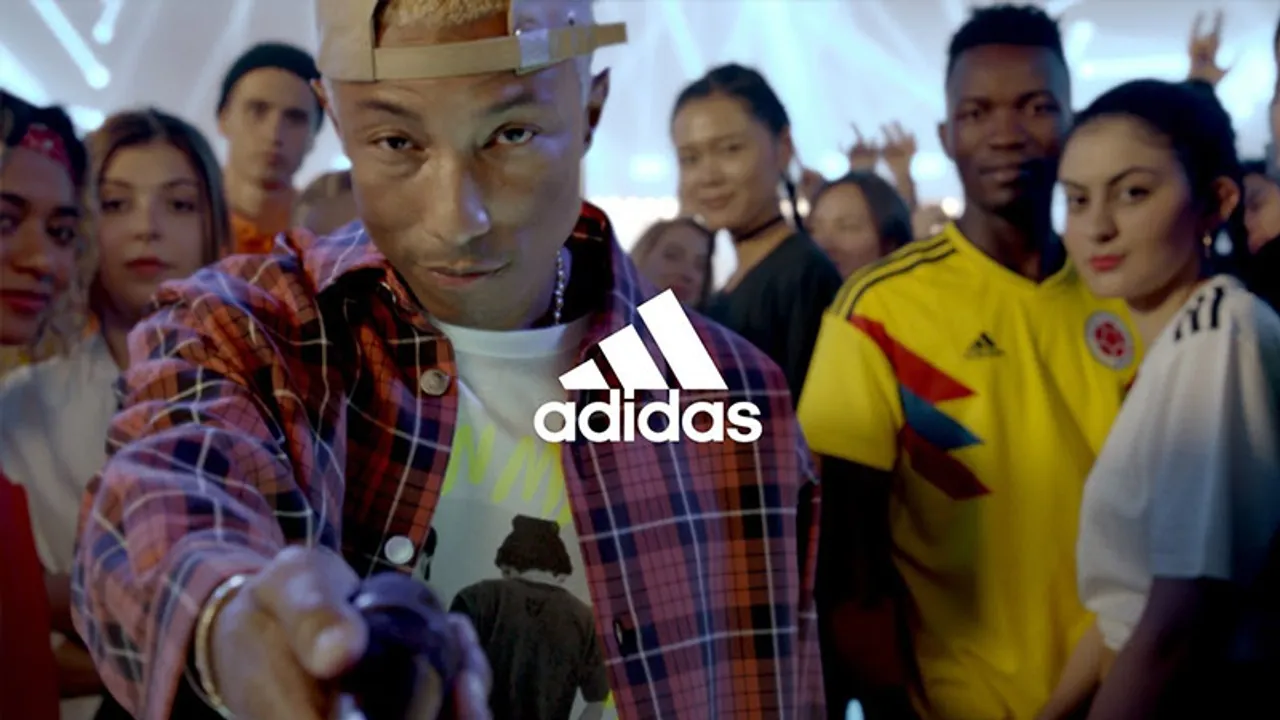 Few do a World Cup ad like Adidas, and the German sporting brand is poised to outdo itself for the 2018 edition of football's biggest global event with a new spot titled, Creativity Is The Answer.
Star power and creativity are two things this World Cup ad does not fall short on, with Adidas bringing together 56 of the world's biggest celebrity endorsers associated with the brand from the likes of Lionel Messi, Mohammad Salah and Paul Pogba, to Pharrell Williams, Stormzy, David Beckham and even Zinedine Zidane!
A congregation of some of the biggest names in global sports under one roof yields one message that Adidas wishes to put out, reflected in the title itself, Creativity Is The Answer, aiming to inspire creators across sport culture to be courageous, unexpected and to shape their own reality.
Adidas' World Cup ad spot begins with rapper Stormzy stimulating the crowd, as the noise begins to rise. The camera cuts to the back of a man walking backstage who is then revealed to be Leo Messi. A series of montages displaying football tricks, backstage preparation and Jose Mourinho ushering in the performers follows.
Generous flashes of famous faces are plastered all over the 1-minute 30-second spot and chances are, every scene will reveal a celebrity figure to the audience.
Paul Pogba does tricks, Mohammad Salah and Jesse Lingard play street football with Billy Wingrove, Jeremy Lynch, Caitlyn Schrepfer and others, David Beckham talks football boots backstage, Javier Hernandez, Mesut Ozil, Lindsey Horan and others play foot-volleyball, do football tricks while on skipping ropes and much more dazzles the viewer.
As the spot nears the end, Leo Messi is headed outside and promptly proceeds to throw away 'a script' he is handed, embodying the message Adidas intends to put out.
Part of the campaign involves Adidas inviting athletes, musicians, artists and filmmakers in London, Los Angeles, Tokyo, Paris, Shanghai, New York and host city Moscow to co-create and shape the brand narrative for the rest of the campaign throughout the World Cup event.
Adidas aims to create the first ever open-sourced campaign and real-time pulse of the World Cup through images, moments and content that they create with the makers.
Adidas' World Cup ad is high on celebrity stardust and attractive visuals, although does not appear to make an impact that leaves behind a lingering aftertaste but makes for an entertaining watch. No doubt the names attached with the brand, and their campaign will nevertheless deliver the recall the brand may desire.