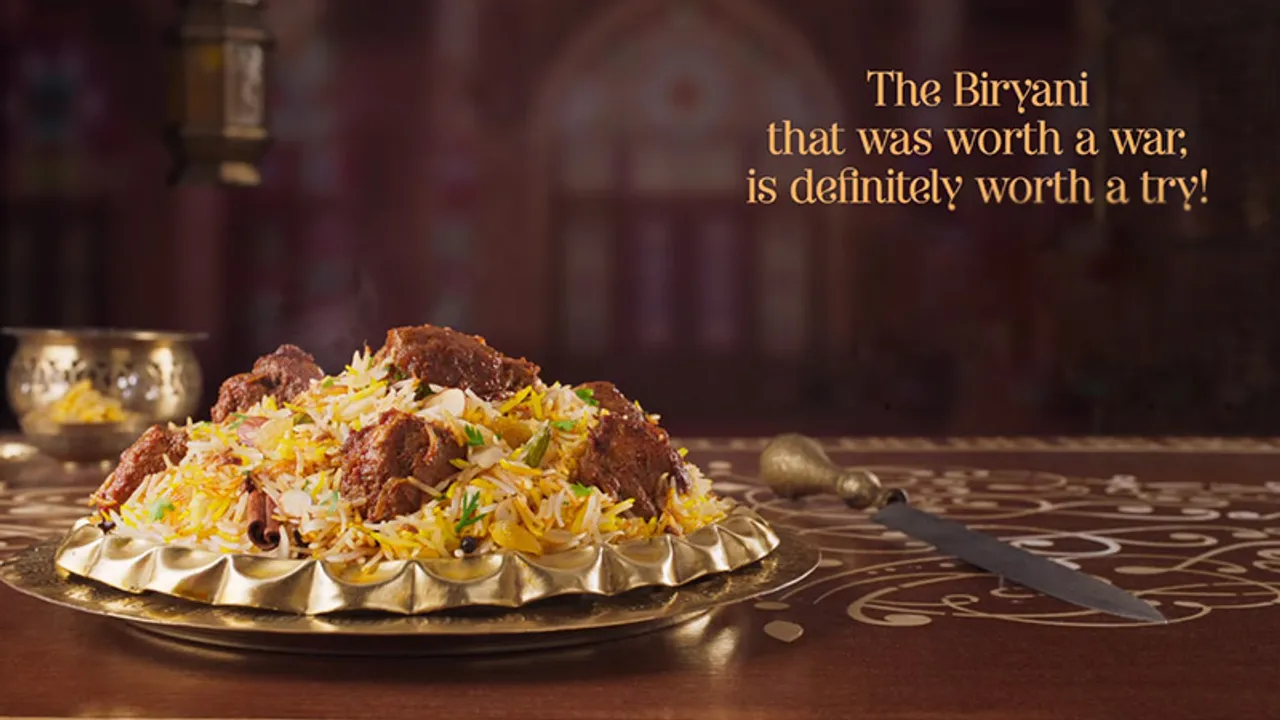 Behrouz Biryani, an India biryani brand in the country with Persian heritage, launched its first ad campaign, Behrouz Biryani Story, today. Crafted by BBH India, the film takes you through a gastronomic journey tracing the origins of biryani.
Titled, Behrouz Biryani Story, this is the brand's first integrated campaign extending across digital, print, outdoor and radio.
Sharp visuals, delectable food shots infused with veteran actor Raza Murad's voice ignite the screen to bring alive the story of this Persian inspired biryani. The film has been directed by popular ad film director, DoP & special FX expert Nick Sawyer best known for his work on international food brands.
Sagar Kochhar, Group CMO, FFSPL said, "We are extremely delighted to launch our first ad campaign and this is an important milestone in our journey towards being the 'Royal' Biryani of the country. This film pivots around the brand story that we created since our inception, a 2000 year old recipe from the lost Persian kingdom of Behrouz, where wars were fought to win this recipe. Being a digital only premium brand with no physical/dine in presence, the campaign is targeted to create brand awareness highlighting its alluring Persian brand persona and a recipe worth indulging when you think of not just ordering a biryani, but actually experiencing finesse."
Russell Barrett, CCO & Managing Partner, BBH added, "To begin with, working on Behrouz has been great. We've quite willingly done a lot of research on biryanis. A lot of research. The idea of an origin story for something as ubiquitous as biryani is a story waiting to be told. The film is beautifully crafted and besides taking you on a fantastic journey through time, it makes you want to order a biryani; an impulse which you should absolutely give in to when it comes to Behrouz."
Behrouz claims to be the only biryani brand in India to scale across the country with a presence in 15 cities. According to Behrouz's market research, Biryani is the highest searched and the most ordered dish in India. However, there is no single organized Biryani player with the ability to give a superior and consistent product to the consumer across the country.
Credit List
Client: Behrouz Biryani

Agency: BBH India

Chief Creative Officer & Managing Partner – Russell Barrett 
Managing Director –  Arvind Krishnan
Head of Planning -  Sanjay Sharma
Creative Director (Art) – Shruti Das
Creative Director (Copy) – Ira Gupta
Creative Partners – Purnima Khot, Pradeep As
Head of Production – Khvafar Vakharia
Executive Producers – Rahul Prakash, Rahul Kulkarni
Business Head – Monideepa Nandi
Sr. Business Partners – Priyanka Samant, Sachin Sahu
Business Partner – Paavani Pratap Jain
Production House – Native Films
Executive Producers – Prithvi Raj Luthra, Surashmi Basu
Director – Nick Sawyer
DOP – Nick Sawyer
Producer – Radhika Puri
Line Production – Ravi Iyer
Sound Engineer – Darshan Nair
Post Producer – Hemanshu Singh
Assistant Director – Devrath Sagar, Nikita Smith
Editor – Abhinav Gupta
Online Artist – Niket Sharma