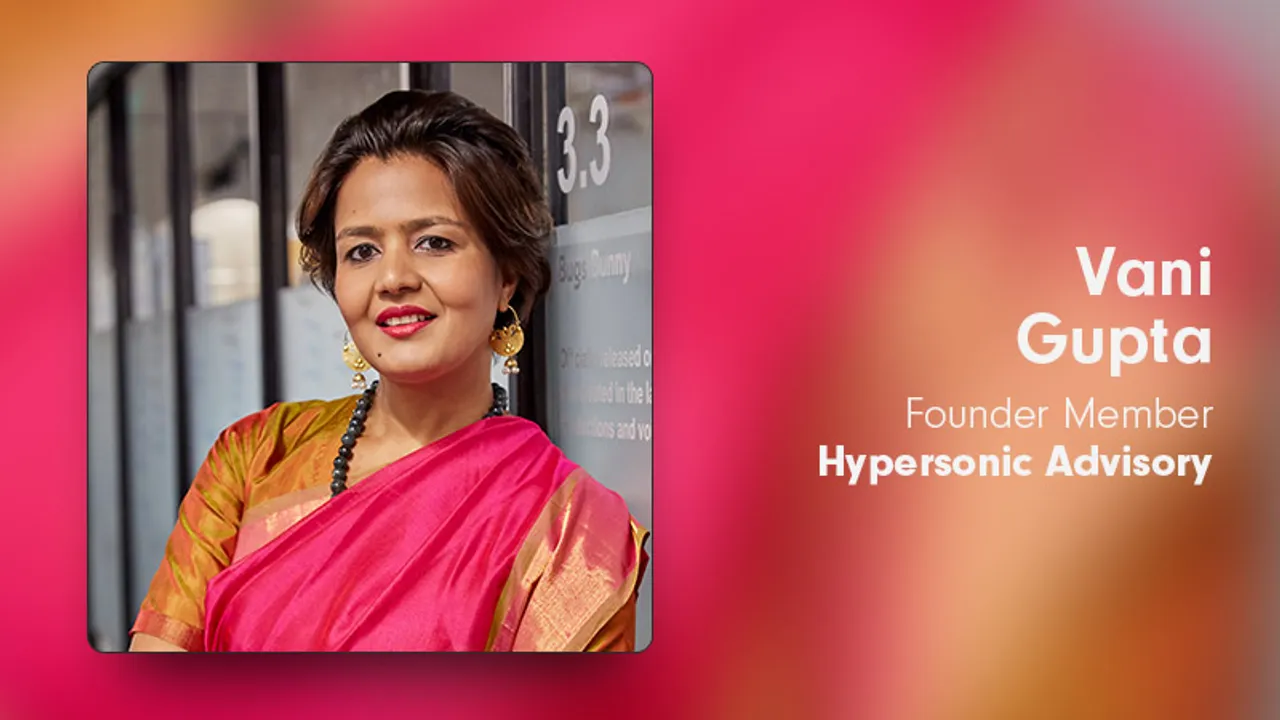 Former Marketing Director of PepsiCo,Vani Gupta has joined new age business accelerator, Hypersonic as a founder member, where she will lead the Consumer Innovation Practice. Vani's experience of two decades in successfully marketing consumer centric innovations at blue chip companies adds a new dimension to Hypersonic's sales and operations expertise.
Vani will drive Innovation Marketing and Category Management for Hypersonic's clients across industries that include FMCG, IT, Media, Telecom, Healthcare, Real Estate and eCommerce.
Founded in 2017, by a team of leading industry experts with 100+ years of combined experience,Hypersonic Advisory helps mature as well as early stage companies, accelerate their business through their execution led interventions. They work on site with their client teams,thereby strengthening a company's own capability to scale and achieve their next level of growth. Hypersonic is unique as it commits to its solutions by linking pay-out to measurable results.
During her 20+ years stint, Vani has worked with PepsiCo, Unilever, Reckitt Benckiser, Henkel, and Adidas. Her role has involved managing cross cultural teams, complex brand and product launches, and developing innovation mixes for different markets. She joined PepsiCo India in 2011 where she led the Indian Snacks Category. Vani is credited with Kurkure's revival to double digit growth by championing a change in the brand philosophy and driving that across the organisation. She was also the recipient of the Indira Nooyi Chairman's award for Innovation.
Prior to PepsiCo, Vani had a rewarding stint with Unilever where she led the successful launch of a hair care range for colored hair across South East Asia and South Asia. Before Unilever, Vani worked with Reckitt Benckiser, where she launched Veet in India and crafted a success model for emerging markets. She also has experience in integrated communication with LEO Burnett and other advertising agencies in the early part of her career.
She has won several industry awards for her work in Content and Digital Marketing. Business Today featured her in the Hottest Young Marketers list for 2015.
"I love demonstrating impactful growth through consumer thinking. Hypersonic is an ideal fit at this stage of my career as it allows me to work on multiple innovations and varied marketing challenges, that would benefit from the hands-on intervention of the Hypersonic team", said Vani.
"Vani is a recognized leader in the marketing field and her creative-technical acumen will be a valuable asset to our clients. Vani has a track record of bringing innovations successfully to the market. She compliments Hypersonic's ethos of being effective doers. We're excited to welcome Vani to our founding team and are the stronger for it," said Venkatesh Rangachari, Co-Founder, Hypersonic Advisory.