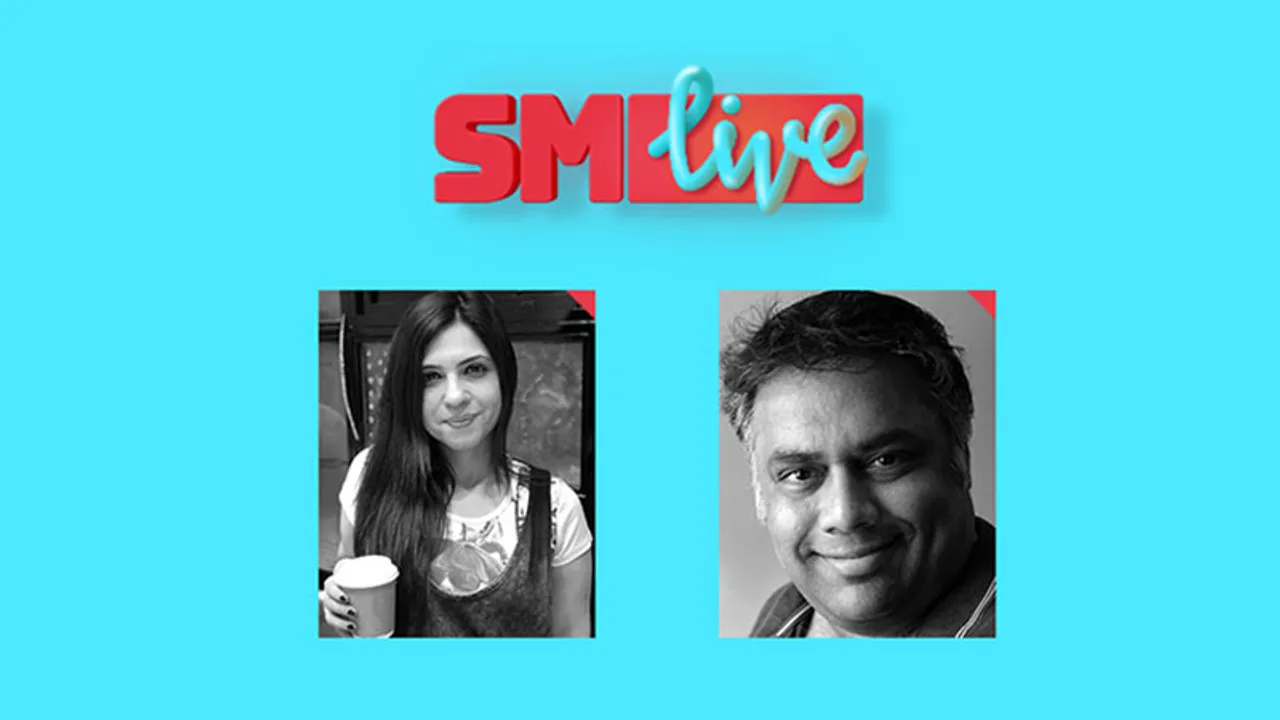 Ever wondered what it takes to create an award winning campaign or what goes behind translating briefs into great work? Kainaz Karmakar and Harshad Rajadhyaksha, Chief Creative Officer, Ogilvy India share their insights on 'little' they know about great advertising.
"Despite of our two decades of experience in advertising the profession continues to delight, surprise and teach us new things on an everyday basis and not just because it's a noble and nice thing to say after we think that we have learnt quite a few things, we learn so many things from the youngsters out there, young people joining us - the perspective that they bring on the table", said Harshad. 
The focus of the discussion was mainly Cannes as the speakers saw some absolutely stunning work there. "The principles are not so different from what works in any great advertising, it is not that what you do for Cannes has to be different from what you do otherwise," added Kainaz. 
On 90s ad campaigns invoking nostalgia....        
It is all because of people like Piyush who have been creating ads at that time. The feeling is mutual. Everytime the Cadbury dairy milk commercial plays where Shimona comes dancing onto the screen to support her cricketer boyfriend, not just it fills us up with nostalgia but also the fact that so many people who will see the ad for the first time they more or less will enjoy the same as much we had when we saw that.
On Cannes worthy campaigns...
One thing that's common between all the winning campaigns at Cannes is that they are all surprising. It will be something that you haven't expected or seen it and yet so simple.
It is easy to get cynical in this business but don't assume anything. Don't think that your client will not have an appetite of doing a great work and therefore you have to do it like some sort of a side business. You should not underestimate your client, instead go after them and present the best idea that you have and you will be surprised by how many clients are happy to do ideas and put their money behind it. Most of the stuff that we have been winning on in the last few years has been backed by some really solid clients who had belief in the work that we do.
Any ad that you have seen and loved, you will find that there's an element of surprise that makes it endearing and that goes without saying that all the biggest winners from cannes also had that vital element. Every piece of work that you have admired has happened is because there was a client behind them who trusted your vision as a creative and jointly took the accolades.
Views on India's performance this year
We are super proud of India this year because we not only won but we won some heavy metals. This year is no less significant is the quality of wins. Never had it happened that India
Favourite campaign at Cannes
Harshad: For its simplicity - Grand Prix Winner in Outdoor, McDonald's signage campaign
Kainaz: Palau Pledge campaign - incorporated a pledge that the tourist have to take as a part of their visa. It's the pledge that you are signing to keep their island clean.
Ingredients for a great ad 
What we typically do is after we read the brief, we study the product which is very important to know your brand. After that you just start thinking about it, you may have to go through rounds of feeling good about an idea and vice versa, eventually it all boils down to you and your intellect. It is not a  process. But you need to keep adding, keep pen to paper - the more you write the better you get. The more you read, the better you write.
-Do not shy away to search for excellence.
-Putting pen to the paper
-Rejecting your own ideas
-Making sure the craft is as good as the ideas
-Taking inspiration but not copying anyone
-If you live in the West you don't have to be like the East and vice versa.
-Be relevant and surprising
-If you chase awards, you may or may not win but if you chase great work you will definitely win.
To us, advertising how much ever complicated the jargons may get, it will ultimately remain about answering few questions, great and precise need is what needs to be set. We as creative communicators will always be what best can we say what needs to be said. So, the brief if it is very precise and sharp which tells you, then as a creative professional it's your job to say it in a way that has never been seen before.
Studying trends
While it is a great thing to analyse trends and read them not just for your educational and textbook purposes but everything that makes the cut over there. The work that really stands out is following and observing trends and then breaking threads. Only if you are going to stand away from the crowd is when you are going to achieve that supreme status of a Lion winner and that is when following the trends yet trying to stand out from them.
Craft
In the Cannes lions, the stuff that wins- Craft is critical. You cant just have an idea and expect the jury to award you for just that. If you see the craft of soya sauce posters you can see that the art director has taken everything inside him and poured it out onto the page. So, do not get a great idea and just relax, work on it implement it and there comes the result.
On winning Grand Prix
We feel privileged to win it for the simple reason that Ogilvy as a place where we have seen exponential growth and learnt a lot. It is our way of giving back to our fabulous agency.
What we did absolutely special is that we managed to bring back the first Grand Prix for Ogilvy on the day that Piyush Pandey picked up his Lion of St.Mark on the same stage.
Studying the stalwarts 
We all have looked upto the work of industry stalwarts like Piyush Pandey, Prasoon Joshi, Agnello Dias and many more who have constantly been churning out great advertising.
Quoting Piyush Pandey's words here  - 'You don't have to be like West', the duo elaborated further - Be true to your culture, identify what makes the social impact on the country that you live in. Make it so great with the sharpness of the idea and the craft that it wins big. All the Indian creatives right from our own work on Savlon which reflected this to other agencies' work like Sehat Ka Batwa - reflected the Indian reality and hence the solutions were that much India specific.
Kainaz Karmakar and Harshad Rajadhyaksha were speaking at the second edition live session of India's first live conference, SMLive 2018.