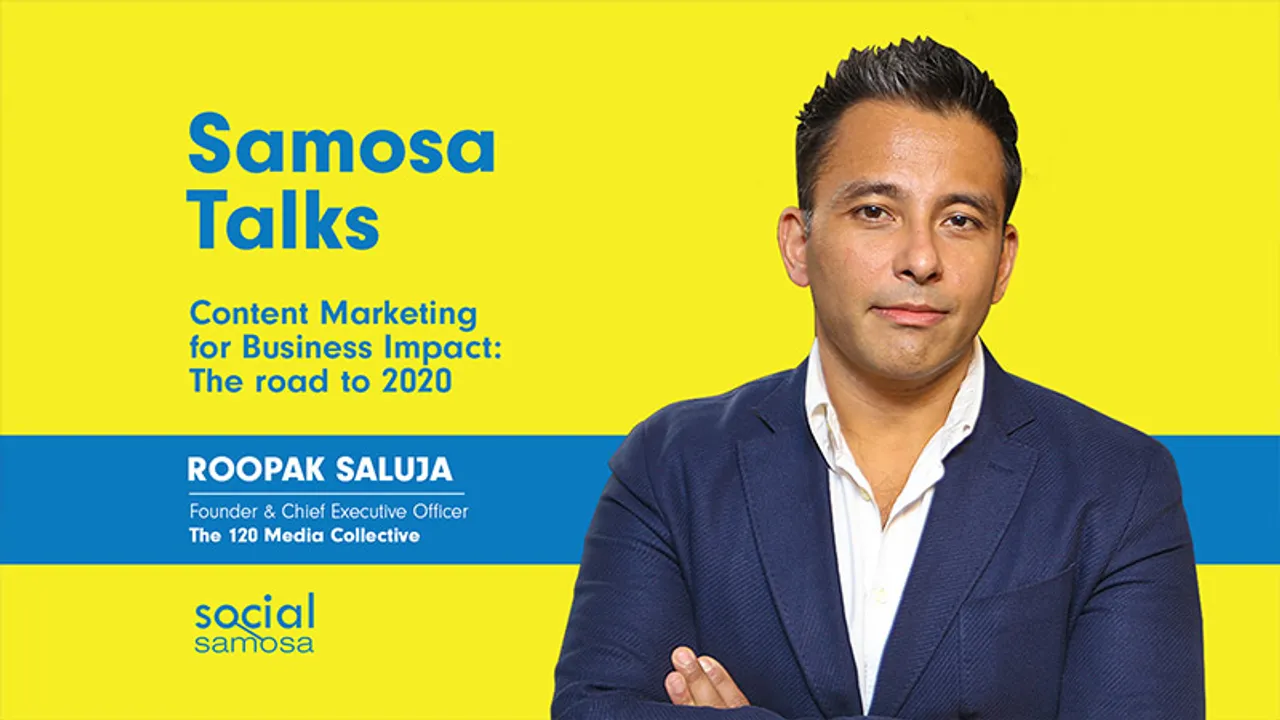 In a candid Facebook Live conversation, Roopak Saluja, Founder, and CEO, the 120 Media Collective shared some interesting insights on content marketing and it's impact on businesses. 
"I am a big believer in the catchphrase 'Content is King but Distribution is God'- this was said by Mr.Subhash Chandra of Zee back in 2007," exclaims Saluja. For him as an individual who has been in the digital and content space for nine years the phrase carries huge weight because if you create content and if no one watches- it there is no point for creating it.
Here are some key takeaways as Saluja talks about 'Content Marketing for Business Impact: the road to 2020' at Social Samosa's Samosa talks. 
Role of content marketing in the background of increasing attention span and ad blocks
We have approximately 200 million ad blockers in India which are mind-boggling. I don't even know how that works. The effectiveness of advertising is definitely going down and it is of prime importance in that environment to have a way for brands and other organizations driven by communication. The entire premise of content marketing, you need to get the consumer something in return of retention time - whether it is of entertainment or educational value. This is how it works.
Because of the penetration of devices and ad blockers, the power is in the hands of the consumer. There is absolutely no question that content marketing plays a huge role and will continue to play a bigger role. 
Short form vs Long form videos. What will work in 2019 and beyond?
There is a rule which says that shorter the video better it is in terms of engagement.
We see engagement rate drop off beyond 30 seconds to 60 seconds mark.
That is not just to say that you can't have engaging content which is longer.
On the bulk of it, short-form videos are easier to produce and perhaps require less expertise and investment; you need to find a way to make that work. Long form video is not everyone's cup of tea. It's a waste of time and effort if you create a video and no one watches because its not engaging enough. Short form is what one should start with.
Views on in-film branding and digital content
There is no science to this. Sometimes you have a very subtle branding done. Product placement works best when content and the brand are aligned at a value's length. Sometimes you can take it to an extremely high level which is a bit of a mistake.
Therefore if your audience is there in terms of devices and content usage, video is what people are doing and therefore you should create video content to reach out to people
AI and Content Marketing
AI will change content marketing massively. Content marketing works best when you marry it with data and add a layer of technology to it. There is a book called 'Predictions Machine' and it really gives a good perspective on what AI means- taking data that exists and creating predictive mechanism out of it. Once you have enough content on audiences then AI will work and will be used to utilize that data seamlessly without human intervention and arrive at certain conclusions.
Data gives you attribution  (if you know that a particular action and content is going to have a certain effect, whether positive or negative, then you are able to do more or less of that as the case may be). Secondly, data helps you to iterate. By this, you get feedback and improve your content and so the content that you out is more compelling.
Role of Content Marketing in organic reach
SEO is the way to game the system, it's a hack to push up in ranking to increase discoverability. Great content doesn't really need SEO. When there is content that rests on its own laurels and value, you don't really need to power it through SEO. However, if you can optimize it that it's a good combination.
Marketing technology though as a whole is definitely becoming more relevant. This is also a phenomenon where all the consultancies are coming in. As far as external partners of advertisers went agencies-WWPs and Omnicoms of the world, have legit claims over marketing laurels. As marketing and technology started to converge, you have your Accenture and PWC have very strong digital practices. But now we as the stringer technology players have as legit claims on those marketing laurels as the agencies do, maybe it could be more than them. These entities, one thing they couldn't hack was creativity. But they are also those acquiring jacks who are able to inject that creativity. Content is on a piece they are trying to build entirely as it is an extremely misuse buzzword because the word itself means so many different things. It's a double layered phenomenon- people are talking about it while a few are also creating it.
The consultancies are trying to acquire stronger content creating capabilities and they have succeeded to some bit.
Does every story has to stand for a greater cause? 
No, it's not the case. Content is not just about entertainment, it's about utility and information, education, etc. We have worked with brands in India who have actually had tremendous education in this and also educated us. In that process, we learned the mechanism of using data in certain framework in one small way initially became more robust over time because of the thinking that people have developed and technology. It wasn't great and has miles to get better.
Impact of content marketing on businesses and Parameters to measure it
There was a time recently when people were creating content for the sake of it. The days of valid metrics are over. Is it really moving the needle? We really need to move as an industry and the onus is on us as agencies and clients to move the industry beyond these conversations. We should be having conversations about business impact.
Now, you can get people to buy your content through the content that you produce. Not immediately for the one who has seen your content and product for the first time but you can move them up the funnel. The sales funnel is an age old marketing concept where you interest, desire target, etc. If content can move your audiences up the funnel, that's a win in my eyes. As your audiences consider researches, compare - you have to move them from awareness to purchase for your brand.
Watch the full live session here: