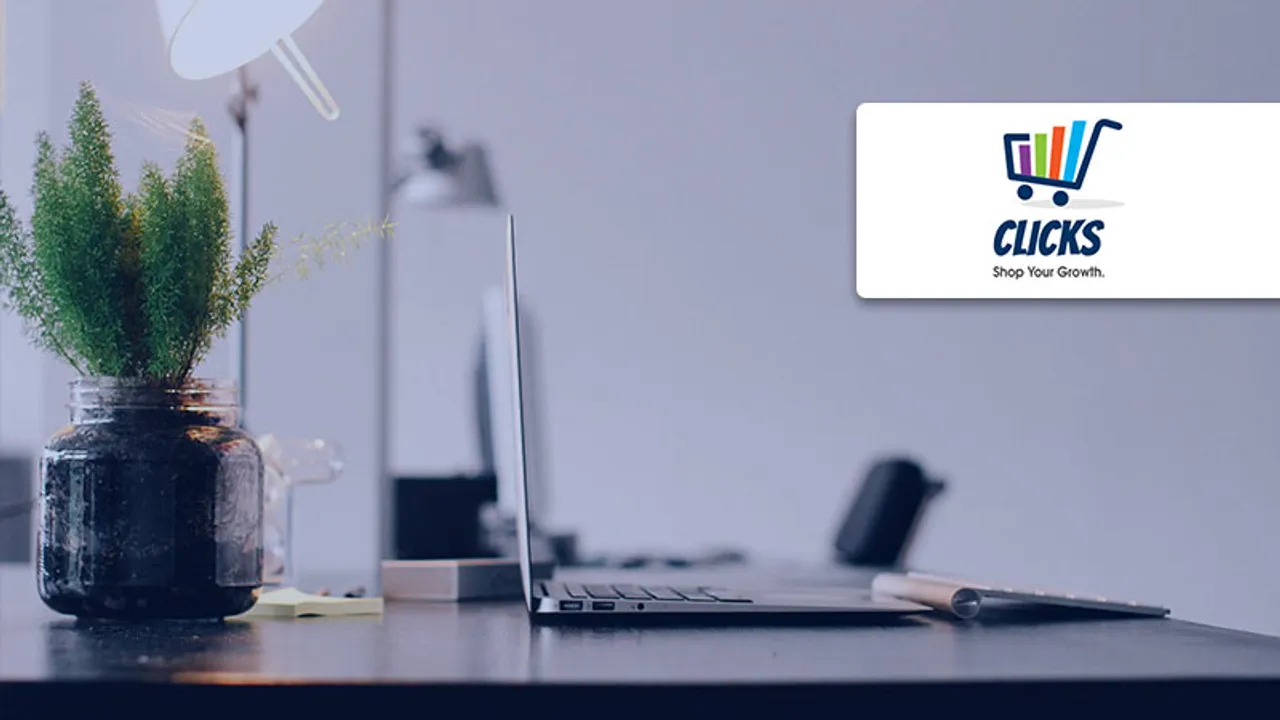 Who are we?
CLICKS is a boutique Digital Marketing Agency, headquartered in Pune offering 360-degree digital marketing solutions to our clients spread across India, UAE, South Africa, and Singapore. 
Like Web/ App Development, Search Engine Optimization (SEO), Search Engine Marketing (SEM/ PPC), Social Media Management/ Marketing (SMM), Content Writing, Graphic Design,

What's in the name?
The first thing was to keep it easy to remember (name of the founder's previous startup was Cornucopia and people had trouble remembering as well as pronouncing it!). Second point in mind was to keep it related to what we offer as a service. Third was the availability of a .com domain for the name we like.
Fortunately, the domain was available. It gelled well with the idea that whatever we do online as a marketer, eventually what we all want is 'clicks' from our potential users to take the action we need them to take. 
What we do?
Digital Marketing Strategy

Web/ App Design and Development

Search Engine Optimization (SEO)

Search Engine Marketing (SEM/ PPC)

Social Media Management/ Marketing (SMM)

Web/ App Analytics

Email Marketing, Marketing Automation & Workflows

Graphic Design

Content Writing

Videos – Animation (2D/ 3D), Whiteboard, Infographic, One-Person Explainer and more

Lead Generation/ Management Solutions

Digital Marketing Training/ Workshop to Corporates and Groups

Brand and Marketing Consulting
Why we do it?
Our Founder, Adit Chouhan, comes with more than 12 years of experience as a Traditional and then Digital Marketing in various sectors. He did a formal certification in Digital Marketing from MICA, Ahmedabad. With this newly acquired knowledge four years ago, he realized that many Agencies who call themselves as Digital Marketing Agencies do not have complete knowledge as well as trained resources to serve their clients. Moreover, since the client doesn't understand DM so well, the agencies use some technical jargons and make a fool out of many clients.
Disgraced with the situation due to many such Digital Marketing Agencies mushrooming in the market who over-promise and under-deliver, simply because of lack of knowledge, Adit found the gap he wanted to fill. Hence, giving birth to CLICKS that believes in honest smart-cum-hard work while educating the client along the way to never break the trust a client puts in us. 
How we evolve?
Our Founder is also a Digital Marketing Trainer and has visited many B-Schools for Workshops along with his vocational training with Edupristine Pune and Corporates. That's one reason he stays updated and makes sure the team is always updated too.
Along with that, we are always following various knowledge sharing platforms and Personalities like Neil Patel, Search Engine Land, Marketing Land, Later.com, Sean Ellis, Matt Cutts, and YouTube Channels of Google, Webmasters, Hootsuite and more. 
Social responsibility in social media
What's important is to keep the client informed and updated. And, then the ability to say no when something that the client wants does not follow the Social and Ethical norms. As soon as you explain the kind of backlash it may bring towards the brand and spoil their name in the market, clients usually listen and understand.
Need of the hour
The biggest challenge that the Social Media Industry faces is the fake likes, fake followers, fake twitter trending, fake downloads, fake profiles, fake news, etc type of services that are available in the market freely and are being used by many brands knowingly. These platforms need to figure out a way to deal with this fakeness.
Second, the Social Media trolling needs to be controlled in terms of the language people freely use on social media, again using fake profiles.
Third, a player like Facebook needs to have better communication channels available for its Advertisers than e-mails. They need to have customer care numbers to resolve advertiser issues. They do not have those since they enjoy monopoly.
Fourth, the organic reach of posts on the Pages owned by the user should not be restricted by the platform (FB). 
Fifth, data privacy is a big concern and the laws related to the same should be more stringent.
We learned the hard way
That the clients who are ready to pay what you deserve for your services exist and you don't need to worry about your costs if your quality of delivery is professional and good. Those who can't pay close to what you ask for, do not deserve your services. And, you should know when to quickly move on. Cost cannot be the only criteria for a client to have you on board.
This has helped us stay away from the rat race and grab projects even when our proposed budget was higher than other bidders/ competitors.
Did we just share that?
During his job life, Adit Chouhan had to once call the existing Digital Agency team and show them how easy it is to crop an image/ logo to fit as the best size for the FB Page Profile pic using Microsoft Picture Editor tool. It was surprising to see that these resources did not have the basic sense to keep the profile pic big enough to make the logo visible. And, to top it, were making it such a big deal showing dependency on the creative team. It was funny as well as shocking to see this.
They work with us
ICICI Pru, Gagan Narang Sports Foundation, Logicon Technologies, SunFire Technologies, Ascent Intellimation, Training Bees, Pooja Crafted Homes, Ortus Sport, Antonov Industrial Parks, K K Eye Institute, Cilicant, Mentor International School, Navsahyadri Group of Institutes and more.
Industry as we foresee
We see the client getting more and more intelligent with all the training and courses available now. This will hopefully, make it difficult for the Digital Agencies who lack knowledge and skills and are not updated. This will help the industry get more consolidated with only genuine players surviving. That will then make India a truly Digitally Transforming nation.
Social Media Managers will understand that rather than creating a new post every day for clients, they should rather share existing content from other websites that compliments the client's services and doesn't break any copyright issues. This will also lead to many collaborations and content syndication deals.
A day without Internet
A day without internet would be very difficult if the rest of my daily activities are to remain the same. However, it may be a breath of fresh air if I am also allowed to do something adventurous.
Lastly, are you hiring?