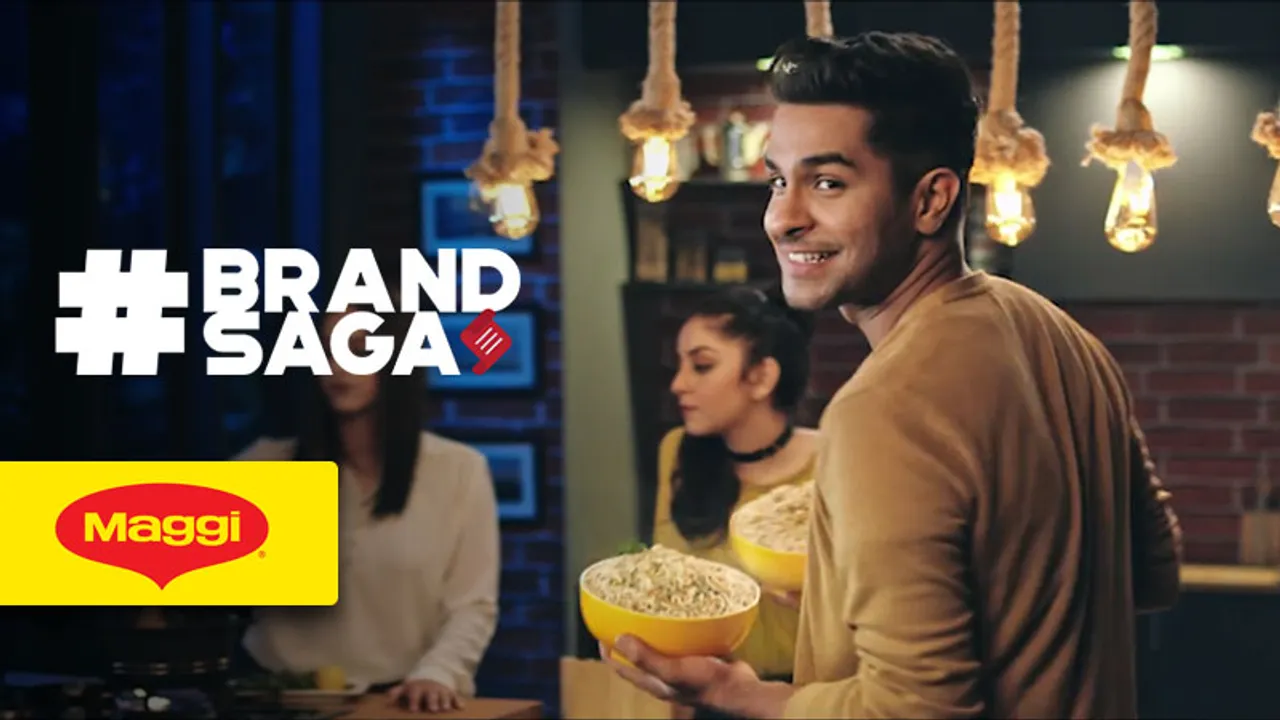 First to feature in our #BrandSaga series is your, mine, and everyone's favourite - the 2 minute Maggi noodles. While the brand fights back the allegations and claims against it, we take a detour to walk through the Maggi Advertising Journey.
Amidst all the racism, caste discrimination, class politics, if there is anything that binds all Indians together - it is the two-minute instant noodle we call Maggi. A saviour to a survivor, a go-to-snack for trekkers, a mother's quick-pick from the supermarket, a kids default choice - the noodles has surpassed every competition on its way.
Maggi in soup, yet again - 2019
The first weekend of 2019 saw leading English print dailies displaying 'Your Maggi is Safe, Has Always Been' wherein the brand marched upon a campaign to ensure to the readers and its consumers that it has not compromised in its quality and will never do it. The move came after the apex court on January 3 gave the National Consumer Disputes Redressal Commission (NCDRC) a go-ahead to proceed with a class action suit brought against Nestle 3 years ago by the government for allegedly selling Maggi noodles that fell short of the existing food standards.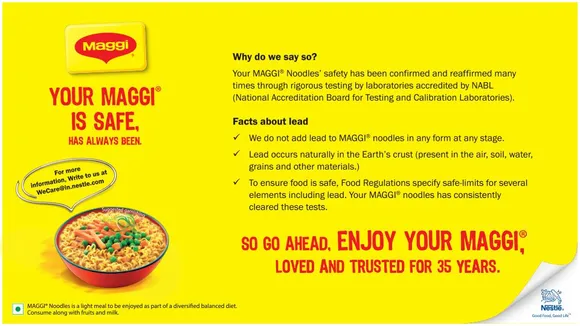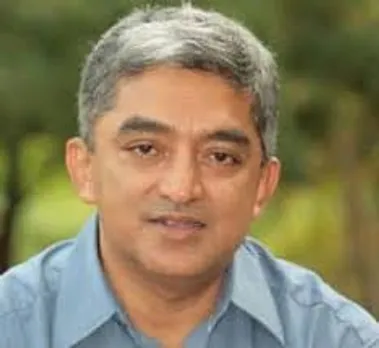 Harish Bijoor, Brand Consultant commented, "The recent controversy is a non-controversy as it is the opening up of a shut issue. An issue the CFTRI (CENTRAL FOOD TECHNOLOGICAL RESEARCH INSTITUTE) report closed". 
Applying learnings from it's earlier ban, this time around the company came up with a  quick response action in the form of the print campaign and did the crisis management right. However, Maggi lovers just like us are reeling under the worry that what if Maggi gets banned again?
The greatest brand controversy - Maggi gets BANNED - 2015 
It was in June 2015 when the noodles made a comeback after the ban was lifted and found its place in the aisles of supermarkets again. The whole country cheered up. Maggi had found itself in a soup when The Food Safety and Standards Authority of India (FSSAI) imposed a nationwide ban on it due to the presence of a high amount of lead and Monosodium Glutamate (MSG) and misleading advertisements.
As an after effect of this, the brand's shares plunged drastically while it dominated the market share earlier. The company had stated that Maggi, which once enjoyed a 75% share of the market before the ban, which dropped to 60% in 2016. Various celebrities with the likes of Madhuri Dixit Nene, Preity Zinta, and Amitabh Bachchan who were associated with the product were trolled heavily on social media for endorsing the alleged 'life-threatening' noodles.
While the brand might have been slightly late in initiating the crisis management process, they made a touching statement with their #WeMissYouToo campaign.
Maggi Relaunched  
The countrywide ban on Maggi was lifted by the Bombay High Court on 13 August 2015 after lab tests conducted by various state governments found that the lead content was much within the limits. In the whole process, Maggi is alleged to have suffered a loss of Rs 420 crore. 
In September 2017 Nestle partnered with FSSAI to open the first food safety institute in Manesar to back up the cause of improving food safety standards in the country.
Although we are all for safe food standards and high maintenance of hygienic conditions when it comes to any kind of food, we cannot deny but agree that Maggi has raced against the time becoming an essential food item to be stocked in your kitchen cabinets. It has found a place in every Indian heart and has maintained the position throughout.
The 35-Year-old Journey in India
In this #ThrowbackThursday, the article does not seek to glorify Maggi but traverse through its journey in India since it's launch in 1982. Bijoor expressed that Maggi has established for itself a heritage brand status in India in a rather short span of time.
"The brand has positive memory strokes from generations of Indians who are still alive. These are the folk that have their fondest memory attached to the piping hot noodle in 2-minute format," he added. 
The two-minute revolution came with its own set of challenges when the country was alien to any snack as a noodle. According to penguin.co the Indian market at that stage had no convenience food at all and an almost non-existent range of industrially produced food products. With 28 states, at that time, boasting of varied cuisine and tastes it was almost impossible to get into the roots and introduce the brand positioning and the category to the locals.  
Very few would know that the hidden treasure inside the packet we call the 'Tastemaker' wasn't dug inside it always. After the launch of the original product and facing stiff competition, Maggi's makers introduced tastemaker, the flavouring agent in 1997.  Later in 1999, 'Fast to Cook, Good to Eat" mantra helped Maggi to find a place in people's hearts.
Tagline ka Magic 
Packaged in different variants of masala, tomato, chicken, and curry, Maggi brought a new wave of quickly cooked food for Indians. The Swiss company identified the need for a good and convenient snack cum food in the market and readily launched the product. Targeted at working women in the early days, Maggi changed its positioning to kids after it realised that it wasn't doing well.
With affordable pricing and different size packaging, Nestle tapped on its challenges and problem statements actively. It started with weaving impressive taglines around the product for instance: 2 minutes noodles which defined its convenience, 'Taste bhi Health bhi' rooting for staying healthy, '2 minutes me Khushiya' integrating fun elements, Maggi mania – Chaska taste ka, health rice ka,  Maggi Cuppa mania – Just add garam pani, Carry on Jani made the brand quirkier in terms of advertising communication.
'Mummy bhookh lagi hai, bas do minute' still rings in my ears and takes me down the memory lane. Nestle realised the potential of the product and leveraged every possible medium including print, television targeting kids programmes and cartoons and outdoor to advertise the features and create a high appeal among the masses.
Maggi - An emotion 
In 2018, on the occasion of Women's Day Maggi rolled out  "Kuch Achha Pak Raha Hai" that recognizes the changing status of women". From those black and white 'Mummy I am Hungry' to launching the Me and Meri Maggi', inviting consumers to share their Maggi moments on it's 25th anniversary to rolling out the revolutionary #WeMissYouToo during its ban, to now aiming at changing societal perceptions, Nestle Maggi epitomises the saga of adapting to the moment and getting the consumer sentiment right.
Integrating emotions well versed with audience requirements has been a tactic that the brand has imbibed in its 3 decades of communication journey.   
From launching Maggi Macaroni, to Maggi Cupalicious to Maggi Oats to introducing India to it's first baked Sweetcorn noodles, the brand has come a long way.
Getting nostalgic, Bijoor shared that his fondest memory of Maggi is partaking of a piping hot Maggi on a deadly cold trek! An occurance that is a palliative memory linked to brand Maggi.
In it's 36the year Maggi faces stern competition from brands like Wai Wai noodles, Sunfeast Yippee Noodles, Ching's Chinese, and Knorr Soupy Noodles. It has had it's ups and downs like no other and now enjoys 60% market share.  
In July 2018, Maggi rolled out 'From Our Kitchen to Your Kitchen, a 4-part video series where consumers were invited to learn about their products and how they are made. 
While Maggi still remains our go-to 2-minute snack pick, it is the responsibility of every brand to adhere to safe food quality standards and do proper maintenance. Nestle claims to comply to all food production norms and come back stronger every time.
We just wish the best for the iconic brand while we slurp the noodles sans any second thoughts. 
While we continue to take this walk down the memory lane of the ad world, next up in the #ThrowbackThursday series will be yet another genius of a brand of your choice. Let us know in the comments below or write to us on content@socialsamosa.com.