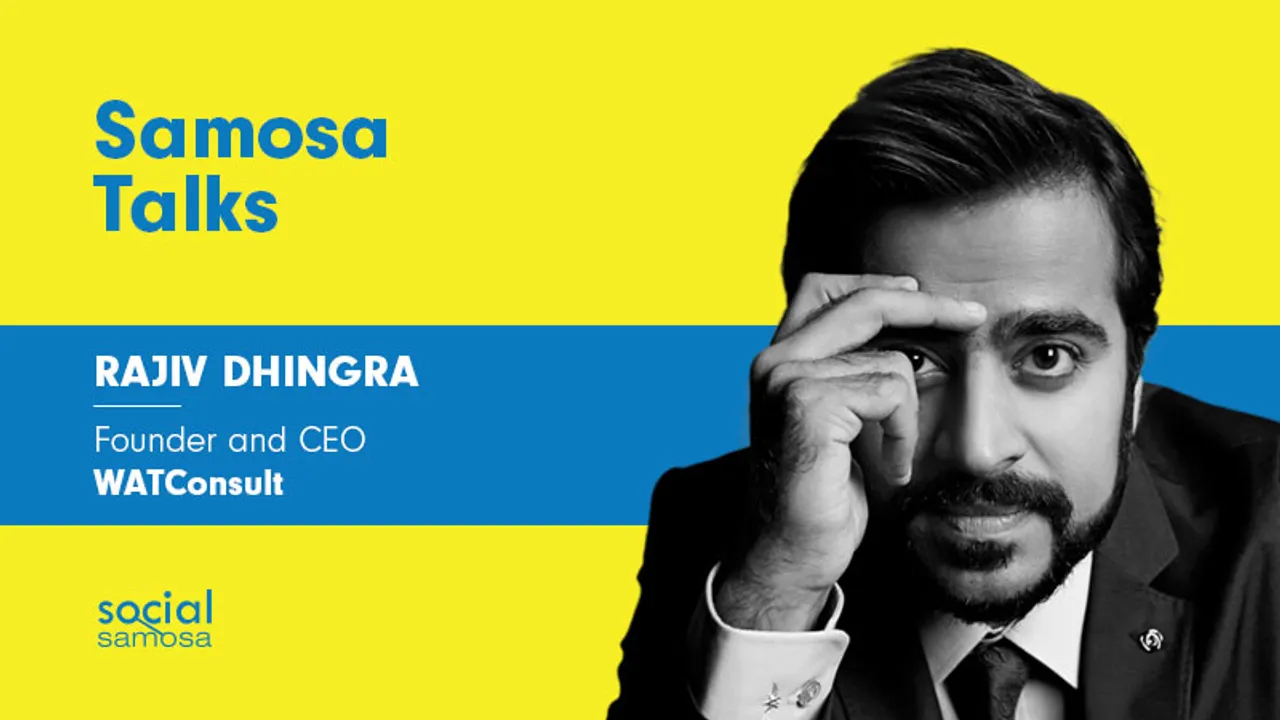 Social Samosa kickstarted the new year's first #SamosaTalks with Rajiv Dingra, CEO and Founder, WATConsult.
Founded by Dingra in the year 2007 WatConsult has won many accolades back home as well on a global level with an impactful campaign for Nanhi Kali titled #PowerlessQueen. On the occasion of Women's Day, this campaign was launched to highlight the plight of women in India via a game of chess. A never seen before digital version of chess, made the players understand how it feels to try and win if the Queen is standing powerless.
In 2019's first #SamosaTalks, Rajiv Dingra spills the beans behind the thought and preps for 'Putting an Indian Agency on a Global Map'.
Standing of Indian agencies in the Global M & A industry
India is one of the fastest growing advertising markets and continues to be the shining spot across the globe in terms of growth. India though is quite a small market both in terms of advertising and digital advertising which is going to be about 40,000 crore which is about 2 billion dollars- 1/8th of the size of Chinese digital advertising.
From that perspective the sizes of companies in India for acquisition may not be comparable to top 3 or 4 large markets in the world but purely in terms of the amount of growth left in India  especially in the digital space where we are still only 17% of the overall advertising market and so much of growth is left in the overall advertising market - that puts acquisition as a unique proposition  in India where you are acquiring not for today but for the next ten years where this market will be the top 5 markets in the world eventually.
The differentiation for Indian Media & Advertisement sector from its global counterparts
If you look at the overall media and advertising sector we are dominated at least in the mainline industry with Hindi which is the big language difference - also it's the industry where all forms of advertising are growing. Between 7-12%  everything from outdoor, radio, print and TV. Digital is growing at 32% which is faster than all these mediums put together. But it's not like some mediums are dying. Look in the West, prin is definitely not growing like digital is . So India is actually a growth market across every segment of advertising which is what makes it very unique compared to the rest.
3 core things that agencies need to inculcate in the way they function
How do we create work that gets globally recognized- It's very important to understand what is unique for your market. As an Indian market what are the traditions, cultures, nuances  - things that are unique to India and how can you leverage that India uniqueness and create campaigns that actually change behavior or create some ground impact that is real. That is very key to your work than coming on the global platforms like Cannes Lion, Spikes Asia or London International Awards. For them to actually appreciate what you were able to do in your market - the work that puts it on a global level competing with the work from other markets.
1. To identify how a case study from India can show the uniqueness of India.
2. Solve a problem that is close to the culture or the location of India and not a global problem. Even if its a global issue like environment, gender inequality. How are you addressing the Indianness of the problem and the behavior around that problem and creating a behavioral change.
3. Once you create a work - you can definitely package it better and then present it on the global platforms for it to be recognized.
Watch the complete video here:
While also sharing some behind the scenes for the making of #PowerlessQueen campaign, Dingra mentioned that it required a lot of investment in creative training. The agency roped in international creative trainers who had workshops at Cannes Lion and brought them to India. According to him, any idea that takes too much explaining is not a great idea.
"If an idea can be explained in one sentence and elicits a WOW! - that is it."
From there going into execution is a bigger challenge. How do you detail that idea to work at multiple levels where it not only becomes your idea but by everybody else who participates in it".