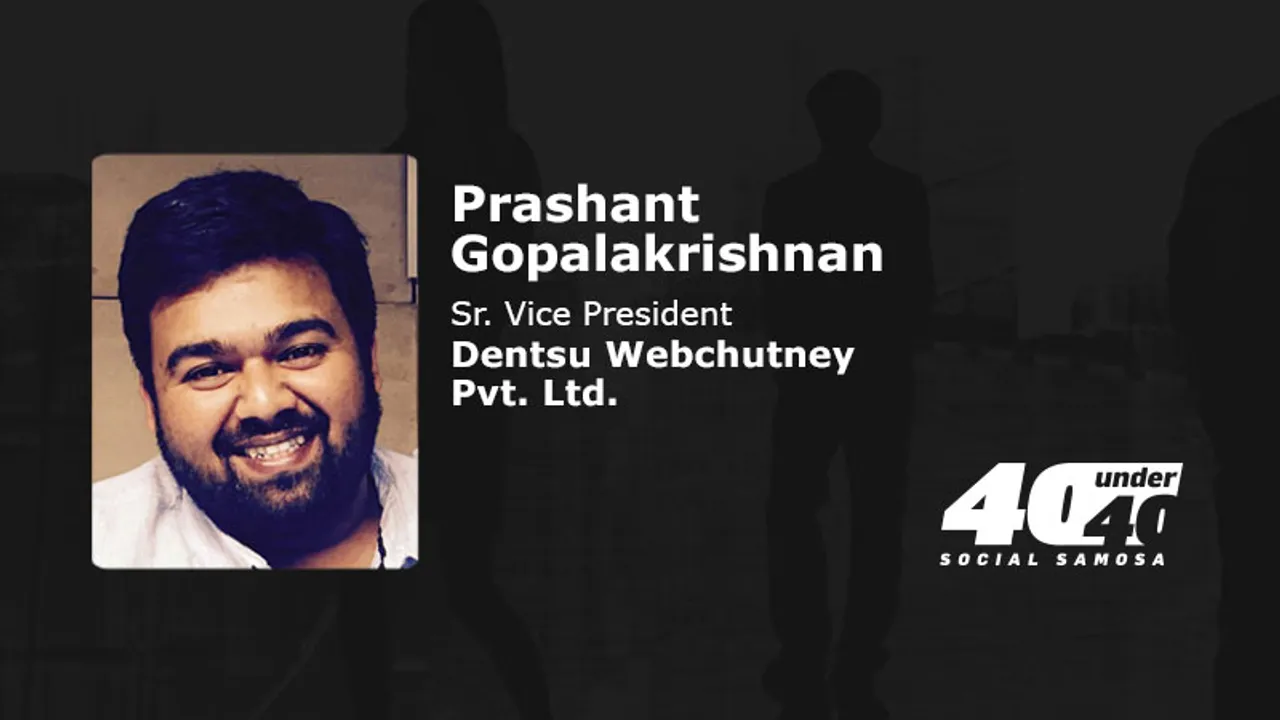 Prashant Gopalakrishnan, Sr Vice President - Client services, Dentsu Webchutney the winner of Social Samosa's #40under40, also with an experience of 14 years shares insights about his journey in a candid conversation.
Gopalakrishnan has worked with top creative agencies like Publicis Capital, Contract Advertising, Leo Burnett and Dentsu Webchutney and truly believes that ideas should be centered around the brand.
One thing you really love about your choice of career
The opportunity to work with people who are half your age and are ready to make things happen for you no matter what.
How would you explain your job to a 5-year-old?
I actually do have a 5-year-old at home. Here's my answer to Abir is simple in three words. "Papa makes ads"
The Weirdest Brief/Pitch you have ever received
Right at the beginning of my career, I was asked to check the horoscope of an actress I was to cast in a bike shoot. This was to make sure that the horoscope of the bike and the actor matched. What made it worse is that it didn't. And she was asked to walk out. ( The actress is a well-known actress today ). This was also the same day a film presentation was done by one of the top directors of that time in ultra-slow-mo. Feedback was given frame by frame :-) Needless to say there was a lot of pushback but this I thought was very weird.
5 Jargons that have become a part of your life
1. Let me figure. 2. We are an expensive agency 3. There is nothing called mainline and digital. We work for the brand. 4. EOD is not 2 at night. 5. Kuch naya karte hai
Media, Marketing & Advertising Quote/Tips for our Audience
Consistency is not built over a few months. It needs multiple months if not years. And it will get noticed. So the long term benefits are far more than the short term gains.
#AllItTakes Advice bytes for career aspirants who wish to make it Big in your field
Find an opportunity in every brief you encounter. Shun the first thought that comes to your mind. That would have been done. Think of other ways of doing the mundane. It 'll keep you refreshed. And your colleagues will respect you more.