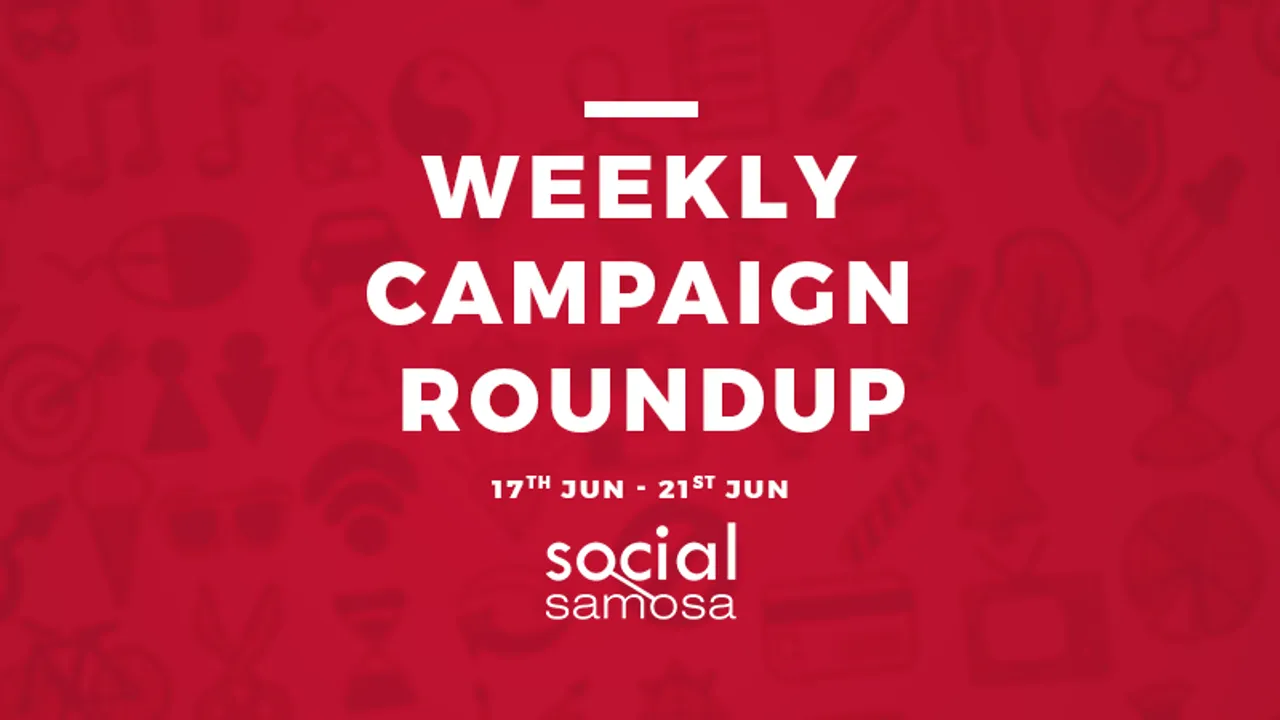 Here's to another week of some impressive work from brands and agencies all over the world. Check out some of the social media campaigns that were rolled out this week
Social Samosa is your gateway to keeping up with the hottest social media campaigns, news and updates, proceedings and trends from the digital marketing industry, brand campaigns and more.
Social Samosa's weekly digital marketing and social media campaigns round-up this week features ICICI Lombard's new campaign, Pond's #Seewhathappens, brand campaigns on Ind-Pak and World Cup event, latest trends and more.
Learn more about the trending and hottest new social media and digital marketing campaigns with Social Samosa's weekly social media campaigns roundup for a condensed summary of the industry.
#TopicalSpot: Here's how brands leveraged the Ind-Pak match
Brands capitalized on the crucial India-Pakistan Match to come up with quirky creatives keeping the conversation around their brands alive. Take a look at some of the India Pakistan Match Brand creatives we came across!
ICICI Lombard's #TechnologyWithAHumanTouch converges human emotions and easy-to-use-technology
ICICI Lombard is always there for its consumers with its' 
#TechnologyWithAHumanTouch campaign. Take a look.
#CWC19: Syska Group's World Cup campaign aims at leveraging Music & Cricket…
Syska World Cup campaign aims at celebrating India's biggest sports festival along with citizens. The video has been launched on Syska's social media platforms and the song has been composed by Teenu Arora & Schbang.
#CWC19: Greenply's World Cup campaign talks about cricket rituals
Greenply World Cup campaign, #MyMatchSpot, engages with cricket enthusiasts and understands their personal attachment with the sport.
How to market an Original Series! MX Player's Thinkistan takes an agile content marketing route…
The ad world rejoiced, as soon as a series on the reality of #AgencyLife was released on MX Player. An MX Original Series Thinkistan – Idea Jiska, India Uska revolves around an agency with two budding writers – one, a suave English-speaking young man and the other, a pure Hindi speaking lad, putting into action the debate of the evolving Agency space.
#TopicalSpot: Brands find a new trend with #SixWordHorrorStory
The topical tide has brought us a new trend, #SixWordHorrorStory. Check out the brands making the most out of it in the article.
#CWC19: Mahindra Lifespaces celebrates World Cup with #JoyfulHomecomings
Mahindra Lifespaces world cup campaign has two films as part of their #JoyfulHomecomings campaign to celebrate shared community experiences & excitement built around the ICC #CWC19.
Pond's urges women to unbox their inner barriers to #SeeWhatHappens
Hindustan Unilever's Pond's- the ultimate beauty and skincare brand, inspires women to rise above their limitations and listen to their inner voices to recognize the true beauty and courage in their new #SeeWhatHappens.