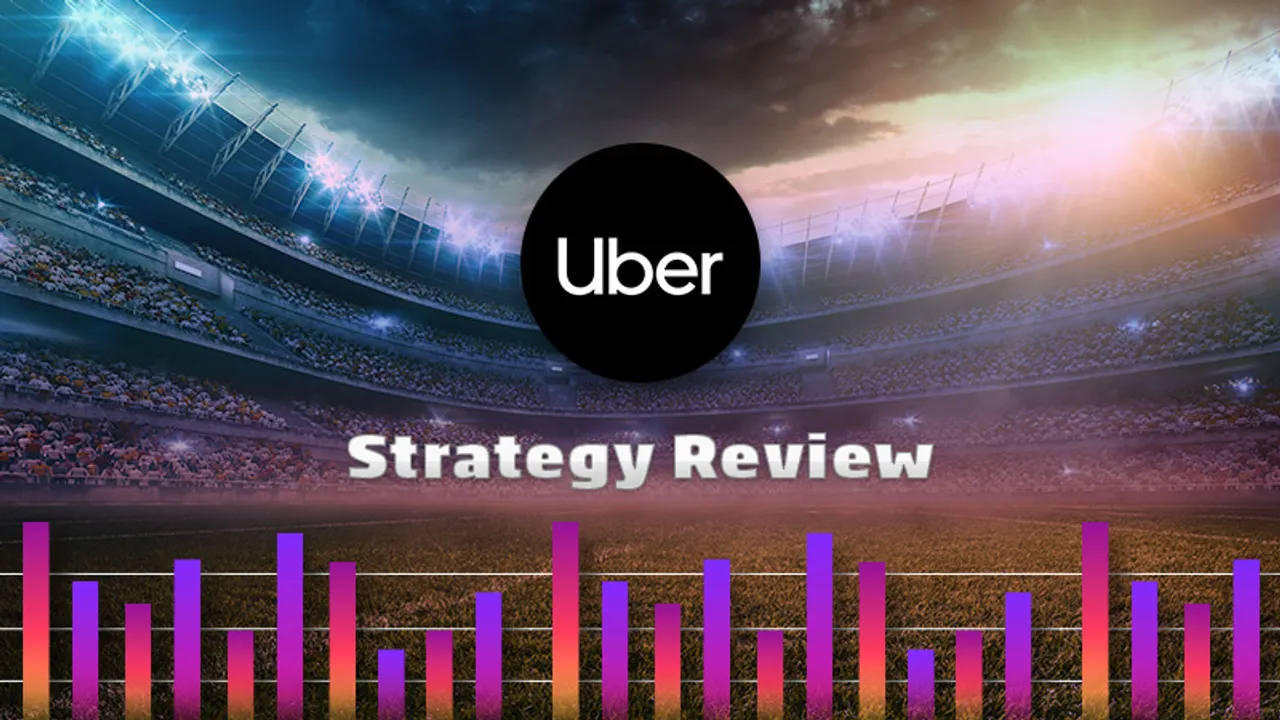 Social Samosa takes a look at the Uber World Cup 2019 marketing strategy as the brand treaded through the event.
World Cup 2019 saw many firsts, one of them being Uber going on board as Associate Sponsor of the event. With a lot at stake, the brand has taken a multi-platform approach, catering to their TG and diver partners as a part of the Uber World Cup 2019 marketing strategy.   
As
a part of this World Cup series, Social Samosa in association with Unmetric takes a look at Uber's
social media strategy this World Cup.
Facebook
Between the period of May 01, 2019 to July 01, 2019 Uber garnered 100187 new fans, exhibiting a growth of 0.45%. Uber recorded an Engagement of over 7.5k with 79.6k interactions.

Uber's posts were best engaged between 4 PM & 5 PM while Friday recorded maximum engagement and Saturday the least. #MovingFansForward has been the maximum used hashtag followed by #CWC19 and #UberStar.    
Uber's most engaged post in the time frame was the launch post of Uber World Cup Anthe.
Twitter
On Twitter, the brand saw a follower growth of 1.4% with over 4.1k new followers. The brand engagement on the micro-blogging platform stood at over 1.4k. On Twitter too, #MovingFansForward and #CWC19 came in the top hashtags followed by #RideToWorldCup and #UberStar.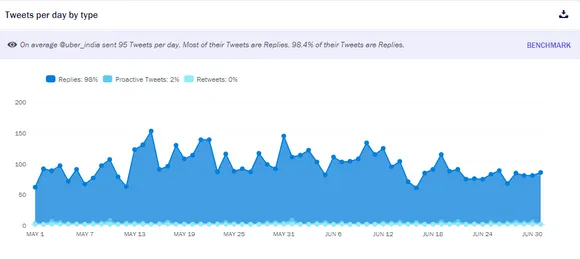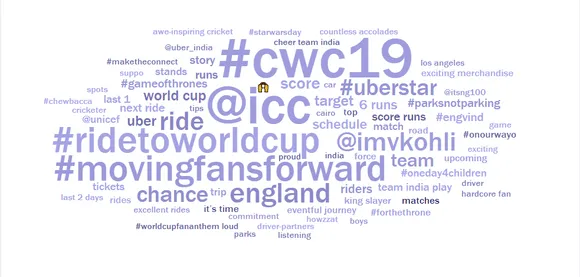 For Uber India's Twitter account, Wednesday had the most number of Tweets while Sunday had the most Engagement, while the most number of Tweets and engagement were seen between 6 PM to 9 PM. 
The most engaged Tweet during this phase was the one revealing the brand's World Cup campaign featuring Virat Kohli.
YouTube
Uber doesn't seem to have had any specific strategy carved out for YouTube. During the World Cup time frame, the brand garnered over 59k new views.
Also Read: Interview: Everywhere you see, you'll see our campaign: Manisha Lath Gupta on Uber's World Cup association
Instagram
Similarly, on Instagram, the brand reposted content from other platforms. The brand has over 27k followers on Instagram and saw over 2.2k new followers in the duration, showing a growth of 11.7%.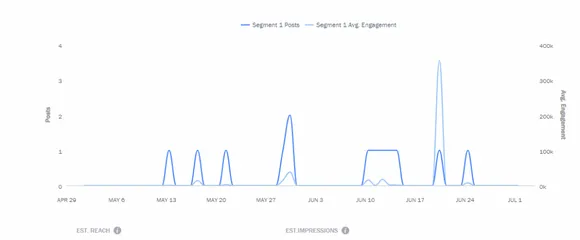 The most engaged post between May 01 to July 01 was a part of Uber's #ShotEnRoute activity. As a part of the initiative, the brand urged commuters to click all things Blue while travelling in Uber.
Campaigns
As a part of the Uber World Cup 2019 strategy, the brand initiated two major campaigns - #MovingFansFoward and #ParksNotParking. In the brand's own words, #MovingFansForward is the biggest campaign by the brand this year. It focused on "driving" fans to the World Cup and had many smaller initiatives under the main umbrella.      
The core of the campaign was earning points through Uber and UberEats apps to win a chance to attend the World Cup. As a part of the campaign, Uber launched an anthem, Way-O, Way-O which was popularized on social media through UGC contests. #RideToWorldCup was another consistently used hashtags by the brand.
Additionally, Uber rolled out #ParksNotParking, an initiative where they inculcated the building of small cricket nets to help kids and adults of localities play cricket there. The idea was to target parking lots that encroach the spaces allotted for parks and gardens.
On Twitter, Uber rolled out #BackSeatCaptain, an initiative where the brand asked commuters to tweet out witty cricket anecdotes they hear from drivers or co-passengers while travelling in an Uber. The activity was given a push through influencers, who shared their # BackSeatCaptain stories.
Uber takes a diverse approach, initiating multiple campaigns for different TG – right from consumers to driver partners, though all strung together by the same theme. The content hooks used by the brand have a few common elements:
Focus on driving footfalls to the
apps
The main objective of the campaign was driving footfalls to both their apps – Uber and UberEats, something that reflected throughout their communication consistently. With #RideToWorldCup, their communication urged consumers to earn more points on the app for winning a ride to World Cup.
Focus on Virat Kohli
With Uber investing big bucks in roping in Virat Kohli, the brand has made sure to make the most out of this investment. With Kohli endorsing a number of brands, Uber wanted to stand out in their communication by showing him as a common man, in an endearing avatar. Kohli was also a consistent element in all of the brand's social media communication.
With tactics such influencer outreach, UGC, contests, celebrity endorsement, and more – Uber has taken a 360-degree approach, leaving no stone unturned to create top of the mind brand recall and leads for their app.
Taking the cookie-cutter approach of being omnipresent consistently for maximum exposure, the Uber World Cup 2019 marketing strategy manages to deliver.