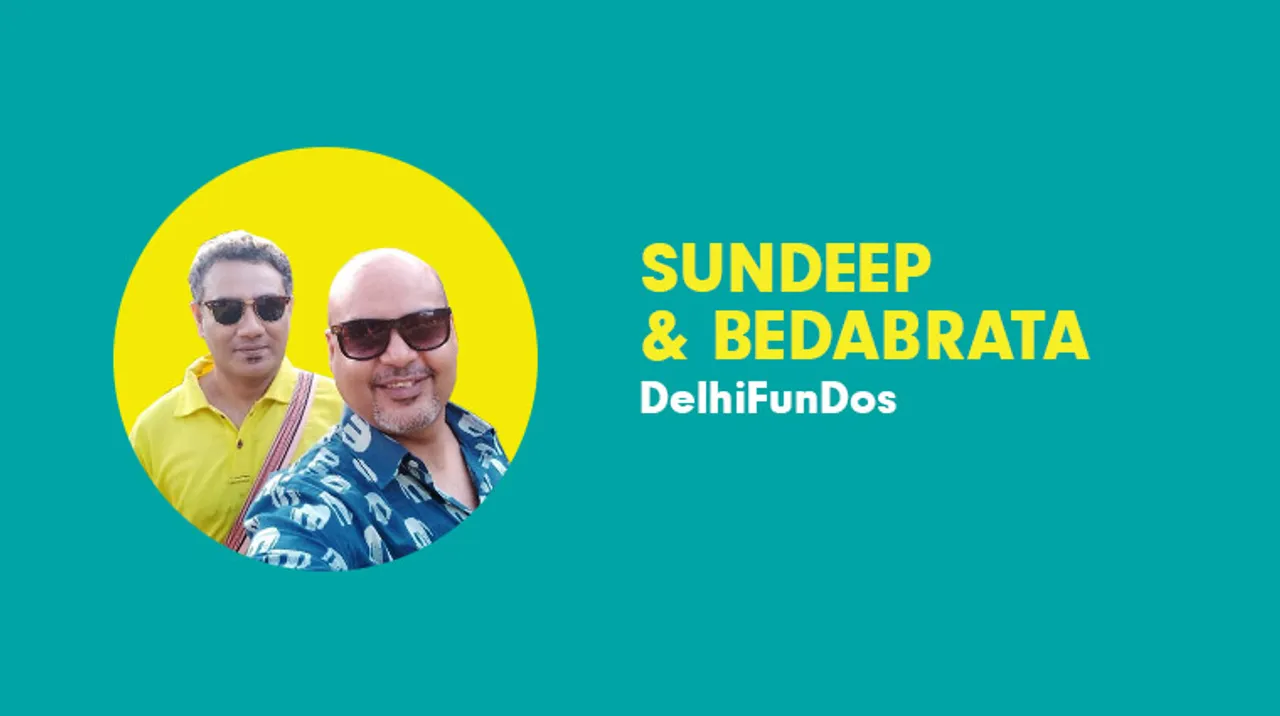 DelhiFunDos, one of the few blogs that covers theatre, performing arts and handicrafts extensively, run by two enthusiasts: Sundeep and Bedabrata share a few behind the scenes of the fun things they do.
If an activity does not seem fun to them, they refrain. Their blog speaks about all the fun things happening in and around Delhi and in this interview they share what follows before and after.
Looking back, where did it all begin?
There is so much that happens in Delhi NCR in terms of food, culture, theatre, music, art, handicrafts, history, travel. The list is endless. We are two enthusiasts who would soak ourselves in many of these activities in whatever breaks we could manage from our professional lives. Soon, we started getting requests for referrals from family, friends, and colleagues. It was time to spread the good word. To this end, we started a website recording our experiences and also listing events for the benefit of our followers. Gradually we expanded to other social media platforms where we circulate our experience as well as disseminate information about fun activities in and around Delhi.
What's in the name?
We took fun very seriously. Since we wanted to talk about fun things to do in and around Delhi, we named our platform Delhi-Fun-Dos. Eventually, the name became our guiding principle. Therefore, we talk about only those events that are fun activities. If an activity does not seem fun to us, we refrain.
What is your USP in this cluttered space? How does your content give you an edge?
We are one of very few platforms that cover theatre, performing arts and handicrafts extensively. Also we have started some days by brunching at a 5 star hotel and ended the same day by watching roof top theatre by a non descript group behind Connaught Place - free entry. In other words, we cover the whole gamut from luxury to modest projects where the organisers have no fund for promotion. If an activity is fun, Delhi-Fun-Dos is game and that's our USP. That keeps the fun times rolling.
Please take us through your content creation process. How do you stay relevant and relatable?
To put it simply, we list an event, attend it and post about it on our blog as well as social media platforms. Given that this is an ongoing process, our posts are contemporary and relatable to our followers.
How do you make moolah with your efforts?
Event listings, Brand endorsements and promotional campaigns.
How do you maintain editorial objectivity with the influx of brand briefs?
We have been very clear as to what we want to reflect on our platforms and this includes brand endorsements. Our ethos has been to highlight the fun features of life in Delhi NCR. Our brand promotions have always been aligned with this standard. If a brand is not in parity with this principle, we have refrained from engaging with it.
One instance/experience that made it all worthwhile
Truth be told, there are so many fantastic events that we could experience only because of DelhiFunDos. For instance, we were invited to visit a mega process run by ISKCON Food Relief Foundation at Palwal, Haryana, They provide free mid-day meals to thousands of children in the local schools. The food is prepared in a factory-like kitchen that ensures that the items are not touched by hand until they are served on the plates of the students. The whole process was incredible as well as humbling at the same time. We were privileged to have covered the event.
Weirdest brand brief/request ever
We were refused the request for transport arrangement for a cocktail event hosted by an alcohol brand to promote awareness against drunk driving. Our response to such requests - LOL
If not blogging, you would be?
Well, we already have our day jobs. Sundeep is a Graphic Designer and Multimedia Specialist while Bedabrata is an Intellectual Property Rights law practitioner. Blogging is our own "Dr. Jekyll – Mr. Hyde" story.
A day in your life….
It's a balancing act. The first part of the day is dedicated to our professional commitments. Come evenings, we are attending events, blogging, responding to communication, posting on FB or Instagram, so on and so forth.
Message/tips for upcoming bloggers
It is about the journey and not the destination.
Your Favorite Influencer
Alex Chacon
The Future you foresee for your Personal Brand
In all humility, we are very satisfied in terms of our work in the mindboggling world of social media. It has been our sincere endeavor to take our followers along with us during our fun journey as bloggers and we believe we have succeeded. We look forward to more and more "Fun-Dos" in the future as well.