Gajendra Singh Shekhawat has a visually strong digital presence, often shares news, and is reportedly known as a tech-savvy minister.
Gajendra Singh Shekhawat — Minister of Jal Shakti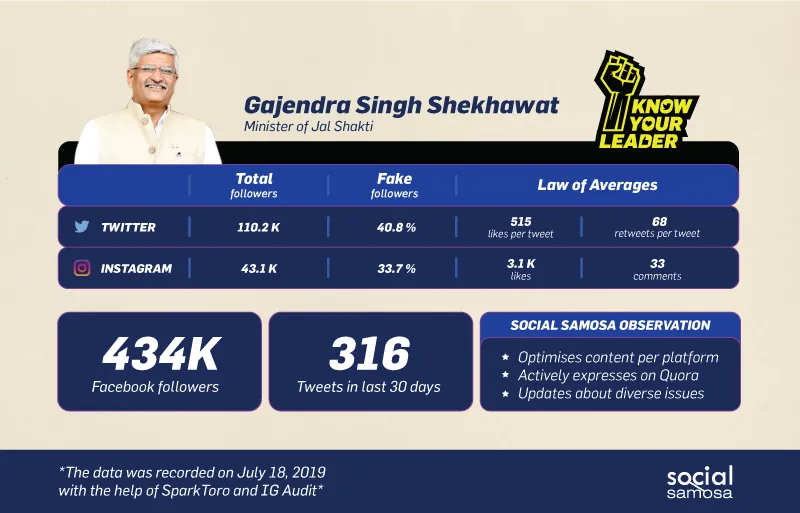 Social Media Footprint
Gajendra Singh Shekhawat is extremely active on Quora, where he discusses a wide range of governance-related issues in-depth. He has 83.7 K followers there. Interestingly, despite the fact that Facebook allows for longer captions, he usually writes briefly, giving out the necessary information, coupled with strong visuals. On Instagram, most pictures shared are informative creatives, with a few candid ones thrown in the mix. The account is not a verified one but has been included here because of the massive follower count.
Sharing a slice of work
Shekhawat is extremely active on Twitter in promoting the works of his ministry and the departments in it. This includes retweets as well as original content put forth by his account. Scrolling through the profile gives you a vibe that here you will find information about water and everything related to it. Through the scroll, the rhetoric of the ruling party does peak through from time to time.
People Connect
He often shares news clippings and weblinks to features that mention him. Pictures of him interacting with crowds fall under the template set that is often seen in political communication. The overall imagery created is of a serious person who can be affable, depending on the environment.
This is a part of the series — Know Your Leader. It's a series by Social Samosa where we put across a concise analysis of how our cabinet ministers use social media to communicate. You can read all the parts here.