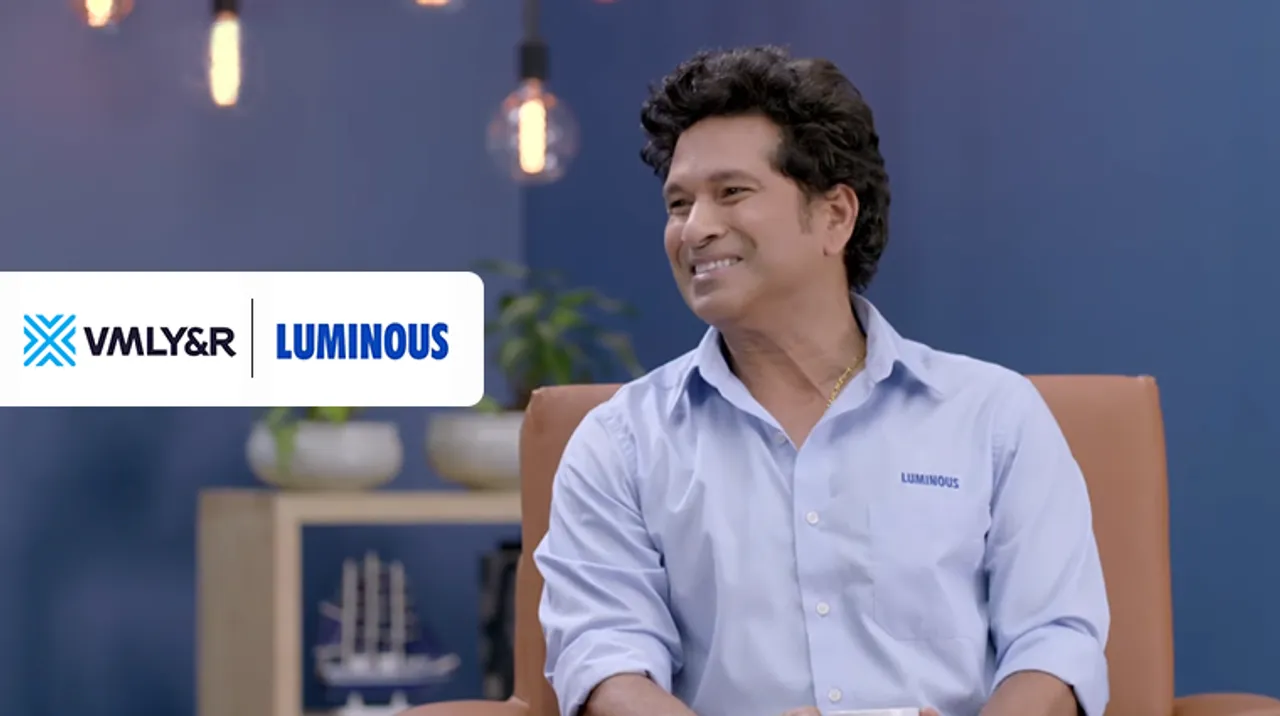 Celebrating the 10th anniversary of the brand's association with Sachin Tendulkar as the brand ambassador, Luminous Power Technologies launches a candid campaign.
Conceptualized by VMLY&R India, the new campaign called "Sachin – Dil Se", is centered around an interview-style film with Sachin Tendulkar. The campaign includes two video interviews. This year marks the 9th year of association between Luminous and Sachin Tendulkar, as the Brand Ambassador.
In the first interview with Vipul Sabharwal, MD, Luminous Power Technologies, Sachin shares his sense of pride in associating with Luminous.
In the second interview, in a casual and personal chat with Vikram Sathaye, Cricket Presenter and Stand-up Comedian, Sachin reveals lesser-known facts about his personal life. Be it the secret ingredient to make Sachin style baigan bharta or how he maintained his cool during high-pressure matches, he reveals it all.
Through this campaign, Luminous attempts to bring the similarities between values of the cricket legend and the brand which has been one of the prime reason behind the continuity of the association. Just like Sachin ensured he continuously evolved as cricket to maintain his supremacy in the sports, Luminous has also has evolved over the last three decades.
The campaign brings out the personal side of Sachin that builds a strong consumer connect and gives a sneak-peek into Sachin's life – be it his favorite song, dish or the skills he wants to acquire from others. Part of the campaign video also shares anecdotes from his personal life, which is in sync with the brand's campaign – 'Khusyion ka Ghar'.
Speaking on the launch of Dil Se campaign, Vipul Sabharwal, MD, Luminous Power Technologies said, "Sachin is a living example of the core values that Luminous stands for - reliability, consistency, longevity and highest standards of integrity. Our association with the cricket legend, entering into its 10th year, has helped us gain immense love from our consumers. We see a great value in him that builds a great brand connect with our end-users."
Commenting on the new campaign, Amandeep Singh- Business Director, VMLY&R India said, 'Sachin Tendulkar was signed as brand ambassador back in 2010 because there were a lot of synergies – being a leader, reliable, trustworthy and a complete inspiration. The brand wanted to shine a spotlight on this long-term relationship for its channel partners, employees, and customers.'
Amandeep further added, 'The main objective of the campaign was to humanize the brand and strengthen the emotional connection Luminous' customers.'