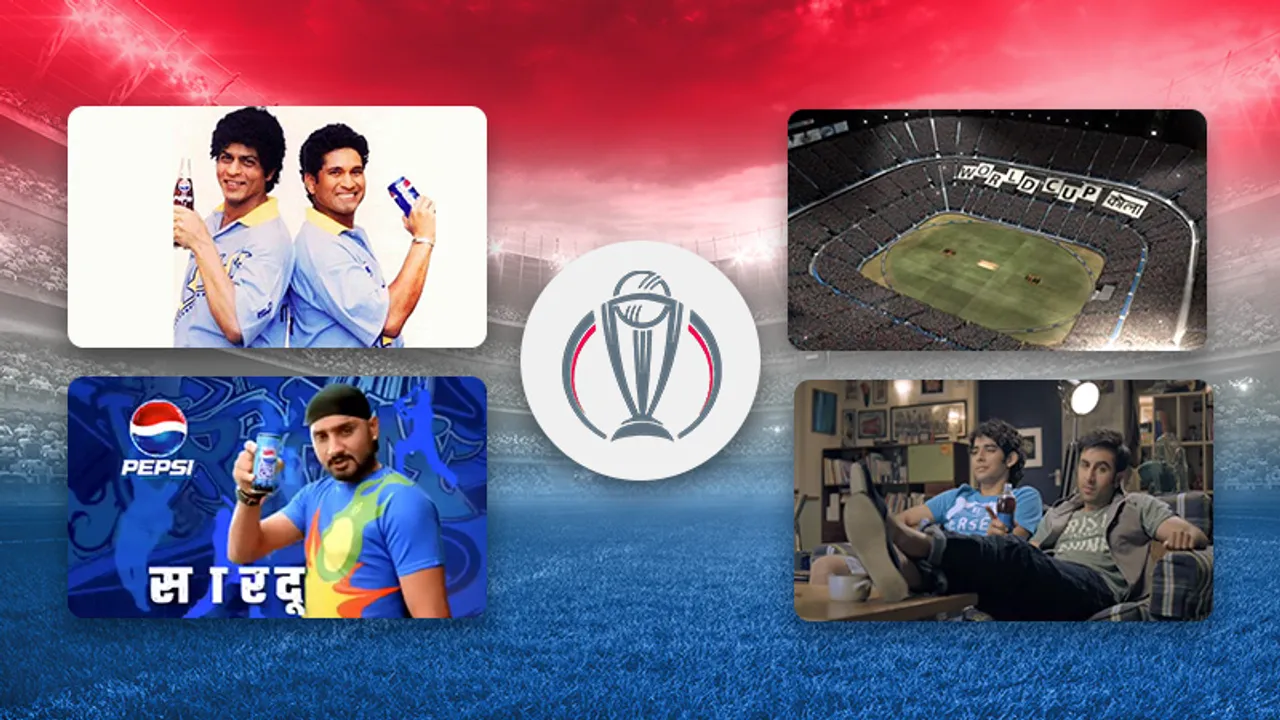 While Pepsi stayed out of the advertising arena this Cricket World Cup, we chose to mix up a mocktail of their #CWC themed campaigns, for you to take few sips of nostalgia.
You might remember Bhajji learning his 'Doosra' with 'Ungli pe tingli' playing in the background, from Pepsi's Change the Game' series. Or Shah Rukh Khan disguising as Sachin for a can of Pepsi. Or Sachin Tendulkar saying 'There's nothing official about it'. Yes, Pepsi World Cup campaigns have always been special.
Over the years Pepsi has been a part of the Cricket World Cup's advertising journey. For the unacquainted, Pepsi also overtook it's rival Coca Cola's sway with their 1996 World Cup Campaign 'Nothing official about it'.
When Coca Cola became the official drink of the 1996 Cricket World Cup, Pepsi responded by launching a campaign with few of the prominent Cricket personalities like Sachin Tendulkar sipping Pepsi and saying "Nothing Official About It". Reportedly, the impact of this campaign also resulted in ICC outlawing ambush marketing, in the interest of protecting its official partners.
Nothing Official About It Series
Nothing Official About It Advert
Sachin Tendulkar
Courtney Walsh
Mohammed Azharuddin
Further, Pepsi's 2003 World Cup campaign was also critically acclaimed and bagged the top position at GLOBES amongst more than 300 entries from around the world.
In 2011, Pepsi became the official sponsor of ICC Cricket World Cup and launched the campaign 'Change the Game', executed by Taproot India.
The 'Change the Game' series focussed on the unconventional methods Cricketers use that change the game. A contest called 'Change the game 11', where 11 of the best innovations by fans on cricketing shots and commentary would win passes to attend all of India's matches in the World Cup, was also rolled out as a part of the campaign.
Change the Game Series
Change The Game Anthem
Dhoni's Helicopter Shot
Bhajji's Doosra
Kevin Pietersen's 'palti' hit
Billy Bowden's 'tedi ungal' TVC
Upar Cut
Pepsi's citrusy campaigns themed around Cricket World Cup have always burst out refreshing flavours.
Yeh Dil Maange More
Cricket World Cup 2007
How To Watch ICC World T20 at the Hospital?
How To Lose A Girlfriend For Two Weeks?
How to become a T20 Dad?
World Cup Cola
VIP Box Experience
This year apart from some social media posts and a digital presence Pepsi has not launched a full-fledged campaign.
Did we miss out on your favorite Pepsi World Cup campaigns? Write to us at content@socialsamosa.com or let us know in the comments below.