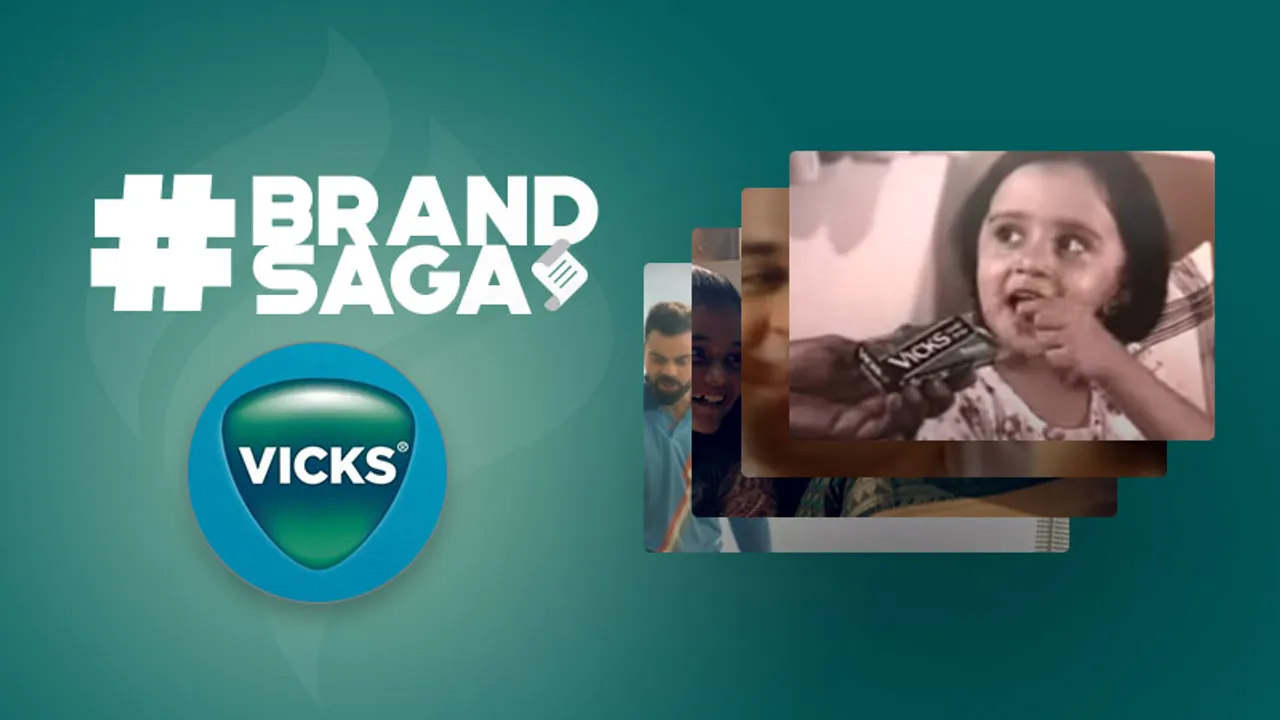 With everyone struggling with bouts of cold & fever, Vicks has been our only partner, hence this week's Brand Saga delves deeper into Vicks India advertising journey.
Name it the non-prescribed remedy to cough and common cold or a geriatric brand that refuses to grow old, Vicks has been our partner in all those sore throat days and nights. How much ever superficial it may sound, I have always been that kid who relied more on Vicks VapoRub, Vicks Action 500 and other variants more than a doctor's remedial medicines.
Also, who doesn't remember 'Vicks ki Goli  Lo – khich khich door karo' jingle that played consistently on television sets over the years.  
Beginning
the Indian way
While a few archives state that Vicks ventured into the Indian market in 1964, others suggest that it was in 1952 that it set foot here. But one thing that stays common is that the initial journey of this centenarian brand on Indian shores came with mixed blows. In the pre-liberalized economy, there were days of reckoning, constant regulation in drug policies and a nationwide boycott by chemists in the early 80s - Vicks saw it all.
According to a Livemint report, the then managing director of the company Bharat  Patel came up with the revolutionary idea of rebranding Vicks as an Ayurvedic product- which was hailed as a smart move by many.
Early Advertising
Whether it be Vicks VapoRub or Vicks Action 500 or Vicks Inhaler, its every variant has been serving the best purpose by being around for ages.
In 1982, when the pharma ban was crippling the country's drug business, Vicks roped infamous actor and comedian Jayant Kripalani and a kid to market Vicks cough drops. Kripalani's baritone voice and the kids' innocence was much admired and the ad conceptualized by Ambience (now Publicis Ambience) did quite good for the company.
Later in a bid to chase consumers' needs and wants, the company launched an orange flavor of its cough drop –this time marketing it albeit a different communication tone. Vicks wanted to reach out to every medium and corner of the country making it accessible and affordable.
This time the set was a classroom. The target audience for the brand ranged across age groups making it a mass product.
By the time P&G took over RHL in 1985, India was established as the leading producer of Vicks VapoRub among more than 130 countries. Though Vicks entered the Indian market much later than its inception in the United States, it was able to cope up and carve a niche for itself while racing towards being the category leader.
Of 'Care' and winning hearts
Historically, the brand has been all about  'taking care' of the consumers, which reflected in their TV commercials where the company has claimed to have not selling the product but the mother's love.
" "If we run through the advertising from '80s till date it has always had consistent elements of endearing moments of love and care between the mother and the child. Similarly, there has been consistent use of Iconic 'Khich Khich monster' and the famous "Khich Khich Dur Karo" jingle on Vicks Cough Lozenges or 'Vicks ki Goli'. All these consistency elements have a high top of mind recall among consumers that we meet. Above all, Vicks' advertising has been consistently rooted in rich consumer insights and the purpose of the brand," shared Ritu Mittal, Country Marketing Manager, Vicks India," shared Ritu Mittal, Country Marketing Manager, Vicks India.
Experimenting in the 2000s
Times were changing and so were the consuming patterns. The advertising industry was now entering into an internet era where life was moving fast and on the click of a button. In 2005, Vicks too brought some fun element into its communication and included a background score to oomph the fun factor.
In 2010, announcing the launch of Vicks Jumbo, the company took a break from its 30 seconder ads to release a one-minute long ad film portraying a traditional setting. Leveraging the cricket fever, the film revolved around how to engage in long conversations it is important for you to be vocal without any 'khich khich'. It was a major shift in its advertising keeping intact the brand purpose.
The film highlighted the long-lasting relief from 'Khich-khich' that new Vicks 'Jumbo' provides. During this time, Vicks led the Indian throat lozenges market with more than 50 percent market share, which stood at around  Rs 300 crore (in sales value), followed by Halls and Strepsils at no.2 and 3 respectively.
Publicis Ambience and Vicks are the epitomai of one of the long-running agency-client relationships. The duo thereon went onto creating many more advertisements focusing on the motherly love and 'Vicks ki goli' ka magic. It should be noted that the association has panned across decades now.
In 2012, Virat Kohli became the brand ambassador of Vicks India. Kohli was a star on and off the filed and had become a national hero till then. Vicks leveraged its growing popularity by roping him to be the face of the brand which he continues to endorse till today.
Of storytelling and emotional bonds
The year 2017 was a milestone year for the brand when it set out to break stereotypes and narrate a not so talked about tale. The company, identifying people's want to consume extraordinary stories, weaved a heart-warming tale titled 'Touch of Care'. The three and a half minute long film was an instant hot and based on a true-life story of transgender activist Gauri Sawant and her adopted daughter.
Created by Publicis Singapore, the story narrated by an orphan Gayatri takes us through her life-journey as the film beautifully captures how Gauri, a transgender woman nurtures Gayatri against her odds by caring for Gayatri as her own child and gracefully carrying the entity of motherhood, despite being the third gender.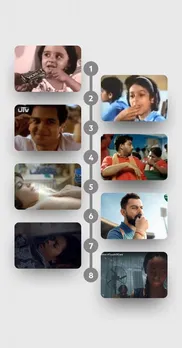 The making of 'Touch of Care'
"In recent years, Vicks advertising has touched new highs and has helped the brand emerge as a force for good in society and a force for growth for the business. With the launch of 'Vicks #TouchOfCare', we made an attempt to contemporize the brand while staying rooted in the purpose of the brand," elucidated Mittal.

She added, "We ensured that we were leveraging the consistency elements or the essence of the brand. We stayed true to the compassion and the endearing relationship between the mother and the child. With #TouchOfCare, we took this relationship a step further by taking it beyond blood ties and the conventional definition of a 'family'. The brand philosophy of 'Everyone deserves a touch of care' is at the heart of this campaign. .
The marketing maven further shared that the response has been overwhelming. "We launched #TouchOfCare in March 2017 and if I talk numbers on the brand over the last 3 years, we have added more than 10 million households in our Rubs business alone and touched highest market shares on the business. It has helped us garner a lot of love from our consumers as the campaign and the brand emerged as a force for good in society. The aspect which is not talked often is that we ensured that we were really touching lives in a tangible and meaningful manner".
Vicks India also launched the '#TouchofCare Fund' which aided Gauri to build 'Nani ka Ghar' who is working towards giving a better life to many young girls. When Mittal met Gauri for the first time and engaged in a conversation with her, she felt that Gauri was one of us. "One of my fondest memories is from the early days of the first campaign when we were having a lot of discussion and debate around whether this idea of 'Family beyond biological ties' would work in the Indian market. India is so much about blood relations, so are people going to relate or appreciate the idea was our concern. It was a very healthy debate and we thought we should check it with our consumers. When we checked we were pleasantly surprised and we learned how Indian consumers are evolving far more rapidly than we imagine," she recalled.

In 2018, the brand returned with yet another tear-jerker, this time narrating the story of Nisha. An extension of its '#TouchofCare campaign, titled Vicks 'One In a Million' #TouchofCare digital video that showcases the transformation of Nisha, a young girl who has Ichthyosis, a genetic skin condition and her journey of transformation with the love and care provided by her adoptive parents. The campaign spreads the idea that 'Every Child Deserves the #TouchofCare'.

The two films have garnered 10 million and 21 million views on Youtube respectively.
Nisha's story went onto win 1 Silver Lion in the Film for Single Market Campaign category and 3 Bronze Lions in the Creative Strategy, Film Craft categories, and Film Healthcare category at Cannes Lions 2019. Commenting on the big win, Mittal exclaimed, "The historic win at Cannes this year and at SABRE earlier not only recognized our work but also reassured us that we are moving in the right direction and that we are making a tangible impact on the society. We were the most awarded campaign from India at Cannes Lions 2019. These are milestones that will be etched in our memories for years. Leveraging time-tested and proven consistency elements, staying rooted in the purpose of the brand not making an attempt to change the prime ideology of the brand that is 'giving unconditional love and care' while contemporizing the brand by telling true extraordinary stories of real people in an authentic way. It is the balance which is important and can lead to a milestone".

Deleting 'Khich Khich' one
post a time
The latest campaign from the house of Vicks INDIA '#NoHichKich NoKichKich' on 'Vicks ki goli' is meant to connect with young adults by being a part of their everyday conversations on social media.

"The brand had the power to be a part of the real world vs the reel world and become a part of everyday conversations. From a brand challenge standpoint, s we wanted to engage with the young adults because that is where the opportunity lies", believes Mittal.
Vicks India is currently showcasing its digital ways on Facebook and Instagram with a campaign #NoHichKich #NoKichKich'. The Moment marketing campaign truly embraces the moment and caters to current events that our target audience has affinity for, not giving the 'Khich Khich' monster a miss.

The intent is to have a two-way conversation and be a part of the conversations on social media. It is an attempt by the brand to engage with the audience on an everyday basis.
This journey has definitely been the one to reckon with. The legacy is beyond common cold and flu by giving its consumers relief in sick days and gifting them with sound sleep for decades now.