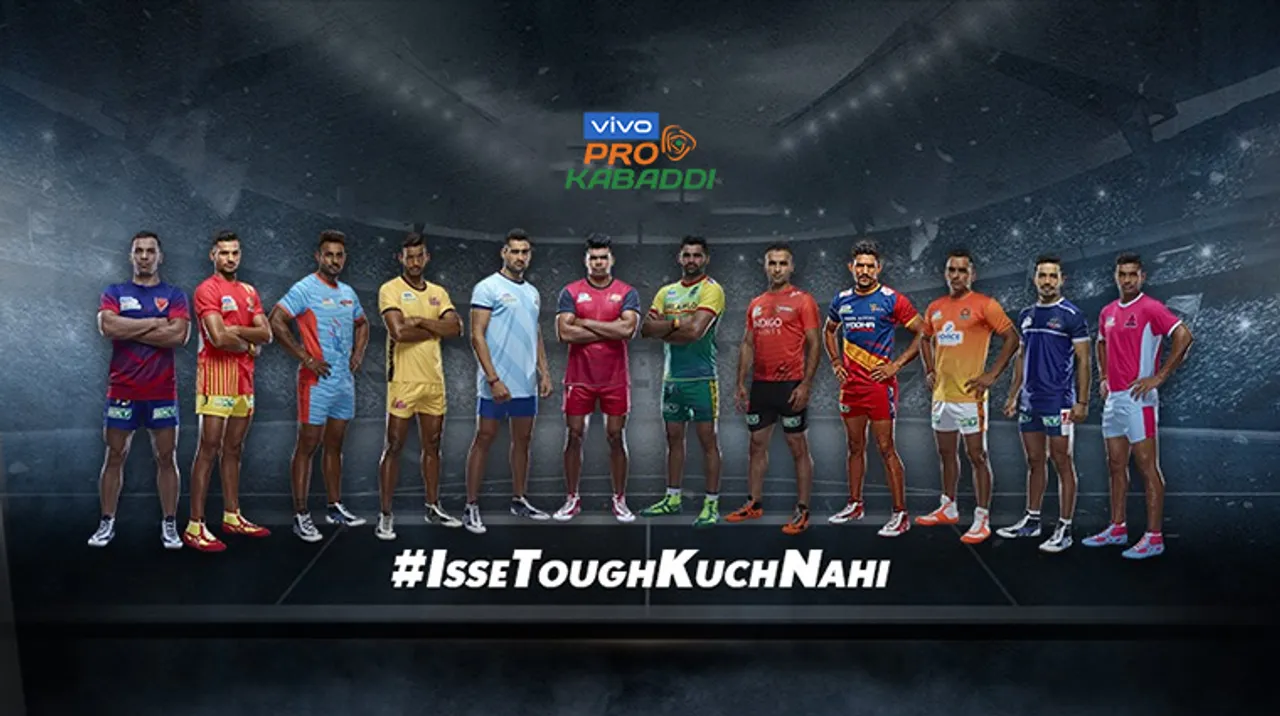 Between #IsseToughKuchNahi and #VIVOProKabaddi, Pro Kabaddi has created a niche for itself on social media platforms. A look at Pro Kabaddi social media strategy.
In 2014, Pro Kabaddi came into being and five years later, it is one of the most popular sporting leagues in the country. According to the recently launched KPMG report, the launch of IPL in 2008 has had a domino effect, leading to the evolution of sports leagues over the last decade. As non-cricket sports gain prominence, we dive deeper into the Pro Kabaddi social media strategy.
Further, "Key factors leading to a rise in sporting culture are increasing government and private sector participation, the proliferation of sports leagues, wide-ranging and inescapable digitalisation, growing popularity of sports other than cricket, and rising female and rural audiences," the report states.
It adds, "With the quantum of sports advertising increasing from Rs 24,230 million in 2008 to Rs 77,630 million in 2018, the sports industry in India has shown double-digit growth over the last decade." In the social media landscape too, the league has left a mark. Action imagery captured during the matches is leveraged to the hilt to proliferate online engagement.
With the force with which the sport is growing, we take a look at Pro Kabaddi social media strategy.
Pro Kabaddi Social Media Strategy
Every team gets space on the official Pro Kabaddi pages, apart from their own separate pages, depending on the schedule of matches. Key players get a good share of the pie and so do celebrities who make appearances at the matches. Right from pre-match promotions and statistics to sharing press coverage — everything makes the cut on these social media pages. And, there is plenty of duplication of content across platforms to amplify reach.
Pro Kabaddi Fan Army
Efforts across the spectrum can be felt to push viewers into becoming part of communities that cheer for teams and players. This includes a space on the league's official website and various team-centric hashtags.
Objectives at stake
"It's usually a mixture of awareness, page growth, meeting KPIs in terms of engagement numbers and tickets & merchandise sales," says Varun Kothari, Sr. Social Media Manager, Ting. The agency has the experience of working with three ProKabaddi League teams in a creative capacity.
When it comes to a social media strategy, it depends on various factors that are unique to each team. "It depends on the sport the team is playing for magnitude, the city they're based out of to be able to deliver relevant content, the brand ethos of the team and the objectives for the season," Kothari tells us.
Going regional
"The audiences connect a lot better with the team where regional content is used," he says, explaining how people are generally very proud of their regional language, which leads to greater engagement on the posts. It helps give the fans a sense of belonging with the team and a reason for them to engage with the posts.
However, the teams cannot afford to only produce content in regional content as they have to reach out to a wider audience and not just the ones in the concerned city. "We try to maintain a 70-30 ratio of English to regional content," he concludes.
Hoops to jump through
Though the popularity of kabaddi is commendable, it is yet to come at par with the craze that cricket enjoys. From a promotional perspective, there are creative hurdles that need to be managed. The core audiences aren't as social media-friendly. "Since the players aren't as big as say a cricketer or footballer would be, it's difficult to get the general audiences to connect with them."
Changes along the way
The knowledge around the game is increasing year-on-year. This has led to an increase in the content expectations from creative agencies. Kothari tells us, "The most noticeable trend is the connection between not only the different teams but also intra-sports as well. Both banter and appreciation make for golden content and anyone not doing it is missing out massively!" Further, he explains:
There has been a massive shift from teams being on social media for hygiene to now it being one of their main communication outlets.
While ATL, BTL and media channels exist, more and more importance is being given to digital mediums, backed by major media spends.
Teams have become more aware of their fans and are doing everything in their power to maintain fan loyalty.
The massive rise in player power across social media helps off-screen by attracting sponsors.
To sum up
Celebrities, especially cricketers, can be spotted at kabaddi matches, adding glamour and attracting media attention for the league. This translates to online traction as well. Almost all teams have specialised agencies onboard to help them create content for online presence. There is a push to form communities to discuss matches and pull viewers into fandoms.
In the coming weeks, we will be looking at how the different Pro Kabaddi League teams are using social media to build their brand and connect with viewers this year. Stay tuned.