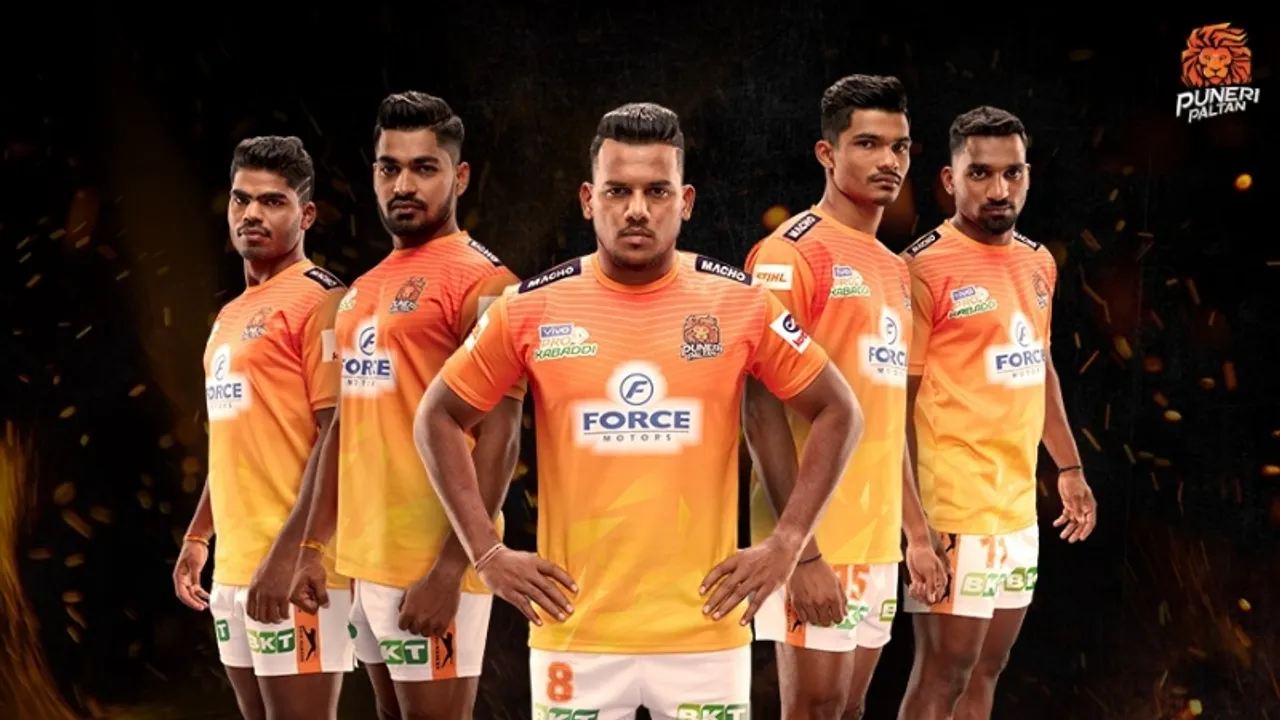 As VIVO Pro Kabaddi League gains momentum, Social Samosa takes a look at the Puneri Paltan social media strategy and how the team is keeping the buzz alive in the digital world.
Earlier this year, Puneri Paltan changed its logo. The design of the new logo is based on inputs from fans on how they perceive the brand and the team. With this, we see how Puneri Paltan social media strategy unfolds.
Puneri Paltan — Rebranding efforts
Branding has become an essential part of the Pro Kabaddi League and the teams participating in it. A major chunk of this is their social media presence. As a part of the Puneri Paltan social media strategy, specific hashtag-based campaigns are run every year, helping the brand evolve its communication. Recently, they redesigned the team's logo, revamping its brand identity.
"We wanted to ensure that it cherishes the warrior spirit and glory. With the use of orange hues in the kit, we have paid reverence to Maharashtra. You can feel the spirit of the state flowing through the gradient. At the bottom of the shirt, you can see a lot of pieces come together, representing the team spirit," says Kailash Kandpal, CEO, Insurekot Sports Pvt. Ltd, the company that owns Puneri Paltan.
Puneri Paltan - Key partnerships
Force Motors is the Puneri Paltan's principal partner and it is their fourth consecutive year with them. "The brand sees a strong connection between the indigenous sport and its customer base. This has turned out to be a common factor for our partnership," he explains.
The brand has been driving their marketing efforts by integrating Puneri Paltan players with their products. Other avenues to drive engagement include dealer meet and greets and employee contests.
Journey through the years
Creating an affinity towards the sports amongst the urban audiences has been a task. Kailash explains, "Since the inception, the league and all the franchises have been taking focused and integrated measures to expand the popularity of the sport in their respective markets, reaching out to urban and rural crowds holistically."
Kailash takes a look at Puneri Paltan's journey so far: In Season 3, we ran the #KhelBadlega campaign. Our team was new back then and so all our marketing efforts revolved around this campaign. We continued this campaign for Season 4. In Season 5, we wanted to show that we play for the love of Kabaddi and so we took to the theme of #KasamKabaddiKi.
In Season 6, #PadengeBhaari was our main campaign, which evolved to #BhaariPaltan in Season 7.
While #KhelBadlega helped them form a niche online, #KasamKabaddiKi was an essential part of its evolution. Here, the focus was on building a community. #PadengeBhaari and #BhaariPaltan are the avenues where the community is being leveraged to increase their social media stronghold.
"We have kept #BhaariPaltan common across all our marketing communication, be it social media, hoardings, on-ground events, public relations, radio, and mall partnerships. Through these associations, we are trying to communicate to our fans that the squad, this time, is #Bhaari. Our fan army is also called as #BhaariPaltan thus creating a synergy with the fans and making them feel a part of the team," he explains.
They organise fan meet and greets as well as visits to fan's homes. "With this, we try to give them lifetime worthy memories with their favourite players," he adds.
Use of social media
"We make sure to communicate with our fans in their language," he says, explaining the use of Marathi in Puneri Paltan's communication as it is a team that represents a part of Maharashtra. Social media contests are run regularly where branded merchandises are given out to fans for being a part of social media engagements. "It gives us an opportunity to reach out to our fans across the world, get feedback and establish two-way communication," he explains. 
All the brand's marketing efforts are promoted on social media platforms to amplify reach. Kailash explains how if there is an inter-school kabaddi tournament being organised, social media is used for build-up. This includes stories, live coverage, and post-tournament content.
The road ahead
"Today, calculated decisions are being taken before investing in a sport, be it purchasing a franchise or coming-onboard as a sponsor for it's not just about sponsoring a team but about investing in a team," he said.
He further shares that data like the TVRs, advertisement rates, fair value of a deal, target market, the team's statistics, past performance, star players and social media following plays a crucial role while evaluating such deals. He lists noticeable trends: 
Corporates are considering opportunities to own a franchise or even an entire league.
Advertising rates have spiked due to an increase in the television ratings. 
India's top athletes are getting individual endorsements worth of crores. 
Sports marketers are leveraging social media to give enhanced mileage and higher brand visibility to sponsors. 
Teams are exploring opportunities with OTT platforms to produce web-series to tell stories about their team, star players, fans and legacy. 
More and more brand initiatives are being tailored for school children.
Brands are looking to integrate athletes who showcase attributes similar to their product range. 
Teams are looking to explore causes like the girl child education, sports for all and women empowerment that gives them an edge over others and make them a more socially responsible team.
To sum up
Social media is a big part of Puneri Paltan's brand communications and documentation. With the rebranding efforts and evolution in campaigns, they seem to be paying close attention to leveraging the mediums to the hilt. They are able to get decent engagement as well. There is quite a bit of duplication of content across platforms, helping amplify the messages.