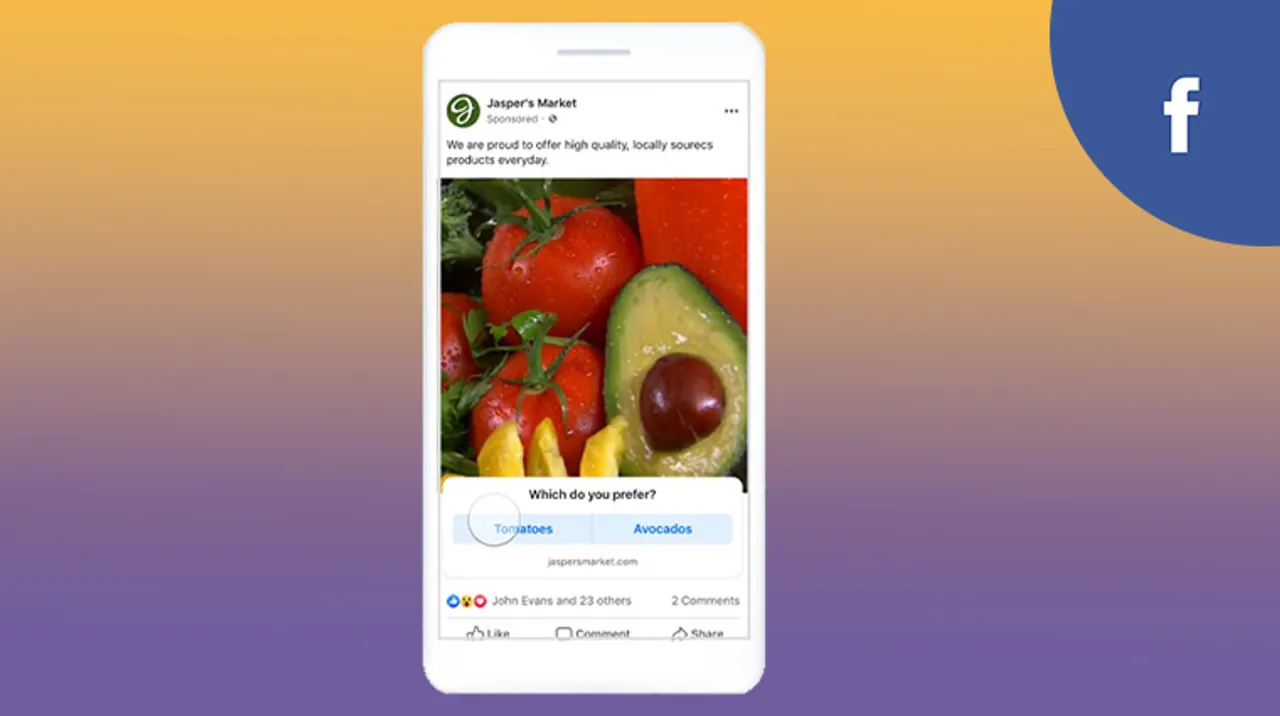 Facebook interactive ads have been introduced to encourage immersive and engaging experience between people and brands.
The new features being introduced include fresh AR experiences, poll stickers which were initially available only on Instagram Stories Ads, now on Facebook, and more. Read more about the new Facebook interactive ads below:
Polls
The poll sticker introduced on Instagram earlier this year is being initiated on Facebook. The platform claims poll ads in Feeds increases brand awareness and conversions.
AR Experience
As internet users tend to use face filters & fun animation on the platform and several of which have also tried an AR Experience with a brand, Facebook is expanding the experience by infusing it with ad experiences on the platform. Users can have an interactive experience with AR. For instance, trying on lipstick by a cosmetics brand.
The AR opportunity is being expanded to more advertisers and will soon be entering open beta for AR ads globally.
Playable Ad Formats
Playable ad formats allow people to play a game to drive downloads and brand objectives. Vans developed a game for its website with the help of Facebook's Creative Shop that lets people guide Vans legend Steve Van Doren down a mountain, collecting gifts along the way.
"At Facebook, we build for people first. This means our products, services, and Ad solutions have evolved to meet people's growing desire to engage and participate in ideas. This is also a key reason why they have delivered consistent business results for our advertisers, large and small. In the age of reducing attention spans, Interactive Ads are one of the most effective ways of holding the attention of the consumer. They are also easy to execute - a poll Ad can be created in just five seconds. The new Ad bundle will especially add value to brands looking at high-engagement festive campaigns," said Sandeep Bhushan, Director and Head of Global Marketing Solutions, Facebook India . 
Increasingly people want to participate in a brand's big idea and they're using innovative ways of doing so - less words, more GIFs, Lives, Reactions, emojis, face filters, and stickers. In turn, brands and people are becoming more intertwined and it's changing digital advertising from a one-way push communication to an ongoing dialogue powered by creativity.
"This behavior is unfolding across our family of apps. Already, 60% of businesses on Instagram use an interactive element such as @mention, hashtag or poll sticker, in Stories every month. What started with exploring new things on mobile has morphed into vast and varied conversations that welcome people's participation and will eventually immerse them into shared experiences. To help brands further embrace this trend, we are announcing new ad solutions that encourage a playful experience between people and businesses, and deliver results," said May Seow, APAC Creative Strategy Lead, The Creative Shop at Facebook.