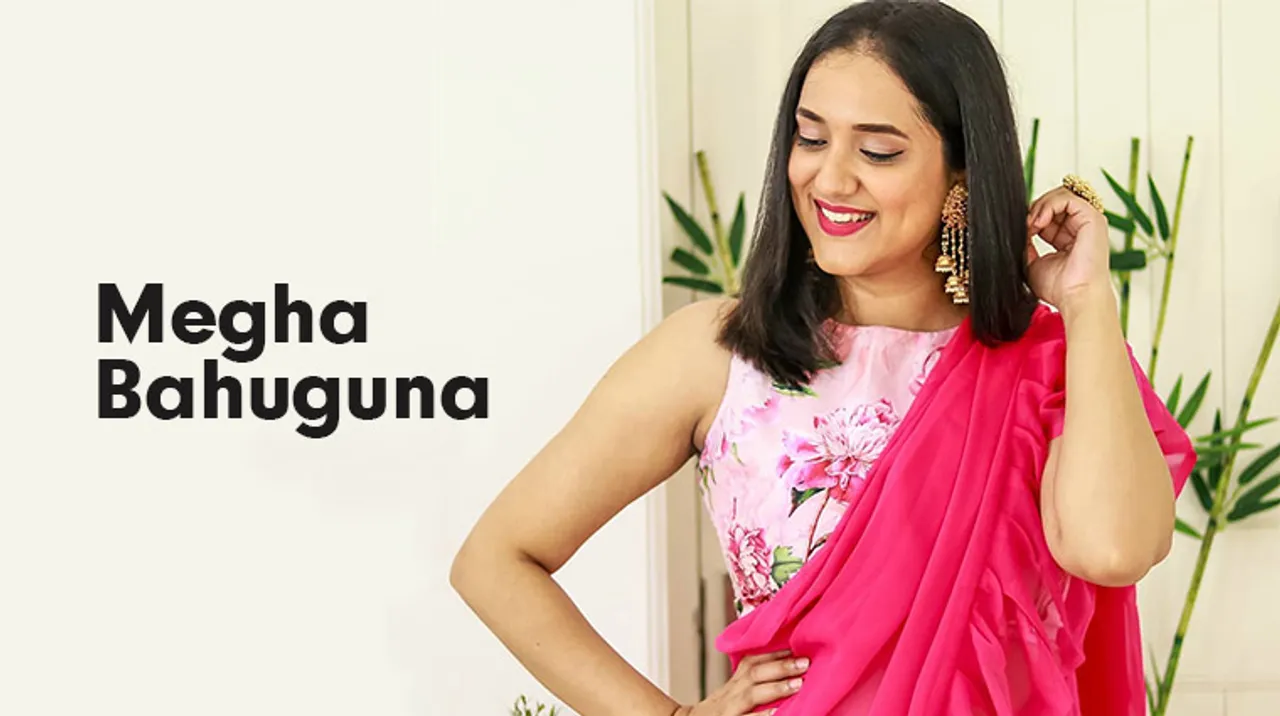 Perkymegs was started by Megha Bahuguna to break the monotony of her 9 to 5 job. In this interview, she takes us through her journey.
The fashion and lifestyle blogger from Delhi, offers different makeup looks, outfit ideas, Indian jewelry trends, and more.
Who am I?
I am Megha Bahuguna. I am an influencer on YouTube and Instagram. I run two YouTube channels 'perkymegs' and 'perkymegs hindi' where I create fashion & lifestyle content.
Our Journey
From a civil engineer to full-time YouTuber, my journey has been really amazing. I started my YouTube channel 'perkymegs' to break the monotony and dullness of the 9 to 5 corporate job. I didn't have my heart in the technical job as I am a very creative person, I started feeling depressed.
What started as a hobby, soon became my passion and I found the lost happiness back in my life. I was energetic like a kid releasing fashion & beauty videos every week, working 14 hours a day as I had a full-time job too. After nearly a year and a half, I left my high-paying job to become a full-time YouTuber. It was a huge risk at that time but I followed my passion, and today I have two channels with more than a million reach combined and 124k+ following on Instagram.
Our family
I run all my platforms single-handedly - from shooting to editing to uploading to socializing on social media platforms. My husband has been my pillar strength and he helps me in the lookbook shoots.
What's in the name? 
So the history behind the channel's name is a little funny. First, I didn't want to keep my channel's name on my name as I didn't want my colleagues to discover it; our society rarely encourages these things and I didn't want any negativity at that time.
I had a group of 3 of my best friends in college (Bhumika, Richa & Swati) and we used to participate in cultural festivals with the group name "The Perkies". It meant the girls who are cheerful and energetic. So we used to call each other Perky Megs (short of Megha), Perky Bhumi, Perky Richa, and Perky Swats. So, that's how I named my channel Perkymegs.
Our mission statement 
I want to make every girl feel beautiful from inside. That's our channels' tagline too – Feel beautiful, be stylish.
We create content for? 
Women who are interested in fashion, beauty, lifestyle, positivity.
We work with...
I have worked with lot of fashion & beauty brands like Craftsvilla, Shoppers stop, VLCC, Mama earth, Plum, Voonik, Health & Glow, Clovia, Times of India, Shein, Club Factory etc.
We are proud of 
I have received an enormous response from women all over the country because I showcase fashion which is practical and relatable. I am really proud of promoting my culture and roots through my social media platforms.
Our WTF moment 
One of my followers sent me a big hoarding picture from Tirupati where there was advertisement of a shop with my Collage picture (Really big picture taken from one of my YouTube video thumbnails). I was like WTF. It was annoying and hilarious at the same time. I think whenever I will visit Tirupati I will go to that shop and see their reaction (LOL).
Stay tuned for...
I dream of "Perkymegs Hindi" being one of India's top channel's for fashion & Lifestyle. Also, I want to rebrand my English Channel Perkymegs and create different content there that I always wanted to do like comedy, short films, singing and positivity related videos. For the future, I would like to launch my own clothing line someday.
Are, you hiring?
Since I have been doing everything single handedly and the channels are growing so I am thinking to hire small team of people who share the same passion like me and who could assist me in my work. It is already in process but since I am very choosy so it's taking time.