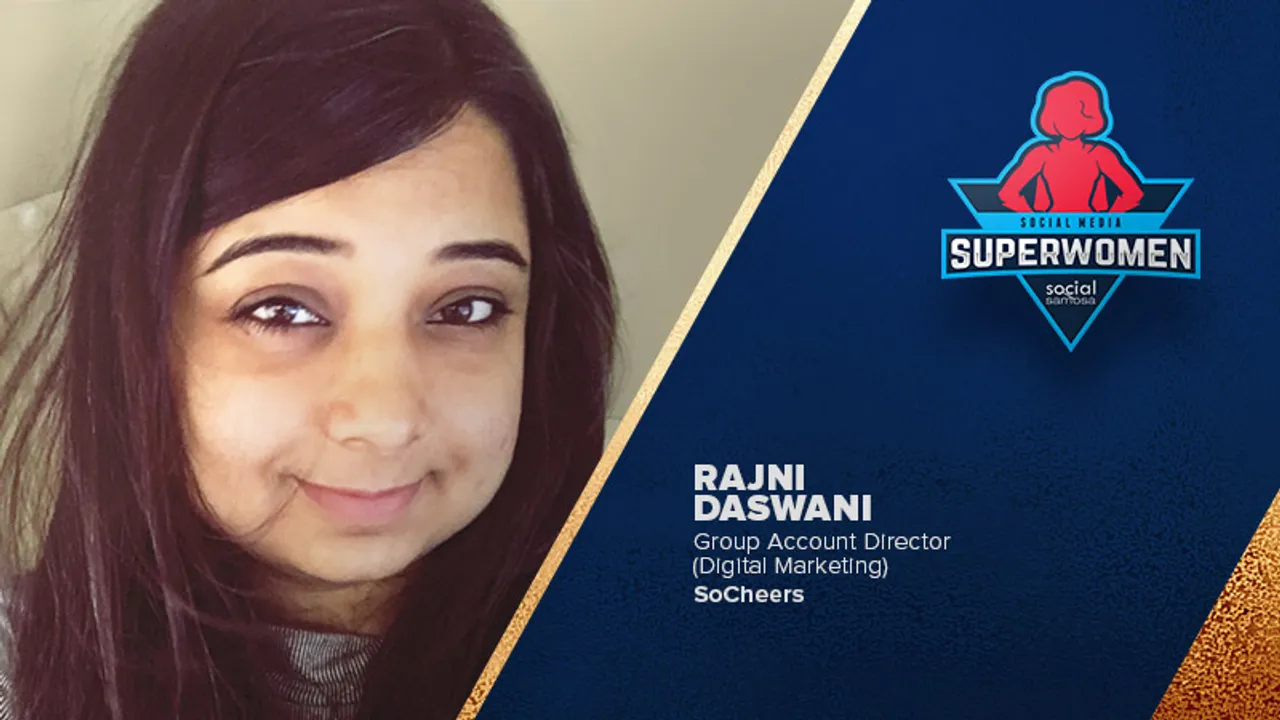 Rajni Daswani, Director – Brand Experience & Employee Engagement, SoCheers gets candid about the Indian M & A sector.
Rajni Daswani, who emerged as a part of Social Samosa's 2019 #Superwomen list, has had a diverse career graph. From working as PR Executive at Perfect Relations to being a Research Analyst at Motilal Oswal Financial Services, she has dawned on various hats.
She was rewarded for her impressive work and fine skills such as Business Planning, Analytical Skills, Customer Relationship Management and more as Director – Brand Experience & Employee Engagement, SoCheers. In conversation with Social Samosa, she shares what led to her becoming a superwoman, with a number of interesting insights.
How would you define a Superwoman in today's day and age?
Strong, powerful, positive, fierce & balanced. She embraces her individuality, is humble enough to acknowledge her failures and is confident enough to make mistakes and learn from them. She's willing to change & evolve with the times and believes in sharing & empowering others. A woman is also open, speaks her mind and empathetic. She takes risks & seizes opportunities. She's a leader & understands the baggage that comes with it.
Having said this, I also believe that every woman is a superwoman in their own way because all of us are fighting some or the other personal battles while balancing our professional lives. We want the best and we are willing to fight for it.
One quality that you think every superwoman has and that helped you win Social Samosa Superwomen…
Being realistic is one quality that every superwoman has. There is a sense of knowing what is worth it & what isn't and the ability to make mistakes and learn from them is what being realistic gives you.
How successful have women been in shattering the glass ceiling in the Media & Advertising field? Does the 'boardroom inequality' phrase still stand true?
I believe the Media & Advertising industry has undergone various transitions in recent years leading to increasing representation of women leaders. Thanks to globalization, education & awareness, women now have a stronger platform to stand on. We are seeing a lot of women get their light under the sun.
What are the key changes this industry needs in order to make workplaces gender-neutral, safe, and nurturing?
Creating zones/communities for women to exchange their thoughts & voice themselves is one change that can be made. Giving all talent (both men & women) an equal stage to express is another. Once we give an equal platform to everyone, women's talent will automatically feel safer.
One Superpower you wish you had?
I wish I had the ability to clone myself. I find it so hard to be everywhere and then, on the other hand, I also have FOMO. It would also give me some more time to spend with my friends & family besides letting me meet all my professional goals.
The 'Superwomen' you diligently follow and who inspired you…
One of them is Michelle Obama while another one is Arianna Huffington. They've been able to bring in a change in people's lives and that is truly inspiring.
One tip to women out there attempting to scale heights…
The one & only advice that I would love to give to the women in our society is: Go for it, with all your might, give it all that you have and then give some more. Take opportunities, take risks, show up even when you don't want to, make mistakes, fail, be willing to change and never stop dreaming. Dream of what you want to become & then strive hard to become that person.