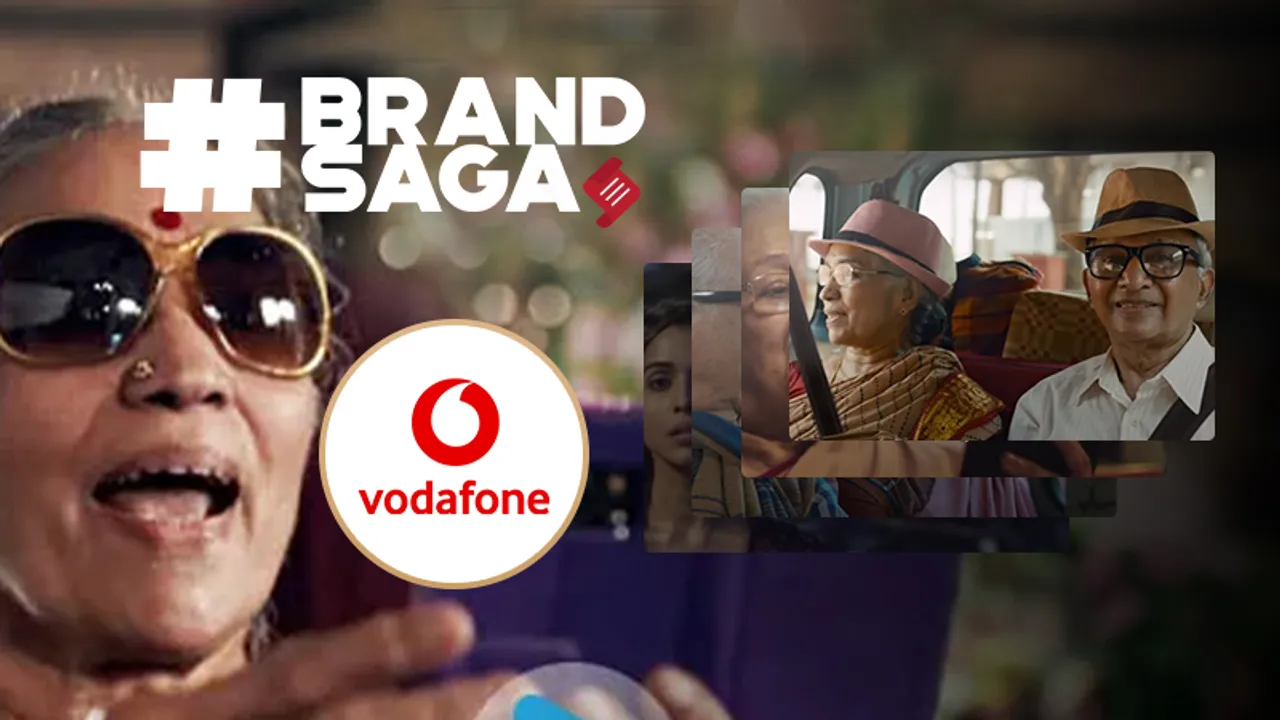 The third and final part of Vodafone Saga explores how the brand adapted itself to the digital medium with marketing IPs. A look at the Vodafone Digital Strategy.
While the ballooned bodied Zoozoos will always possess high recall value, Vodafone India did not stop there. From Asha Bala to Look Up to the revival of ZooZoo, the Vodafone Digital Strategy is indeed colourful.
In the year 2017, the telecom giant went onto launch SuperHour'- unlimited data packs starting at INR 16 for one hour. The launch was supported by a mega campaign conceptualized by Ogilvy & Mather that took the insight of 'Internet Kar Befikar' further.
The first TVC – 'More fun to you' sought to create rapid awareness for SuperHour.
The brief given to Ogilvy & Mather was to engage with data users who are often plagued with uncertainty regarding data charges, resulting in restricted/ constrained data usage through the new TVCs. The idea was to bring alive the key proposition of enjoying internet browsing worry-free.
Enter Asha and Bala
In 2017 India was going gaga over Indian Premier League matches, rooting for their favorite team and was introduced to a cute elderly couple who surfed their way into exotic locations of Goa for their second honeymoon.
You must have probably met the viral Dhananjayan duo virtually many times but this saga wouldn't be a saga if there is no mention of them yet again.
Whether it is fining their pony-tailed driver on the platform with the help of their daughter over a video call or Bala getting Asha's name tattooed, this elderly couple somehow shared the popularity of IPL matches and garnered millions of views.
Shanta Dhananjayan aka Asha and Vannadil Pudiyaveettil Dhananjayan aka Bala were announced as Vodafone's brand ambassadors in 2017 to promote its data strong 4G network. A total of six TVCs were released mapping their 6 days full of adventure in Goa.
The veteran Bharatanatyam dancers and Padma Bhushan awardees Shanta and Vannadil hogged the limelight like no other as they were now known as the 'Dancing Couple' or the 'Vodafone Couple'. The couple's popularity zoomed beyond South India.
For Asha and Bala, who are in their 70s, the most adventurous part of the Goa sojourn was when they did paragliding on the beach during the shooting of the advertisements created by Ogilvy India, directed by Prakash Varma and produced by Nirvana Films.
Rebranding and Getting Future-Ready
In November 2017, as part of its global rebranding exercise, Vodafone announced the evolution of its brand positioning and visual identity in India, focusing on the theme of optimism about the future. The company positioned itself as a modern contemporary, inspiring and future-fit brand, using the new tagline, "The Future is exciting. Ready?" from the earlier "Power to you".
The new visual identity put greater emphasis on Vodafone's iconic 'Speech Mark' logo – marked as one of the biggest changes to one of the most recognized logos of Vodafone since it was created in 1998. The 'speech mark' now appeared as the central graphical focus laid on all marketing and communications collaterals while the new logo appeared in a new 2D design in place of a skeuomorphic 3D approach.
Vodafone Sakhi #AbRukeinKyu
Putting the spotlight on women's safety, Vodafone in October 2018, rolled out Vodafone Sakhi, a mobile-based safety service, designed exclusively for women. A bouquet of features, including emergency alerts, emergency balance, and private number recharge were provided through the mobile connection to women customers using Vodafone pre-paid services across India.
P V Sindhu flagged off the 'Ab rukein kyun' movement to empower women, encouraging them to confidently step out and achieve their dreams as part of the brand's s 360-degree national marketing campaign.
Vodafone's tryst with #LookUp
When Vodafone urged its consumers to #LookUp from their phones and invest time in real conversations, it was hailed as one of the insightful communications by a brand that caters to the mobile sector.
In February 2017, Vodafone asked everyone to show some love offline and #LookUp on the occasion of Valentine's Day. The campaign highlighted how mobiles have taken over the time couples can rather spend talking to each other. The brand went on introducing a 'phone valet' and got a few couples to park their phones before entering the eatery — where they could share a meal over conversations.
Following the success of their social experiment #LookUp, Vodafone India extended the campaign to Father's Day with a digital-only campaign. Shankar Mahadevan and his son Siddharth Mahadevan collaborated with the brand for the background score.
The thought was revived later for Friendship Day where Ogilvy India conceptualized the campaign aimed to discourage people from phubbing - a term used to describe the habit of snubbing someone in favor of a mobile phone.
Vodafone India's ex- EVP - marketing, Siddharth Banerjee shared that #LookUp struck a chord with millions - with over 50 Million Video Views, 80,000 conversations, almost 260,000 people engaged & industry best Video View Completion rates.
Later Vodafone's Diwali 2018 campaign highlighted how Diwali has changed over the years. From meeting family members, shopping for the colourful lantern to shopping online, exchanging greetings on mobile, updating on social media, and getting gifts delivered at our doorstep.
The digital video encouraged people to #LookUp again and celebrate Diwali with their families by keeping down their devices. Look Up played an integral role in the Vodafone Digital Strategy.
ZooZoos make a comeback
In a bid to drive its digital strategy and develop new-age digital experiences, Vodafone brought back ZooZoos in a new Ninja avatar communicating "Happy to Help" in March 2018. This time, they were quick, agile and efficient enabled by the digital transformation initiatives at Vodafone India.
#StrongerEveryHour
Vodafone kickstarted 2019 with the launch of the #StrongerEveryHour campaign aimed at highlighting the improved network of 'Vodafone SuperNet 4G ' especially in crowded zones, where a tower is being added every hour.
#StrongerEveryHour was based on the insight that customers think of the service provider especially when they have a poor network experience.
Asha-Bala 2.0
Encouraging people to #LiveMore with Vodafone SuperNet 4G, Vodafone India rolled out a massive campaign in July 2019 bringing back familiar faces of the friendly & young at heart couple, Asha and Bala.
The campaign shows the affable elderly couple inaugurating a new restaurant, Asha's Kitchen and captures the ease with which they use mobile technology and data to fulfill their dreams.
Featuring the veteran Bharatanatyam dancers C P Shanta and V P Dhananjayan, the campaign imbibed four ads, conceptualized by Ogilvy & Mather India. One of the ads also featured famous Indian pop and playback singer, Usha Uthup, enjoying a hearty meal at Asha's Kitchen.
The campaigns fit right in the Vodafone Digital Strategy.
#FriendsUnplugged
Reviving its 'real conversations' insight, this Friendship Day, Vodafone through a social initiative urged people to disconnect from social media and connect with their friends in real life. The initiative encouraged people to make it a point to meet friends more often, rather than catching up online.
Through the initiative, the telecom firm conveyed the message about the need to connect and communicate with our friends and loved ones in the real-world and not merely like, comment or share on their life's updates on social media.
In September this year, Ogilvy conceptualized a film for Vodafone showing ace singer Shankar Mahadevan produce a rendition of his famous 'breathless' track for its Vodafone Play service. The lyrics for the track consisted of some of the offerings users can watch on Vodafone Play.
With the campaign, Vodafone aimed to highlight premium, diverse and ad-free content available on Vodafone Play for all consumers at no additional cost.
This Diwali Share #YourWordsNotForwards...
In this world of easy access to internet and busy lives, people have become habituated to forwards rather than personal wishes. Identifying this consumer behavior, Vodafone weaved a heart-warming campaign encouraging people to share #YourWordsNotForwards this Diwali with a personalized greeting to their loved ones.
The digital film showcased the story of a grandmother and her grandkid shedding light on how in a world of forwards, personalized greetings bring people closer. With 32 million views on YouTube currently, the film touched many hearts and is a personal favorite too. The movie was a breakthrough in the Vodafone Digital Strategy.
And with this, we conclude our 3-part story of Vodafone India's advertising and marketing Brand Saga. Since its inception the brand has been introducing gems like the adorable Chika Pug, much loved ZooZoos, the coolest couple 'Asha-Bala' and messages like #LookUp triggering real conversations.
Vodafone's age-old creative partner - Ogilvy India has played an exceptional role in making Vodafone Advertising Journey a legendary one. The article ends here, but the saga continues...