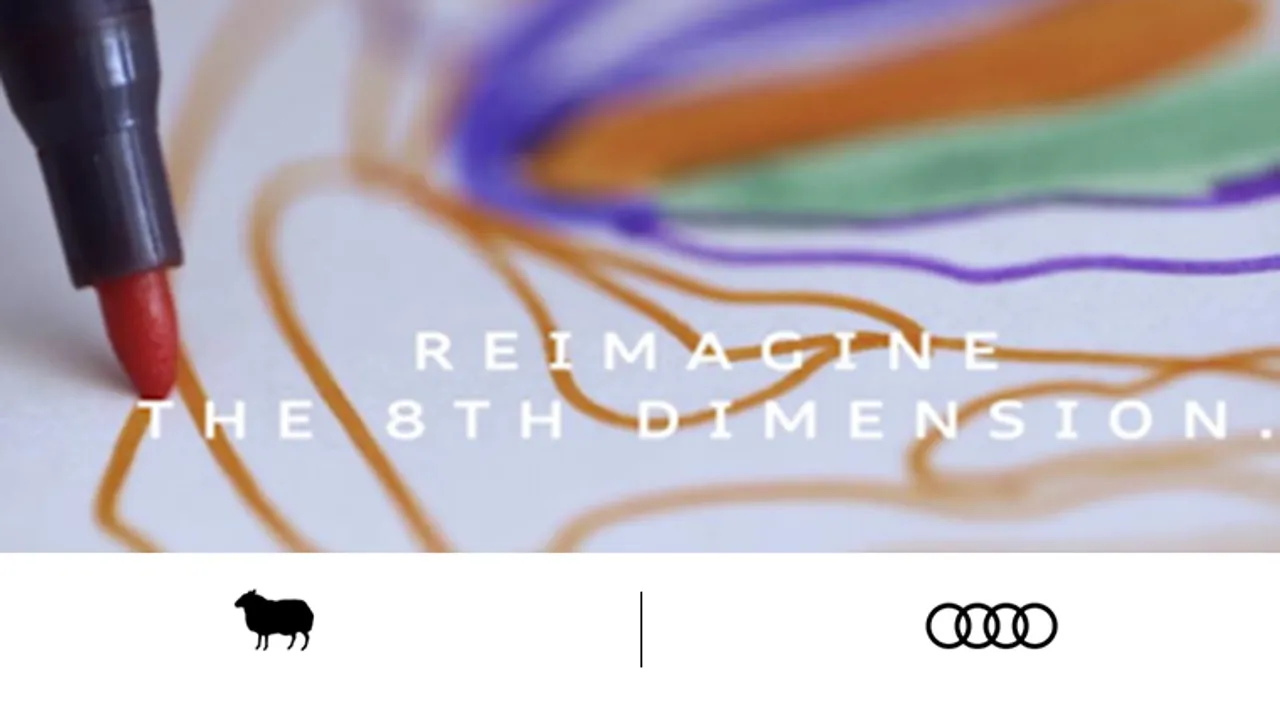 Audi launches 8th Dimension Reimagined with Audi Q8 in India. Ropes in eight artists to create visual representations of the 8th Dimension with the Audi Q8's color palette as a base.
Audi launched its first creative campaign for 2020 to mark the debut of its SUV - Audi Q8 in India. Conceptualized by BBH India, the campaign - #8thDimesionReimagined is a collaboration with eight artists curated in association with Kunal Anand Curator, Art and Design director of Mumbai - based collective - Kulture Shop.
Extending the global Audi campaign, 'Welcome to the 8th Dimension' —the idea was to bring to the fore the Audi Q8's avant-garde design language, imposing road presence, performance, and exclusivity. By contextualizing the global brief to meet the nuances of the Indian market, the creative team at BBH conceptualized #8thDimensionReimagined aiming to be like a world of limitless possibilities, fuelled by imagination straight out of the 8th dimension.
The following 8 artists were chosen: Priyesh Trivedi, Johnny Ganta, Pavan Rajurkar, Price Lunawara,  Prateek Vatash,  Yogesh Bhusare, Sawant Sanskar, and Rajeev Thakkar. Once briefed, they applied their ingenuity and imagination to create visual representations of the 8th Dimension with the Audi Q8's color palette as a base.
Commenting on this initiative, Balbir Singh Dhillon, Head Audi India, said "With the Audi Q8, we are targeting individuals who want their car to match their personality. Each Audi Q8 is made-to-order, available with a plethora of customization options to choose from; we want every Q8 in the country to look different, from the outside and the inside.
The Audi Q8 is imported to India as a fully built unit and there will be only 200 units on offer. We have entered a new segment with the Audi Q8 but the guiding principles remain the same – bold design, cutting edge technology and exciting performance. The 3.0L TFSI engine with 48V mild-hybrid technology, progressive steering, and air suspension make every drive in the Audi Q8 memorable. The launch of our new flagship SUV marks the beginning of a power-packed year for us and we are confident that the Audi Q8 will attract enthusiasts who enjoy driving."
Russell Barrett, CCO and Managing Partner, BBH India, added, "Most people pay to avoid advertising, we wanted to create work that people might pay to own. This idea allowed us to blur the lines between culture and advertising and that's something we try to do in different ways all the time.
We collaborated with eight exciting, experimental artists who applied their imagination and ingenuity to create representations of the 8th dimension. We worked closely with the artists and Kulture Shop to mold the ideas into pieces of art that actually communicated a single point. The interpretation of the 8th dimension, of course, differed from artist to artist depending on their style and perspective. What we came out with through this collaboration are eight stunning pieces of art that are also ads."
Credits:
Agency: BBH India
Chief Creative Officer & Managing Partner: Russell Barrett 
CEO & Managing Partner: Subhash Kamath
Managing Director & Managing Partner: Arvind Krishnan
Head of Strategy and Managing Partner: Sanjay Sharma
Executive Creative Director: Nivedita Agashe
Creative Partner (COPY): Rohan Mathew, Jugal Joseph
Creative Partner (ART): Akshay Keluskar
Jr. Creative Partner (ART): Jharna Sukhani
Head of Production: Rahul Kulkarni
Strategy Partner: Nikhil Chinnari
Business Director: Chetan Mane
Business Partner: Shaily Parmar, Nikita Wadhwa, Mihir Amrite
Production House: Mothership Productions