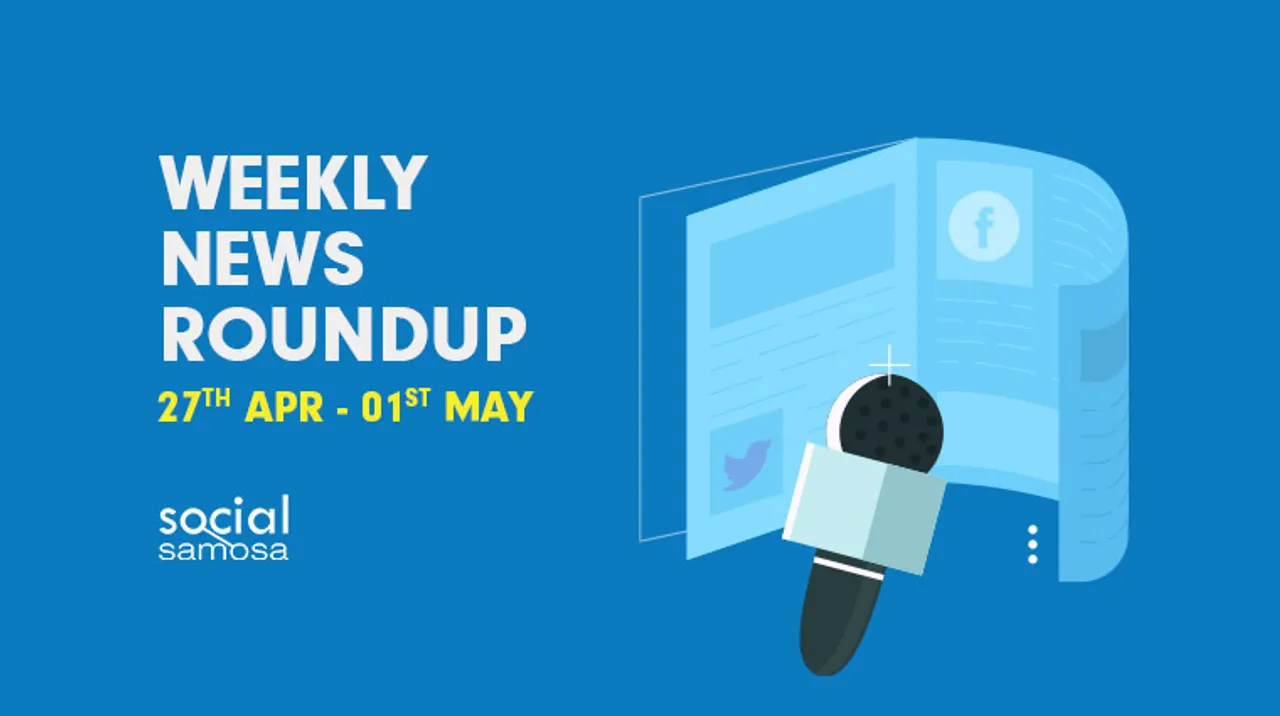 Social media platforms are constantly evolving and updating with newer features to increase relevance and stickiness for users, brands, and businesses. Here is our weekly roundup of Social Media News this week.
Social Samosa brings you all the latest Social media news, platform updates, and trends dominating the digital ecosystem.
Social media news this week was dominated by Snapchat Ad Products, the new branded AR Lenses, Facebook's Messenger Rooms, and much more.
Facebook launches Messenger Rooms
Messenger Rooms will let a host create a room for video communication and invite users with a shareable link and control who can join. Read more here.
Facebook updates on efforts towards battling COVID-19 misinformation
Facebook gives an update on its efforts to connect people with accurate information from health experts and keep misinformation about COVID-19 from spreading on the family of apps. Read more here.
YouTube's One Nation to feature over 75 Indian creators
YouTube One Nation will be a day-long live online music concert featuring Over 75 of India's YouTube creators and music artists. Read more here.
TikTok introduces Small Gestures to send gifts
TikTok along with their brand partners have launched Small Gestures, a way for users to send gifts to their acquaintances. Read more here.
Data: 45% surveyed Twitter users wish to see brands supporting frontline warriors
Twitter research shares an understanding of the conversations happening on the platform and insights into what people are expecting from the brands during trying times. Read more here.
ShareChat acquires Kae Capital backed meme-sharing app Memer
With the acquisition, Memer's product suite will be integrated into ShareChat, making it more exciting to its users. Read more here.
Facebook rolls out multiple new features for Workplace
To help facilitate better internal communication, Facebook is rolling out Knowledge Library, Draft for, Q&A posts, and more for Workplace. Read more here.
Instagram launches Challenges sticker & Stay Home AR collection
Instagram released two updates today – testing a new 'Challenges' sticker and a 'Stay Home' AR collection in the Stories gallery. Read more here.
COVID-19: How Coronavirus has influenced employer branding on LinkedIn
At a time when people are coming together, LinkedIn data highlights the trends in the employer branding messages during COVID-19 days. Here's a closer look at the employer branding communications resonating the most with audiences. Read more here.
Snapchat initiates more branded AR Lenses
Snapchat is associating with a range of brands to offer integrated AR Lenses, and bring the rising popularity of Snap Camera into play. Read more here.
Instagram introduces Live Donations to support causes
Instagram Live Donations will now allow users to raise money for select non-profits of their choice to support causes. They can even thank donors in real-time. Read more here.
All you need to know about Snapchat Ad Products updates
Snapchat Ad Products have a new premium addition, along with the updated Snap Select and a new tool. Read more here.
COVID-19: 46% Snapchatters concerned about friends & family's health
In an in-app survey, it was found that 88% of Snapchatters are starting to get used to the impacts of COVID-19 on their daily lives. Read more here.
Likee unveils LikeeComics feature for short video experience
Likee app's new range of filters now helps users to transform the photos into a comic. Creators can produce their comic avatars and aim to enhance their online audience using LikeeComics. Read more here.