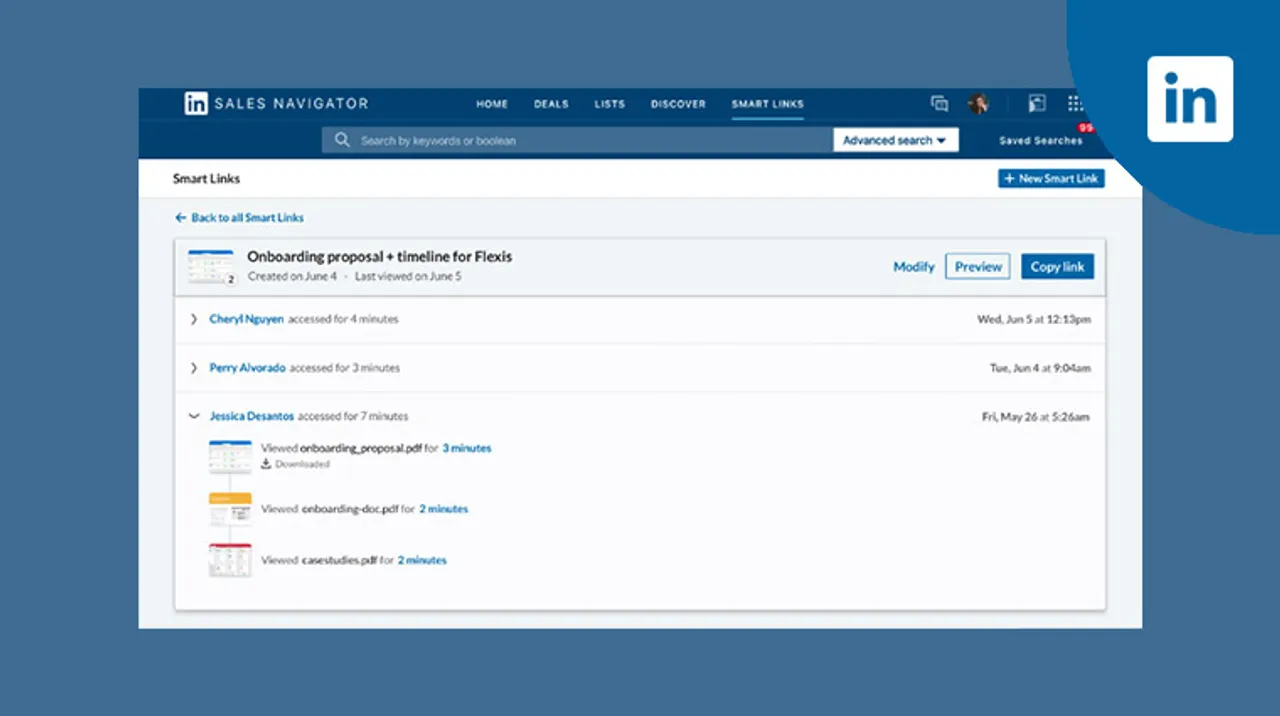 LinkedIn has globally introduced new features for Sales Navigator, to help marketers and the sales community build upon their virtual selling strategy.
To aid three primary drivers of virtual selling - real-time insights, collaboration, and relationship building, LinkedIn has rolled out new features to Sales Navigator to support virtual selling in this new world. Here are some of the new features:
Real-Time Insights
Understanding what information is resonating with buyers can be challenging when you are unable to meet in-person and read body language. And as many of us are juggling both work and personal responsibilities during the day, finding time to speak on the phone may be limited. The new Smart Links enhancements help you stay connected with your buyers with real-time insights into what content matters most to them based on what they choose to read and/or share with colleagues. 
The new additions help you package and share content without leaving the Sales Navigator workflow, while also tracking engagement to gain insights into what prospects and customers are most interested in. With the new Smart Link enhancements, you can: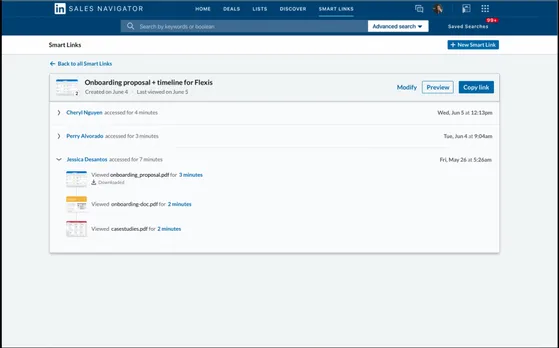 Create a Smart Link from within InMail
Access your created Smart Links from messaging on your mobile device
Receive alerts when someone is engaging with the content you shared
Log activity directly back to Microsoft Dynamics 365 Sales or Salesforce CRMs to track how buyers engaged with content
And, if you are a Sales Navigator admin, you can now track Smart Link usage to better understand how often reps are sending content and which reps are getting the most views.
Collaboration
It seems like collaboration has never been more important or challenging. Working together, in lock-step, to efficiently and effectively navigate a sales cycle, even when you can't physically work together as a team or connect with buyers in-person. This quarter, LinkedIn is expanding two features to support you with collaboration across your sales team:
Contact Creation for Microsoft Dynamics 365 Sales: Similar to the integration with Salesforce announced last quarter, this new integration with Microsoft Dynamics 365 Sales gives you the ability to create a contact record in your CRM directly from a Sales Navigator Lead Page or Lead List so that CRM information is up to date, accurate and shared across your sales organization. 
Notes in Sales Navigator: The platform has consolidated Notes and Comments into Notes shared in Sales Navigator Lists, Lead Pages and Account Pages to help you find information across the Sales Navigator platform. This new singular notes view also allows you to decide whether you want to make your notes "private" or "public," which allows your colleagues to see your notes on relevant Account and Leads.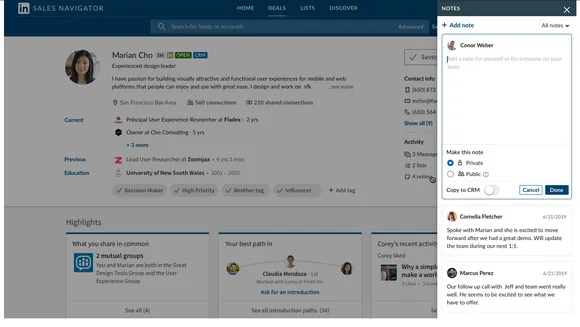 Relationship Building
Building and nurturing relationships with prospects and customers virtually may be a new and challenging endeavor for sales teams. Our new Alerts panel is designed to help you easily interact with buyers from within the Sales Navigator homepage. The new panel allows you to "like," "comment," and "share" any time a saved lead posts or shares on LinkedIn without leaving Sales Navigator.  Small gestures, like this, can go a long way in building and nurturing relationships.