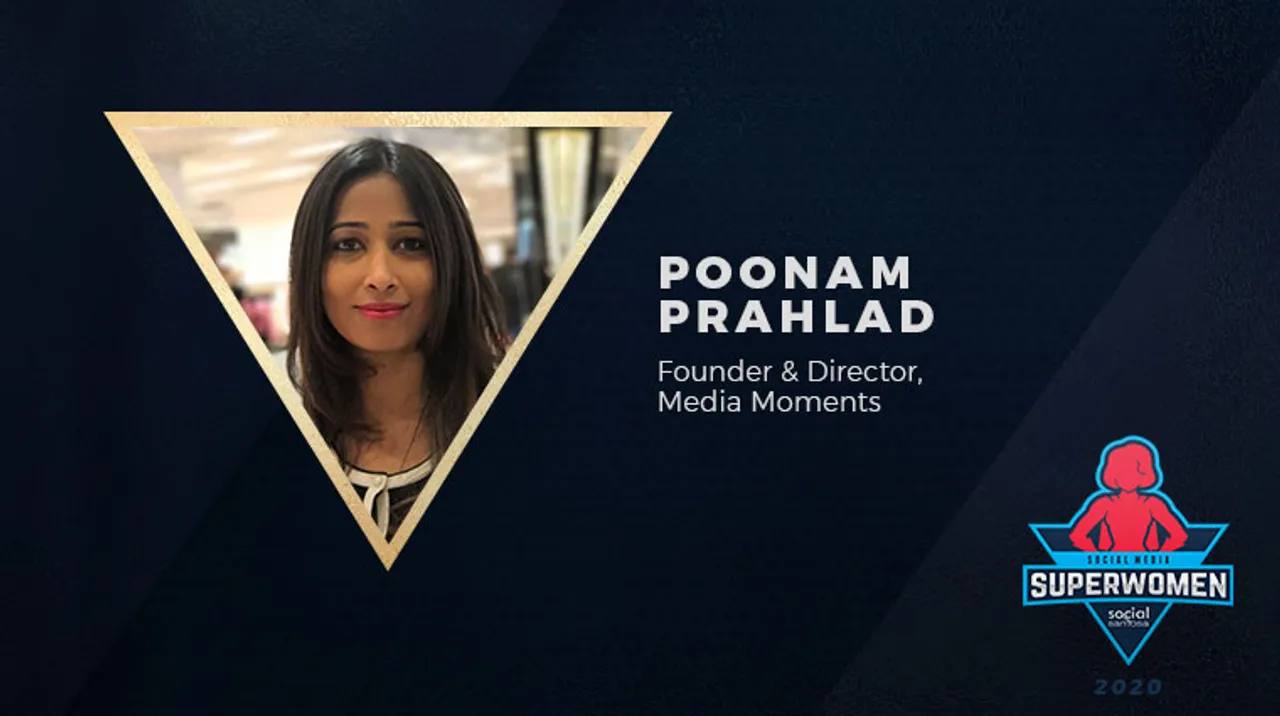 With a career spanning over two decades, Superwomen 2020 winner Poonam Prahlad sheds light on the changing times in the industry.
Poonam Prahlad, Founder & Director,  Media Moments has spent most of her years in the fashion and lifestyle retail space. A fashion graduate from NIFT, she started her career with Reebok India as a designer. She quit the corporate life in 2009 to set up Media Moments. Social Samosa Superwomen 2020 winner Poonam Prahlad shares her journey so far.
How would you define a Superwoman in today's day and age? 
Superwomen are multi-taskers and confident individuals. They are multi-talented and are good at juggling priorities at home and work with equal dexterity. They have the ability to confront obstacles with strength & grace and remain upbeat for life without allowing things to hold them back.
A superwoman draws inspiration
from her own stories and the stories of other women and inculcates those
learnings on her path of success.
One
quality that you think every superwoman has and that helped you win Social
Samosa Superwomen.
For me, compassion and perseverance are two qualities that define every woman. Every woman has a compassionate nature which is quintessential to keep people of diverse nature together in any company or house. A woman can win any battle with their strong will and determination. They are also self-starters, so an entrepreneurial spirit comes naturally to them.
Being a woman, these in-built traits have worked in my favor, too, and I have reached where I am today.
How
successful have women been in shattering the glass ceiling in the Media &
Advertising field? Does the 'boardroom inequality' phrase still stand
true? 
I feel women have successfully shattered the glass ceiling in every industry by now let alone the Media & Advertising field which was initially a male-dominated one. A large number of women are seen stepping up for different roles in almost every industry. The acceptance of women in boardrooms has apparently increased in recent times.
Women have started putting across their ideas with confidence and are prospering in making their opinions and efforts count. Therefore, it would not be wrong to stay that every industry including the Media & Advertising industry is now largely driven by women where gender inequalities are gradually eliminating.
What are the key changes this industry needs in order to make workplaces gender-neutral, safe, and nurturing?   
I believe equality is not a concept but something we all should strive to achieve. We should aim to create a world which is above gender roles, age, job roles, etc. Both men and women should see the potential of women at work as an opportunity of bringing different approaches, work styles, and ideas to the workplace. The day this happens, there will be the dominance of a robust workforce and the industry will no longer be divided by genders.
One
Superpower you wish you had? 
Time Travel to know people, cultures, community, and history.
The
'Superwomen' you diligently follow and who inspired you.
I really admire Jennifer Lopez
and I have been inspired by her in many ways.
One
tip to women out there attempting to scale heights.
"If you believe in yourself, the
world will believe in you. Be confident and be different in whatever you do."
This would be my advice to the aspiring ladies.