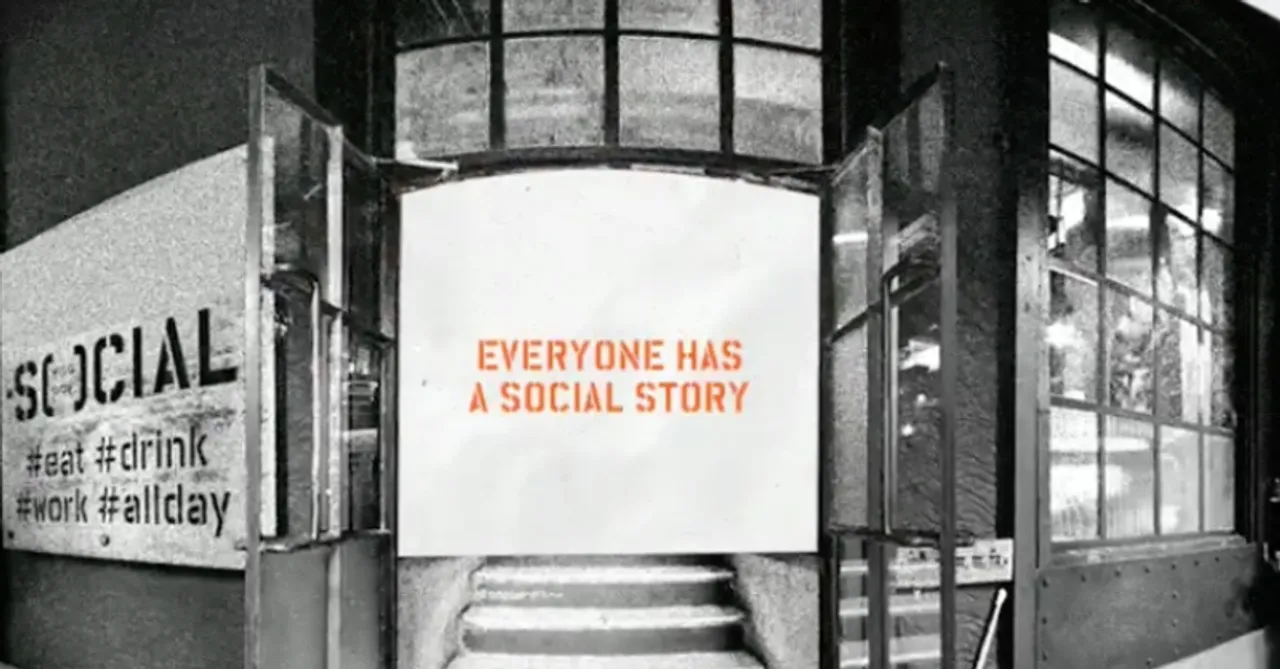 From Snapchat filters to Instagram campaigns, restaurant chain, SOCIAL is evolving its social media strategy to stay relevant to consumers amidst the pandemic.
As a brand, SOCIAL has been a strong advocate of asking people to keep their phones away and indulge in offline experiences. However, the pandemic has shaken this core philosophy at SOCIAL, to a great extent. Even as restaurants are opening up, people have to depend on their phones to place contact-less orders. They are increasingly depending on digital and social media to reach customers and keep the business running.
When asked about this shift, Divya Aggarwal, Head of Marketing, Impresario Handmade Restaurants explains, "Consumer behaviour is changing and the phone is becoming the new normal. Digitisation is just accelerating the change. It would have happened anyway."
Would this change SOCIAL's promise of offline experiences? Divya tells us how it is tough to predict at the moment. "We will have to see how things evolve eventually but phones will be centric to it."
SOCIAL tries out Snapchat filters
Instagram is SOCIAL's go-to platform. They follow an Instagram-led strategy, followed by Facebook. Under lockdown, the team has been looking at technological innovations and solutions that could help them stay connected with their core target group of youth persons.
Amidst this, Snapchat reached out to them and offered them a way to reach out to the Gen Z, the new target group the eatery chain has been focussing on. Thus, powered by Snapchat's innovation and the consumer insights the internal team had garnered with social listening, special filters were created on the platform.
Filters were created for three custom experience buckets: The feeling of missing the outlets/venues, favourite mixers and alcohol offerings (LLIIT was found to be missed the most) and SOCIAL Mixers that were launched under the lockdown.
Social listening played a key role in deciding these filters. SOCIAL's team had been motoring the conversations to figure key outlets around which they should release filters. The Khar outlet was found to be a key contender given its popularity and location. LLIIT was also decided based on similar ways, apart from the data around the cocktail. Promoting SOCIAL Mixers was more of a business-led decision as these are some of the new offerings launched by the eatery chain.
"The partnership was done to reach out to Gen Z, drive engagement and brand positioning," Divya tells us, adding that they plan to build on it further. The campaign was not performance linked. Rather, SOCIAL was looking at the filters from the perspective of creating UGC content. It was a branding-linked activity, she adds.
Social media universe
Facebook is a key platform for SOCIAL for it gives them the means to do hyperlocal advertising. They can put across targetted communication that goes deeper than the city level, much needed given how they have more than 10 restaurants in just Mumbai.
On Twitter, they look at organic conversations and amplify them. From a strategy perspective, SOCIAL concentrates on corporate strategy and talk about the industry, highlighting the contributions of their thought leadership. They have been amplifying UGC content as well as publisher content around their eateries. Pictures clicked at SOCIAL restaurants and sentiments around them are key to such conversations.
SOCIAL has extended their packaged offerings in a manner that they can be clubbed with virtual experiences. You could enjoy screenings at their restaurants with your group. The same can happen now, only the experience will be at home and in front of smaller screens.
This is where they have clubbed their new packaged offerings and sports-related partnerships. The combo is being leveraged as a part of the SOCIAL digital strategy to keep up the momentum and stay relevant to consumers through the pandemic in a tangible way.
Taking part in industry level conversations around food and beverages has been key to SOCIAL's Twitter presence. These are put up not from a customer-centric perspective in a direct way, which is done more on Instagram and Facebook. Here, the focus is on larger conversations where they can assert their significance as an industry brand.
According to Divya, three brand-centric aspects of their social media strategy that helped SOCIAL ride out the pandemic so far are:
Creating a tech-enabled platform and build offerings around it.
Using digital platforms to create conversations around SOCIAL Mixers.
Promoting newly launched SOCIAL Party Starters.
SOCIAL has been continuously trying to evolve to stay relevant to its consumers. Their target audience indulgent offerings have proved to motivation as well as a catalyst to the progress. They launched new products and experiences that could be enjoyed at home and pushed them on social media, communicating the various benefits. The team has also aptly leveraged the consumer sentiment around their brand, building a legacy despite being a young brand. All of these factors, and more, have helped SOCIAL stay afloat under the pandemic.