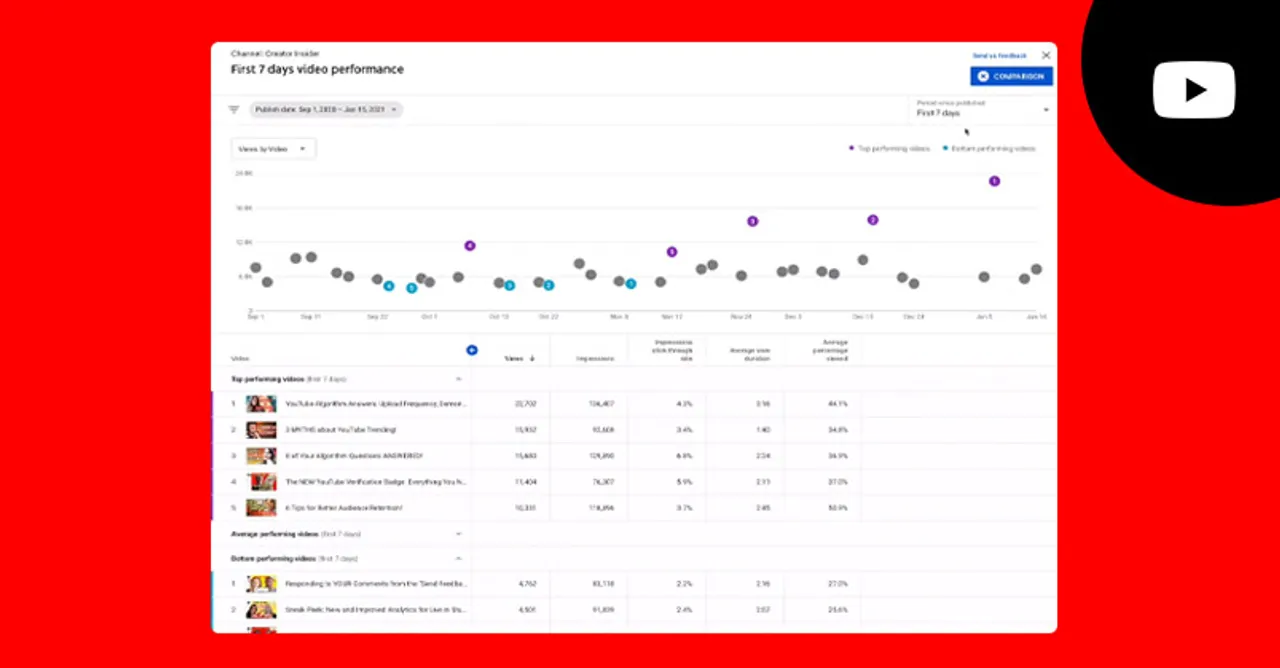 To give creators a comprehensive view of data and insights around the performance of videos on their channel in a comparative form, YouTube has launched new tools in the analytics tab.
Creators can compare and analyze videos on their channel to know what's working and what's not. The two tools would let them see several videos at once and two videos against each other on the YouTube Creator Studio dashboard.
Dot Plots
This tool will help creators compare several videos across one single time frame. A chart with several dots, wherein each dot represents a video in comparison to other dots (videos) gives an overview of their performance. Creators can select the time frame from 'First 24 Hours', 'First 7 Days', and 'First 28 Days'.
The feature is available for any videos published from 2019 onwards. Metrics that can be viewed in the report are views, impressions, average view duration, clickthrough rate, and more. The tool is not available for artist channels.
How To access the Dots Plot Report:
Go to channel analytics on the sidebar in the Creator Studio dashboard
Click on 'advanced mode' then 'compare to' in the top right corner
Select 'First 24 hours video performance'; customize the dates as desired when viewing the report
Choose period since published from the top right corner
Move the mouse pointer on top of the videos to know what video each dot is
View the top, average, and bottom performing videos below the dot chart, categorized according to the selected metric
Note: Only 100 videos can be displayed up to one time, if all videos from the selected dates are not visible in the report, the feature would have reached the limit.
If a creator wants to compare just two videos in the first 24 Hours' period:
Go to the video report
Click on the date picker
Select 'First 24 Hours'
Click on 'Advanced Mode', then 'Compare To', and select the video to be weighed against the previously selected
Common patterns amongst the top, average, and bottom performing videos can be traced to find threads that are pulling their performance down.
For instance, if all bottom-performing videos have a lower clickthrough rate, it would mean that the style of thumbnails and the kind of thumbnails used are not attractive enough for the viewer to watch the video.
If the average view duration is not close to the maximum or average length of the video, then the videos are not as engaging to hold the audience for the full video. So on, creators can improve the creative process by analyzing what is working and what is not.