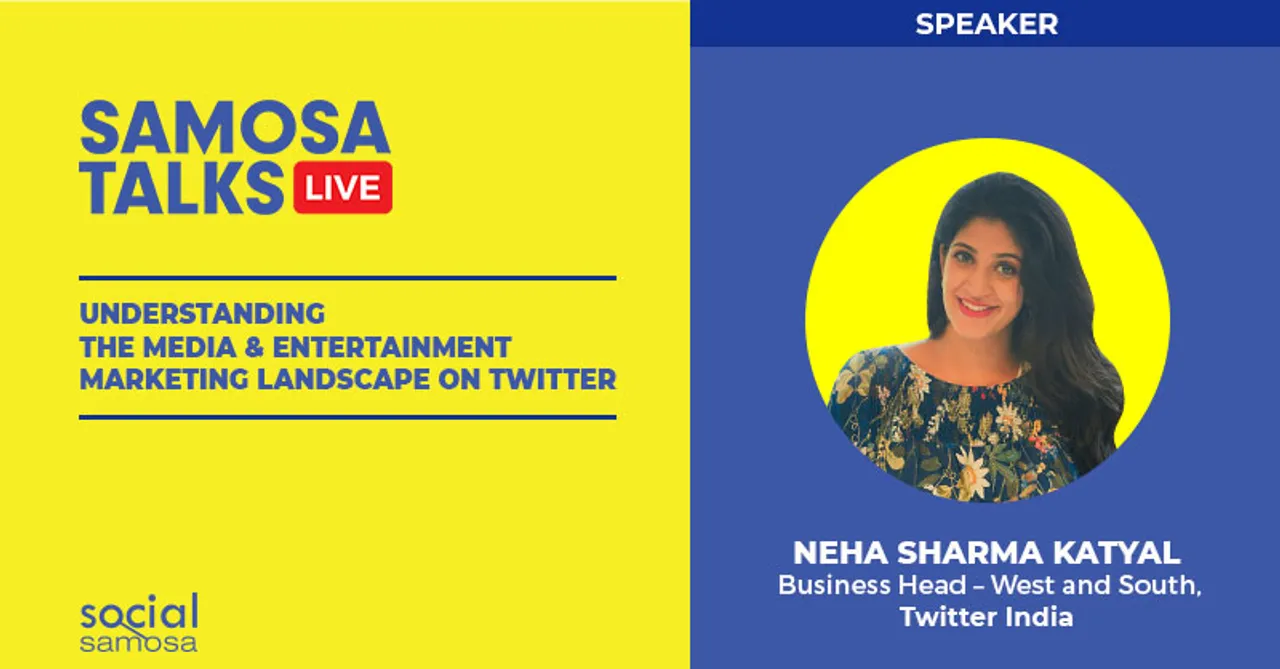 Neha Sharma Katyal from Twitter shares how brands from the Media & Entertainment sector can unfold the conversational layer of the internet and launch interactive campaigns on Twitter.
In conversation with Neha Sharma Katyal, Business Head – West & South, Twitter India, social Samosa explores how a platform that shares public conversations can generate insights to formulate campaigns and how brands from the Media & Entertainment sector can bring out their human side and have a two-way chat.
M&E Conversation Trends
The M&E landscape has transformed rapidly, it is not the same as it used to be, and 2020 has been a defining year
Twitter observed 100 Mn conversations in a single quarter from 70% unique authors
Discovering new content, exploring recommendations, community viewing, title excitement, ratings, and spolier-filled discussions are a few popular topics
Synergy lies strong between TV and Twitter, the microblogging platform predominantly plays the second screen for Sports and Entertainment events
Content flows beyond 280 characters with audio
Regional languages are playing a pivotal role in the way people converse today
M&E Consumption Trends
In 2020 people needed an escape and distractions
With more choices than ever, people feel empowered to engage with content that matters to them on a personal front
Terms like binge-watching, and virtual-viewing parties have grown popular
Users are inclined to music, movies, and shows that traverse borders, countries, language, and, culture
Seeking recommendations continues to be a strong trend
55% of Indian viewers prefer OTT platforms, 41% lean into traditional media
Boomers and Gen-X are into traditional services
Millennials and Gen-Z, who make up for over 35% of Twitter's userbase prefer new media options
Brands should fit into the talent-first or fan-first approach
Human Communication
Several traditional or physical outlets of entertainment such as movie theatres have been suffering throughout the pandemic, Neha outlines certain steps brands from this sub-sector of the Entertainment industry can take to maintain relevancy in the consumers' minds on Twitter without being highly promotional.
Have two-way conversations with consumers on a frequent basis
Be human, and empathetic, and lean into that insight
Know where your audiences lie
Don't be tone-deaf, suggesting coming to theatres may not be appropriate
Be vulnerable, audiences appreciate if brands own up their sufferings or errors
Transmit precautionary messages, and choose them over self-promotion
Fan Communities
Fan communities are groups of highly engaged audiences that make up an integral part of the M&E landscape, here are few pointers by Neha that brands can consider to effectively tap this set of audience.
Fan communities are a set of extremely enthusiastic audiences and have their own passion points
Fans can transform into or act as brand advocates
It is important for brands to lean into fan communities and tap their potential
Fan engagement and participation can be designed if brands give them a reason to come back to and speak to them. Scavenger hunts, contests, and giveaways are a few ways to engage them
YOLO - You Only Launch Once
Here are some insights by Neha that can be used to launch a new title on an OTT platform, an upcoming movie, or even a book. The insights are generalized so brands and advertisers from multiple sub-sectors can ace their launch campaign.
Neha also uses a few examples from a few launch campaigns on Twitter to illustrate how a brand can build excitement by knowing its audience and connecting with ongoing conversations. While researching for the global launch campaign of The Falcon and The Winter Soldier, Disney+ gathered that the protagonist duo is not that popular, but Captain shield remains easily recognizable by the MCU fans.
Building on this insight, Twitter ran a scavenger hunt for the shield and encouraged users to participate in exchange for a hundred custom giveaways. The brand and the platform ran the hunt by dropping hints through various Tweets. With the tease phase of the campaign, the brand generated excitement for the series before its trailer launched, only with an announcement and a poster.
The tease phase can be followed up by dropping the teaser, character reveals, snippets and cutdown of engaging scenes, multiple gratifications, and the use of AR to drive conversations before the launch followed by the title's launch.
Twitter's high-impact property can be used as a tool to drive awareness with a combination of ad formats called the 'Triple Takeover' that amalgamates Spotlight, First View, and promoted Trend, and has the brand trending 24 hours on the day of the title launch.
Prime Video hosting a fan event and eventing the launch of Mirzapur Season 2 is another example of connecting with insights such as fans being ready to watch the show the minute it drops and closing the loop of its sustained phase.
Jagame Thandhiram launched the tease phase through gamification and got users to participate by gratifying the 300 winners with front row seats to a virtual live event being simulcasted across various platforms.
Connecting With What's Happening
Moments make up for an engaging element on Twitter and topical or fixed moments often drive trending conversations. Neha shares an example of a campaign by Spotify that elucidates how brands can connect with what's happening on Twitter to launch (pop) culturally relevant campaigns.
World Music Day 2020 coincided with several other moments and topicals such as Yoga Day, Father's Day, and Solar Eclipse Day. To make the most of this day, Spotify tapped on the notion that music enables the expression of emotions with an objective to drive conversations around Spotify having a playlist for every emotion.
Using emojis as the focal driver, Twitter developed an engine that mapped 3,400 emojis and 3,400 playlists for each of these emojis and drove scale through automation. There was a Tweet being posted every second, and Spotify recommending a playlist every second.
The campaign was geo-fenced only to India, but the campaign trended globally at #5, and #1 in nine countries, the brand received 2x the mentions received in the first half of the year in a single day and won seven elephants at the Kyoorius Awards 2021.