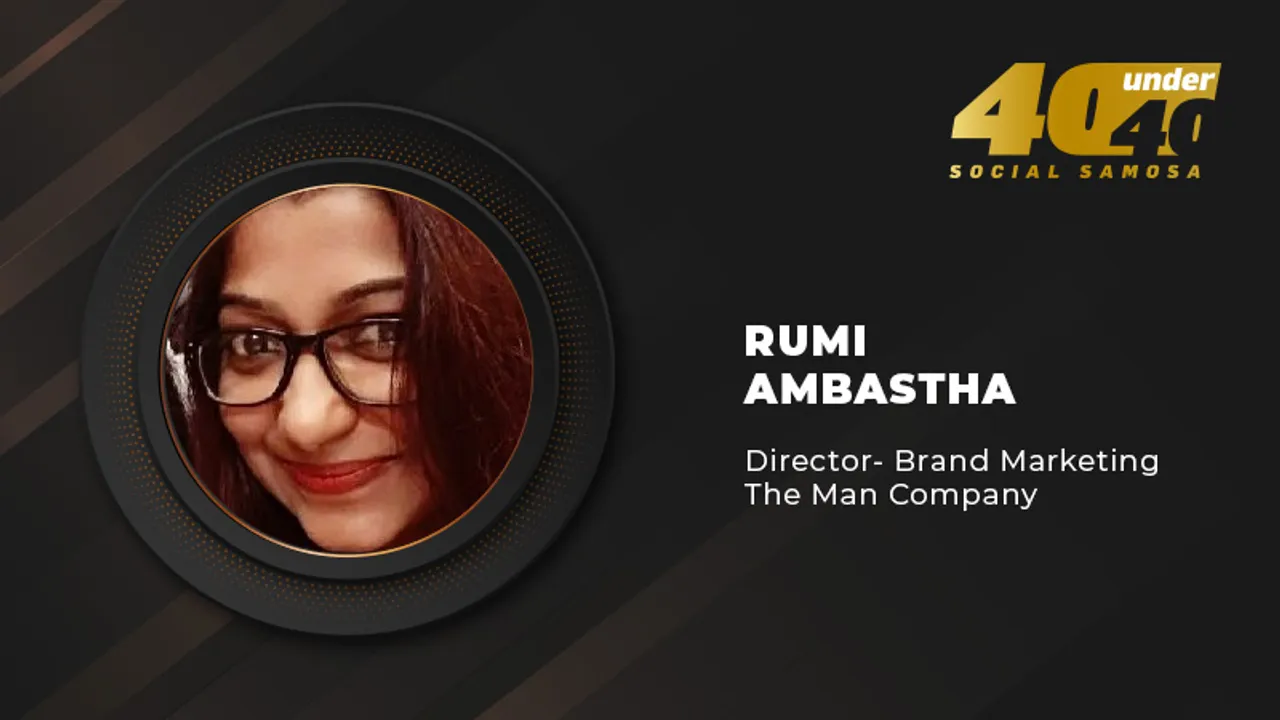 Rumi Ambastha of The Man Company talks about the changing dynamics of the video content ecosystem, how brands need to give creators liberty, and a little about her own journey in the industry.
Rumi Ambastha, Director- Brand Marketing, The Man Company and a part of Social Samosa 40 Under 40, 2022, speaks about her learnings from the pandemic as a professional, things that she would like to change in the industry, and a little advice for the future.
3 ground rules/principles that have helped you excel in your career
Always be grateful for the opportunities that you get and the help that gets extended to you in the professional environment. It's rare to come by so it should be well appreciated
Never think that you know everything. There is always room to learn more and improve. Complacency will kill your drive
Hard Work is still the right way to go. The more work you put in, the more you will inspire people around you 
One takeaway from the pandemic & the whole WFH situation
Our dependency on technology is unfathomable. Nothing can beat or defy or replace physical touch, no matter how real you make the virtual life
What are your views on work-life balance? How do you achieve it in your daily life?
If you love your work, it slyly seeps into your life and life starts revolving around work. I don't really look at them as two separate identities, I look at them as things that give me joy
One moment that changed your career...and how?
To answer this I will have to rewind 14 years when I took the decision to go to Mumbai. To really understand the gravitas, you have to know that I was born and brought in Patna. For a girl who has stayed at home and even after that always had someone around while she was traversing through life, Mumbai was a huge decision. Getting into Xavier's actually changed my life. This was the first time I met the stalwarts of Advertising and I knew this is where I want to be.
Top advertising & marketing trends that you have come across in the last year - these can be takeaways from your daily work-life experience
Video content is the way to go, it's short, it's snackable and it's easy to consume
Instead of influencers collaborate with content creators and give them the space to build the content in their unique style
Content that looks organic, and native is the right way to go
One thing that you would like to change in the Indian A&M industry
I think the industry needs to realise and be agile enough to really understand that there are all kinds of businesses- small & big, start-up & MNCs and one needs to change the style as per the business. This one idea fit all just doesn't work. 
Secondly, the newer generation is far more smarter and knows how to hustle than we give them credit for so it's the knowledge that needs to be respected and nurtured and not the age or the designation
Any jargons that you think need to be banned from the A&M lingo?
Well, definitely the word viral. And this goes both ways:
' Ek Viral idea sochte hai'
' Sir yeh idea ekdum virla ho jayega, aap banake toh dekho'
One message for aspiring A&M professionals.
It's not glamorous (laughs). It's a lot of blood, sweat, tears, long nights, and missing the most important events of life but at the end of the day when your baby comes to life, in this case, the brand or the idea, the feeling the sheer joy cant be explained or expressed.