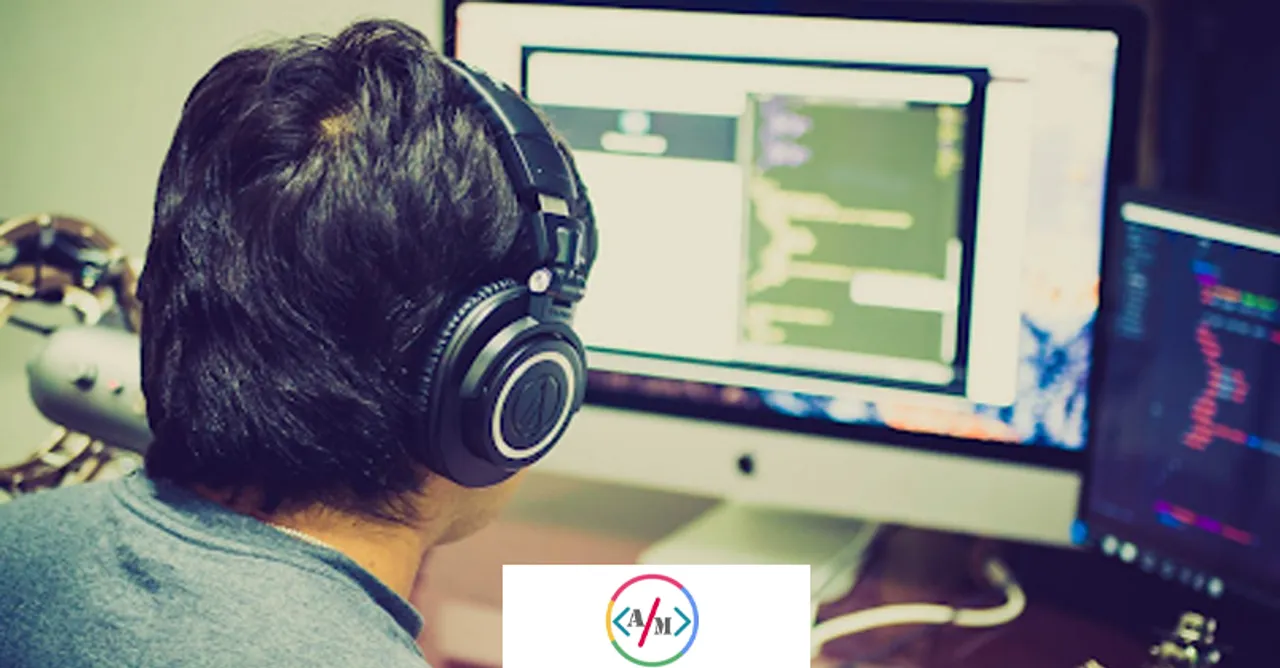 How do we define
With the exceptional commitment and rare supremacy in the IT industry "AbyM Technology" was founded in 2010. In the IT industry, "AbyM Technology" is a well-known name with an impressive rank as the best software company in Delhi/NCR. With the help of a high-skilled and dedicated team, the company developed more than 150+ websites for various industries, 30+ iOS Apps for famous brands, and 250+ Android Apps for multiple clients running their business at the PAN India level.
What's in the name?
"AbyM" is created by adding just two alphabets "A" & "M" where the middle word "by" also can be a "/" symbol. Here "A" stands for "Algorithm" and "M" for "Men". If we club these all it will look "AbyM" which means simply "Algorithm by Men".
What do we do?
The company is working to provide diverse services such as Mobile Application Development, Customise Software Development, Website Designing, and Digital Marketing with 100% client satisfaction. AbyM Technology is a well-known name in the Hybrid App Development industry for which a high-skilled and proficient team is dedicated to delivering complete solutions.
Why we do it?
In this tech era, everyone wants to boost their business to get high and high income. At "AbyM Technology" we are committed to providing complete IT-related solutions to our clients at a 100% satisfactory ratio. As we all know this industry is achieving new heights day by day, so we also want our clients to keep their foot on-line. We want to give cost-effective and innovative solutions to everyone. Our key aim is to reach every hand to equip the power of technology. With our high-tech and hybrid mobile apps development system, we are fully focused to give our part in making tomorrow better.
How do we evolve?
Evaluation is the rule of nature. If we say evolve we mean "learning new" every day. In this IT industry, new algorithms and sets of rules are changing every second, minute, and hour. Here at "AbyM" we are fully committed to staying on course with new technology. Our high-skilled tech team is delivering their dedicated services to boost the online market. Our various software, products, and services are helping people with their evaluation also.
Social responsibility in social media
We are always committed to giving our part for a good cause in society. Using social media platforms we are helping the community to stay updated with new tech. Our social-media team always plays its role in spreading awareness regarding various important social and technical topics. By using online social media platforms, we help our clients to connect with us in a fast and transparent mode. With a strict transparency policy, we are always available for our clients to solve their issues.
The need of the hour
In this day-by-day growing online market, we understand the value of every aspect. The days are gone when we used to say "Content is the king". Presently, presentations and promotions also play a big role in establishing the good value of your brand. We at "AbyM" are committed to passing our knowledge from one to another to build a better market using all the elements, not only the content.
We learned the hard way
Staying on top for more than 10 years is not an easy task. We learned to keep ourselves on top by gaining the trust of our clients. From a small setup to keeping our mark for joining the list of the best software companies at the PAN India level is a long journey. By putting our policies on top such as transparency, honesty, and on-time delivery we are on the road to achieving more.
Did we just share that?
Sometimes it's hard for us to stay away from bugs. But this is also a big part of our industry. We see every bug related to the project as a challenge. Always keeping good teamwork, 100% commitment, and a never-give-up perspective gives us a way to fix it. This gives great experience to the team which leads us to the solution.
They work with us
We are proud to say that from the small or native brands to India's biggest brands joined hands with us. Our happy client list is our most valuable asset.
● India International Trade Fair (IITF 2019)
● India Trade Promotion Organisation (ITPO)
● HealthKart
● Vivo (Android Phone Manufacturing Company)
● Holisol Logistics Pvt. Ltd.
● Hero Motocorp. (Two-wheeler Manufacturing Company)
● Dr. Lal Path Labs
● All India Management Association (AIMA)
● SetUp Skills
● Onlocum
● Head Field Gulf
● Globe
● GetMeCab
● DirectShip
● MindGain Services
● Omni Pay
● Prasuk (Pure Food, Pure Life)
● ProRise
● Ziffon (Innovation beyond Imagination)
The list is not over yet. These are the few names taken from our long list of happy clients. "AbyM" is not only a software development company for its clients. It's a name of trust and a transparent work atmosphere.
The industry as we foresee
This industry is expanding and introducing new technologies every day. Artificial intelligence i.e. "AI Technology" is opening new gates for all of us. We are living in an era where we must have to learn such great tech to keep our competitors far behind.
On the other hand, social media is also opening boundless opportunities. Almost every person in the world is active on social media using different types of platforms. Social media is also evolving every day and giving us a way to improve our personal and professional life.
A day without Internet
In this 21st century, we are always in touch with the internet. No one can say that they are not using it. If it goes down the whole market will collapse in just a matter of seconds. But if you will look on the other end, it will help people to activate their social life. As a supreme species, we "Homosapien" or in general talk humans are very adaptive and adjustable according to the situation. We will surely find a way to entertain ourselves, grow our business, and earn livelihoods by other means.
Lastly, are you hiring?
Yes!
If you are relevant to this industry, have the passion to grow, and want to learn new things, the "AbyM Technology" welcomes you.