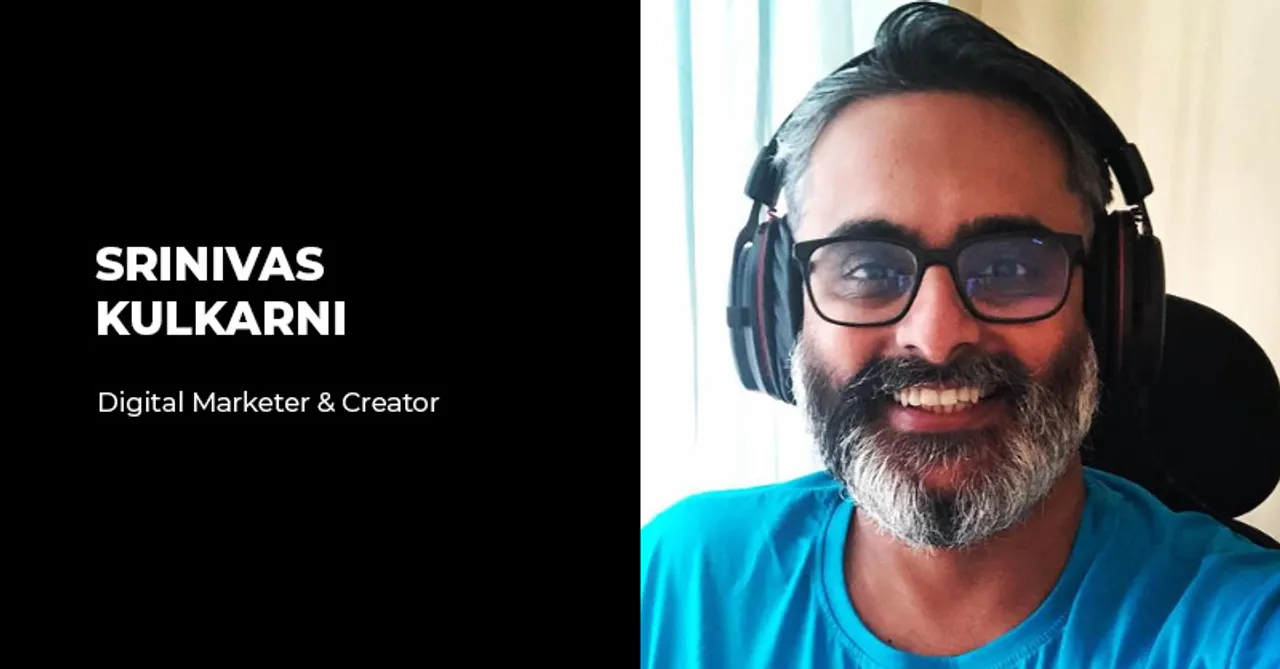 Srinivas Kulkarni - Digital Marketer & Creator, talks with Shiva Nandy and Piyush Kumar discussing how PC gaming events help reach a larger audience online, advertising and marketing opportunities at these events, and the future he sees for the online gaming industry
"I'm a Gamer Forever!" If you're reading this article, you know what that means! When I was a kid, I played on those 8-bit consoles and grew up to the PlayStation and Xbox and still continue PC gaming as an adult! 
Though I still have that nostalgia about gaming from back when collective PC Gaming and, for that matter, LAN Gaming was only found in Gaming Cafes across the country! One of which I ran at the age of 19!
Back then mobile and smartphone gaming was what you'd probably find in sci-fi movies like how we think of Ready Player One to be the thing of the upcoming Metaverse future! Well, other than Snake and Tetris.
Thanks to the pandemic, I got hooked to these amazing Esports and competitive gaming events with young, multi-talented players fighting for personal glory, fame, and of to represent the country!
And one such PC Gaming event(s), was the Skyesports endeavour to #BringLANBack! 
I was mesmerized by how well these events created excitement among the PC Gaming community in India, thanks to a game by Riot Games called Valorant, which was launched over 2 years ago and has given an apt term #SouthAsiaArise its true meaning!
But why are we reading about this here?
Rise of E-Sports & Gaming in India
With the rise of Gaming, Esports is a HUGE opportunity for brands and marketers to tap into this as we move into the new decade!
For a country with over 1.4 Billion folks with over 50% internet penetration and so on, this is a huge WIN for brands. A target audience that is not just into playing the games but also watching them online on YouTube and streaming platforms like Rooter Akin Twitch of India, and claims to be the biggest Esports and gaming community in the country.
Valorant was one such 5 v 5-player (First Person Shootout) game that built Gamers, Content Creators who started streaming this game on YouTube / Rooter as well, and for various brands to get involved in sponsoring these content creators!
And then of course, professional Esports players playing for various teams and people watching them play, just like you'd watch any other sports on TV!
Just speaking of numbers here, the Esports industry in India is slated to be an INR 1100 crore industry by FY25 (Source: ET) These are largely driven due to mobile and smartphone growth in the last decade or so, and tier 2,3 audiences becoming rock stars in those games and tournaments. 
The PC gaming community, which had stagnated due to the mobile and smartphone growth, got a fresh new life after the pandemic and PUBG Ban in India!
Along came Valorant and things changed for the better
And with the likes of Rooter and YouTube giving content creators as well as professional gamers a platform, clearly, this game Valorant, as well as PC Gamers and YouTube streamers, went on the rise! 
And in this article, I'm going to talk about how Skyesports, powered by AMD and Rooter, took this game and its community to greater heights through their LAN event(s).
Valorant and its community 
Ever since the game launched a couple of years ago, it created a huge buzz, especially during the pandemic and for teams to reclaim their glory in the PC gaming space!
In fact, there is news of it becoming larger as the years come, with Riot Games announcing a franchise system which will attract a lot more audiences, sponsorships, branding as well as audience that sticks around!
For now, the success of it in India is thanks to tournament organizers like Skyesports, The Nodwin Gaming, and The Esports Club, who started hosting some really serious gaming events with prize pools as high as $30,000 and some being gateways to host qualifier events that allowed South Asian teams to compete at APAC level.
Last year, all this was done online, this was the first time, Skyesports did a physical event with limited audience and being the first Valorant LAN event in India with audiences! 
They also roped in content creators, YouTubers, and Influencers to play the game, create VLOGs, and tapped into their large audiences!  
The Skyesports LAN event journey
I had a chance to interact with Shiva Nandy, CEO, and Founder of Skyesports Gaming, which made for an interesting conversation! 
Skyesports was founded in November 2018 with the goal of strengthening the Esports ecosystem of the country. According to Shiva, they identified that while Esports was growing, this growth was focused on the tier 1 cities of India, and they wanted to bring Esports to regional markets and target the grassroots of the country, which is what they have been doing for nearly three years now. To do this, they have been creating their own IPs instead of licensing western IPs in India.
Their business model revolves around finding sponsors for our competitions such as AMD and Rooter who believe in their vision and have signed long-time deals with them to further the growth of this in India.
In 2021, alone Skyesports had some really staggering numbers in terms of overall viewerships for their online tournaments hosted across different games, both mobile and PC.
From having 4.01 million views in July 2020, Skyesports' YouTube Views have crossed 142 Million views today, is a HUGE jump! 
Attributed to the sudden interest in Gaming and Esports, and watching it online during the pandemic helped the spike!
"With lockdowns around the world, the pandemic introduced a lot of non-gamers to the world of gaming and esports. We also focused on tapping these non-gamers during these past few years by executing regional tournaments for different games and ensuring our tournaments are broadcasted in several regional languages." said Shiva.
In fact, the Skyesports Championship 3.0, for example, peaked at a little over 221,000 viewers. This is higher than the digital watching of the ISL 2022 Grand Final between Hyderabad and Kerala Blasters. According to Shiva, Esports will certainly grow to be next to cricket in the coming years as the biggest sport in the country. 
One interesting thing that I found probably to be unique was an OOH advertising for this campaign as well in Chennai! Quite intriguing and first of a kind for this game.
It definitely helped build traction and helped them gain these numbers.
Online these were some numbers for them
Highest CCV: 30,000 (Concurrent Viewers)
More than 10 million total views
More than 150 million impressions
In fact, when asked about the future vision of bringing larger audiences to physical events, Shiva said, "I actually have a vision and number in mind for this. We would like to bring 20,000 to 30,0000 people to watch Esports in big stadiums. I certainly think that if executed properly, this will be possible. In terms of online watching, I want to touch that magical number of 1 million concurrent viewers." 
"To achieve this, a focus for us is to tap into casual and non-gamers. And our regional language streams and grassroots-level tournaments have enabled us to do this. We are bringing LAN events to around 10 cities in India, which will enable us to directly connect with a larger audience. In addition to this, we also have events planned in tier 2 and 3 cities of the country to increase our regional penetration." 
Why brands should tap into this growing market
To get a deeper understanding of this, I had a chat with Piyush Kumar, Founder and CEO of Rooter, who is running one of the top brands within the Indian Esports and gaming ecosystem. Rooter, India's biggest Gaming and Esports community that has also recently bagged the media rights for Skyesports and streaming this event across seven different languages on their channel. 
 "From a participation perspective in terms of Esports is very close to a sports event and how reactions are in real-time and how opponents look at each other when they are competing and how Rooter is getting content as well helps create more share of voice! Our primary job is to ensure that this great content reaches millions of people! And the LAN experience has been fantastic, and it's only the beginning! And of course, any event does very well if it's a combination of offline and online, and I think LAN events are that window to the industry!" said Piyush
He further added, "We are already seeing a large number of brands getting into gaming and Esports. At this stage, Rooter is the only platform that is monetizing this content, and we have more than 100 brands for advertising on Rooter every month. It ranges from Intel, which started a few days ago, to gaming brands, to all the apps and digital brands in India."
One thing I found interesting was this bit that Piyush mentioned!
"Gaming and Esports offers an audience which is very unique! Right from 10-12-year-old to 25 years old, which is 75% of the audience. And if there's one medium that they have the highest stickiness, it's gaming. They would be doing a bunch of other things like Instagram, Netflix, and so on, but the affinity of brands can be best built if they're seen around gaming at this stage if brand is looking for such audience. And what I've also seen is pretty much all brands are targeting this young audience as everyone's moving digital, and as brands move digital, they'll need people who've a higher adoption than people taking it slow on adoption!" 
Last but not least, he anticipates a large event with a large audience in a LAN event by, say, around the third quarter of this year! Depending on which city and what kind of an event it is, and what lineup it is. 
According to him, Covid is no longer a deterrent; sports events are happening, music concerts are happening, and people are going to cinemas! The real challenge is can an Esports tournament have that pull, but this year's definitely going to be big for Esports. 
Even tournament organizers like Skyesports, have associations with brands that drive these sticky audiences and ones that take up faster adoption.
"We provide brands with eye-catching activations in all of our tournaments. These advertisements are shown during matches, on our social media content, and between games. Advertising to Esports audiences is very lucrative for brands as they get the chance to connect with a young, engaged, and impressionable audience. Currently, most of the brands we have worked with are endemic ones but we are seeing a trend emerge over the past years with more non-endemic brands looking to enter Esports. Personally, we have worked with Nippon Paint, Disney, Flipkart, and most recently Gillette to execute their marketing goals with huge success," quoted Shiva, of Skyesports!
I also happened to have a chat with the team owners who run the show with teams of amazing players and support staff, and of course, they participate across India and beyond! 
Hopefully will write a few more stories on the Business of Esports, and how branding and marketing plays a huge part in terms of sponsorships as well as visibility for brands and their association within this growing ecosystem!
This article is authored by Srinivas Kulkarni, Digital Marketer & Creator.