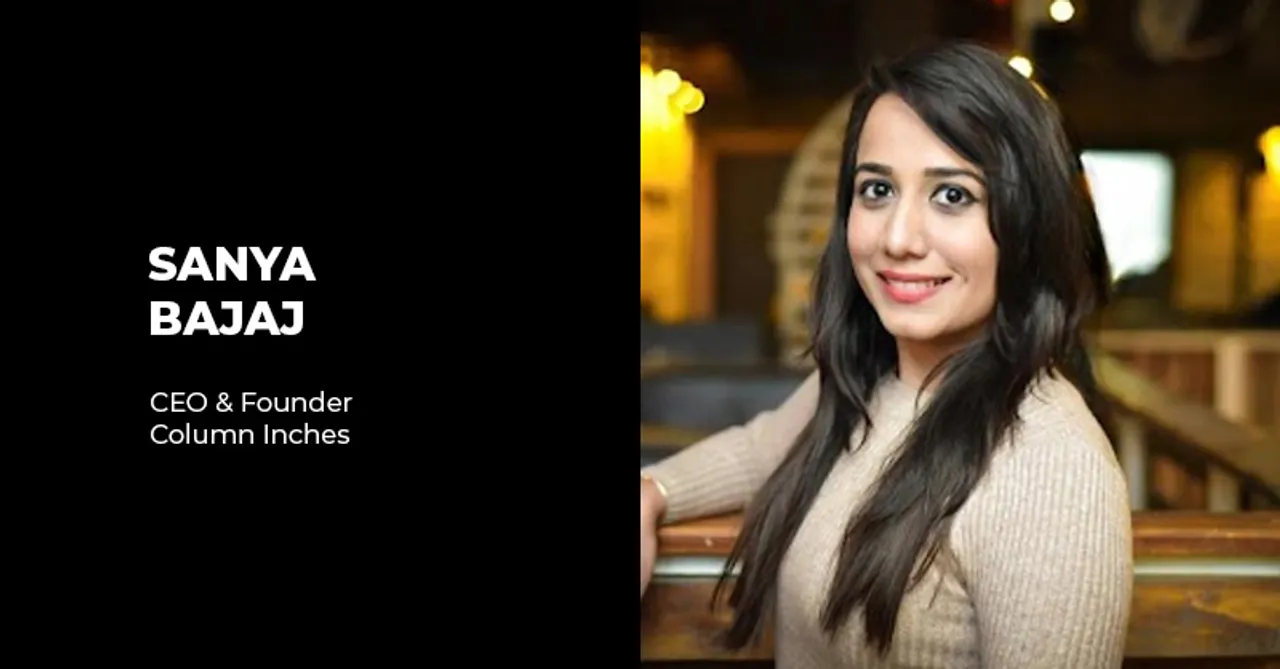 Sanya Bajaj of Column Inches gives a step by step run down on how startups can boost their media relations with the correct pitch in place and how to make this pitch.
Every startup strives to grow, and that requires consistent efforts for promotion. Startups often picture their brand across thousands of media channels, and there is one important technique that can give a company the boost its needs – Media Relations. Whether you are thinking of launching or building buzz around your business, a good media pitch can put you into play to obtain impactful media coverage. 
Wondering why? Simply because PR converts business. Reports suggest – it generates conversion rates multiple times higher than that of advertising. Probably because new-age customers believe in earned media than paid advertisements. Hence, a single news story in a top media outlet can change your game. 
Every day, countless emails are sent out to journalists every time a startup expects to get noticed. On the other hand, journalists receive more than 100 pitches a day and work on tight deadlines. So, getting a media pitch noticed is not a cakewalk. It is a pure play of a thoughtfully crafted media pitch that can turn your startup into a newsworthy piece. 
For many startups, writing a media pitch can be a daunting task, and it is imperative to understand how to create a successful media pitch. 
Embrace the art of storytelling
Consider your pitch as a way of telling your business story, not a tool of promotion. A good story is always motivating on which media takes action. Something straightforward would certainly make it a boring read for media, and so they won't consider publishing it for their readers. Journalists get countless startup pitches in their inboxes, and the best way to stand out in the crowd is to tell a story. Putting thoughts into transferring your journey into words, how it started and how it made an impact on people will intrigue journalists and grab their attention.
Be selective
Before disseminating your media pitch, segment your media list depending on the beat, angle, and category of publications to be targeted. Bombarding the journalists with a series of information or press notes can make you fall in the red spot that will bring little to no response. Thus, find the right media person and do your research to know their style of writing. For instance, a journalist from an A publication might use a neutral tone in writing the story; however, the B publication journalist might use a tone of critics to bring the other side of the story. 
Be brief and structure properly
No journalist has the time to go through hundreds of pitches in detail every day. Keeping it crisp and making sure it captures the gist of the story idea in a short subject line can bring a positive response. Furthermore, media pitches are usually conversational and informal. However, they still should be structured properly. Putting the content in the right sequence can add loads of news values and make it interesting for journalists to go through. In addition, it is also necessary to add a call to action at the end of the pitch. This will be more like a result that you would want to see after the journalist reads the pitch.
Add a strong subject line
A subject line acts as the window to your pitch. There are chances when journalists don't open an email because they do not find the subject line catchy. It doesn't matter how impressive the storyline is; if the subject line is not strong, then the effort of media pitching goes in vain. According to several researches, two-thirds of journalists decide to read a pitch based on the subject line alone. Make it strong, short yet creative.
Understand the need for personalization 
Journalists are in power to publish or discard your startup story. Take time to make them feel valued to give your story news value. Out of countless pitches, if you expect a journalist to publish your story, do not make them feel generic. Address the email directly to them and not to their company. Try to establish a connection, even if it is through social media, it increases the chances of having your email opened, read, and acted upon. 
Each pitch is an opportunity to get noticed in the media. With a beautifully crafted pitch, a startup can present its business story on a large scale and build a relationship with the media. To take your startup to a next level, focus on the pitch and make it attention-grabbing.
This article is authored by Sanya Bajaj, CEO & Founder - Column Inches.