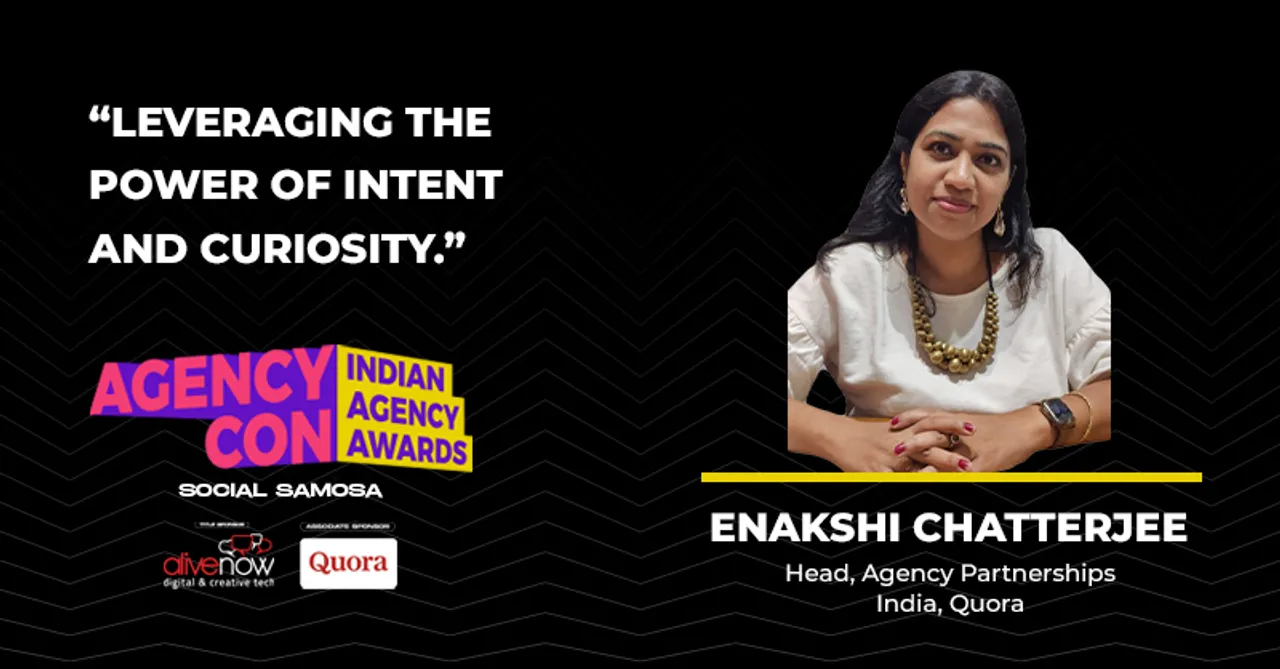 Fill that curiosity gap with just enough content to pique a reader's interest and lure them deeper down the sales funnel, shares Enakshi Chatterjee of Quora India. She shares tips on how to go about it.
Enakshi Chatterjee, Head, Agency Partnerships India, Quora shares her learnings, sharing how the power of intent and curiosity both play a significant role in marketers' life.
Curiosity is a key ingredient in marketing
"We keep moving forward, opening up new doors and doing new things, because we're curious… and curiosity keeps leading us down new paths."

by Walt Disney
Curiosity if tapped into consistently can help build a marketer's repertoire in influencing their customers to consider a brand and product. The main role and goal of curiosity marketing would be to make the customer want to know more about the business, about the product and then channel that intent into driving consideration. Marketers need to constantly feed information, give those teasers out, maintain audience interest, and encourage them to interact with branded content.
Right content + Curiouse audience = Engagement
A mix of the right content paired with a curious audience and you will have high engagement.
How to turn curious minds into potential customers?
"Fill that curiosity gap with just enough content to pique a reader's interest and lure them deeper down the sales funnel. "
Enakshi shares that as marketers, often ideate and think of new ways to tap into a high-intent audience, curiosity marketing can form a very important part because it helps create intrigue which makes the audience want to know about the brand and service.
The aspect of curiosity marketing which makes sense is pushing the right content to the right audience on a relevant platform and doing so consistently.
What engages the curious audience?
In the last two years, creative content has taken the digital ad world by storm. This challenged brands to come up with new and creative strategies and consumers too have found conversations around pure selling exhausting. This is where content marketing shines because businesses over the past few years have realised that one needs to definitely make genuine and empathetic connections with customers be it through webinars, videos, or blog content with inherent value. This is something that the content marketing institute predicts will continue in the future, making businesses invest more in content marketing strategies. A few things to keep in mind:
Content meets Intent
Know the intent before you push your content
Content is more than just words
Use short articles/posts/reviews
Knowing the intent so that one can customize content to the context and content is not just a blog post, it should showcase a brand's voice and help it move beyond traditional character counts and deliver a powerful narrative. With the onset of the pandemic, businesses have come to realise that content marketing can be more than just building brand awareness. If a brand does it right, it can educate its customers, generate leads, and lend the brand a voice in that industry and category.
Heading into 2022, Enakshi feels that marketers need to figure out more strategies of distribution and adopt newer means and tools for the same. On Quora, one can combine a brand's written content and visual content into a single answer or a post lending a powerful narrative to the brand. The presence of a brand on Quora helps in its discovery by a lean audience who come to seek the answers.
The Role of Quora
She shares that typically 100Mn+ audience comes on Quora every month. A number of these customers seek relevant information about the company, their competitors, and more. So, when a brand contributes to Quora, they reach this relevant audience and by sharing answers become relevant to them. This is something that would help the brand to grow the audience on quora, the platform as well as beyond through organic SEO traffic.
Today,
57% of Quora users use the internet to research products and brands
48% of them actually read customer reviews when researching products
Therefore, it becomes easier for a brand to truly engage and persuade a customer who is already halfway through in their buying journey and tap into those conversations and participate.