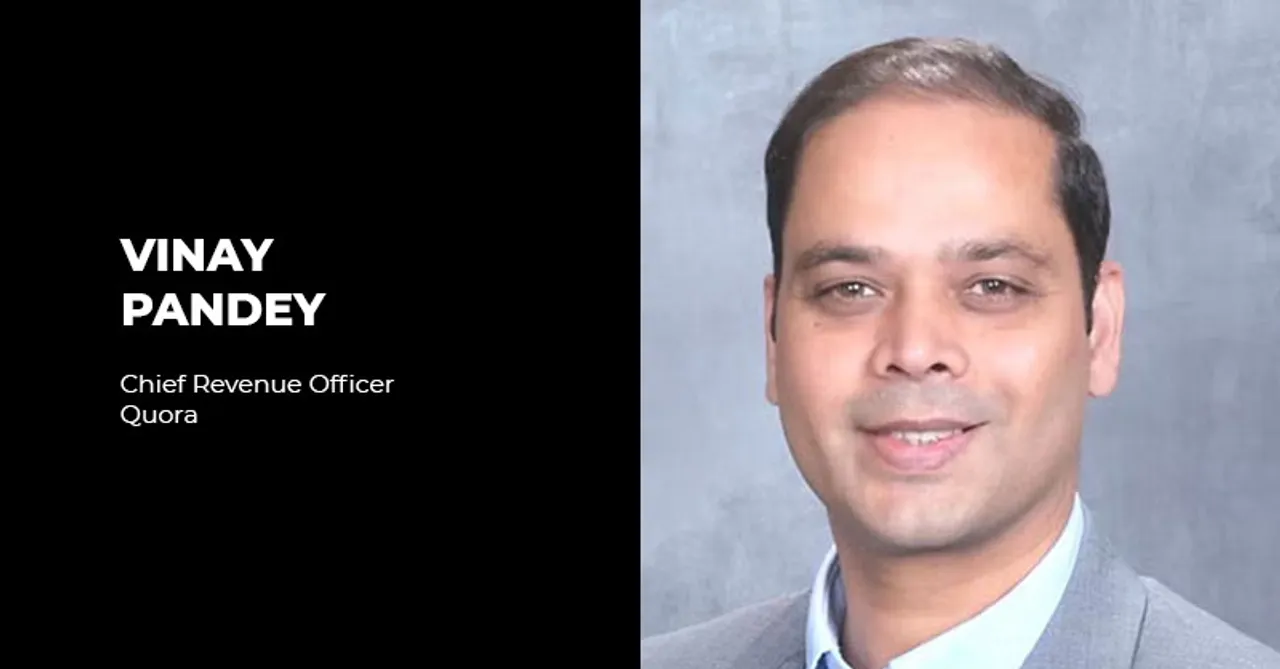 Vinay Pandey from Quora shares insights on how advertising on the platform works, especially in the Indian context as they get bullish on the market and the changing consumer behaviour.
According to statistics, internet users in India have doubled to 76.5 crores over the past five years. As internet penetration gets stronger, the Indian market is seeing newer consumer traits and demographics rise.
"India is interesting with a sizeable young audience on the internet, and almost all regions are digitally native," says Vinay Pandey, Chief Revenue Officer, Quora. He finds the region to be intriguing as its packaged with different flavours, languages, and varied knowledge.
"We're seeing strong performance across regions, and we're still learning and are committed to the market. We spend a whole lot of time observing consumers and changes," he adds.
Pandey further highlights that the audience in India is young, educated, digitally native, mobile-first, and has high levels of disposable income.
The Advertising Chapter
Quora as a platform is based on audience curiosity and this trait is seen in the Indian market as well. As the users on the platform increase, Quora for Advertising too is seeing newer trends.
Vinay shares that India is an important market for the platform, on both consumer and product fronts.
Brands use Quora for conversions, traffic, awareness, app installs, or lead generation. Discussing the objective for Quora's advertising vertical, Vinay states "Globally Quora has 300 Mn users, in India we have about 100 Mn users, actively looking for answers and researching. Brands can benefit from this consumer behaviour, and enter the consideration segment, as the users are already looking for material".
He further explains the kind of value that the platform offers to advertisers and shares examples for context, "Brands can achieve full-funnel campaign objectives. HDFC Life garnered 20 Mn content views and generated leads with twice the CTR that BFSI brands generally get."
Further, the platform offers contextual, behavioural, and other targeting options to reach a tailored set of audiences that can be filtered by location, gender, device type, or mobile platform.
Vinay states that by learning from this consumer behaviour, Quora is best positioned in the middle of the funnel in any media plan. "It is not a search engine where people come when they have made up their mind, and not a platform where people are browsing and have not yet made up their mind, they are researching, and are in the consideration phase."
Vinay explains that a campaign can be best driven by pairing the right ad format for your campaign objective. For instance, if a user searches, "What is the best luggage bag for rugged use?", promoted answer, in this case, would create top of the mind brand or product recall. The format can be tailored by the brand, in accordance with their requirement.
Vinay concludes, "The choice of ad format depends on the objective. There is no one format better than the other, text, image, promoted ads, all formats perform well".