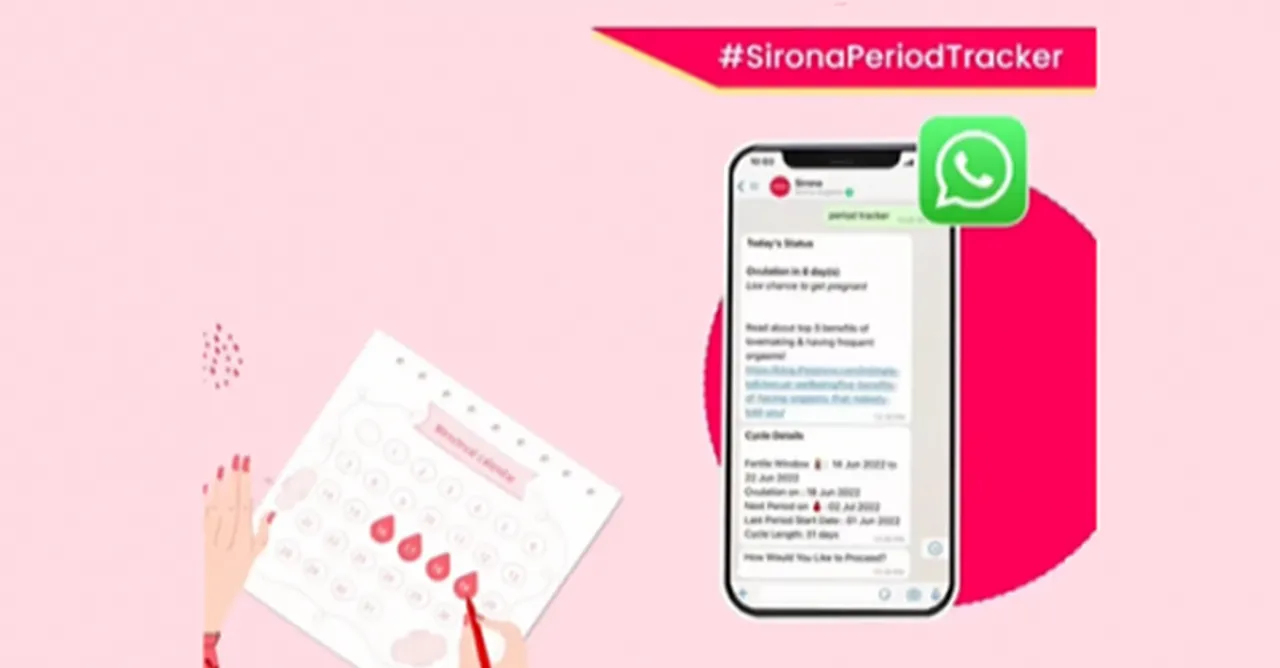 This Case Study takes a look at how Sirona Period Tracker created on WhatsApp for Business, leveraged an app that is already a part of the user ecosystem as opposed to getting them to download another app.
Period trackers aren't an alien concept for the Indian audience. But so far, all the trackers known to the menstruators of India had their stand-alone apps. Sirona a feminine hygiene products brand brought these trackers to WhatsApp and became the first to do so.
Here's a Case Study on how the brand used WhatsApp Business account and reached 1.5 lakh in less than 2 months.
Brand Introduction
The Female Wellness Category, especially catering to intimate and menstrual hygiene, deals with period problems like flow management, leakage, etc. However, there was a slurry of neglected and unaddressed issues like period cramps, chafing or pads, and tampon disposal which not only needed products but also education. Enter Sirona - a brand catering to the ecosystem of feminine needs from puberty to menopause. 
Sirona's content-to-commerce approach includes category education, awareness, and providing a wide range of innovative products at competitive pricing. Sirona innovations range from some 'India's First' products like PeeBuddy (a stand-and-pee device for women) to feminine pain relief patches, heat patches, and cramp relief roll-ons to soothe menstrual pain. It also offers rash-free pads, organic tampons, and menstrual cups- providing the option of choices and information to make an informed decision to manage periods hassle-free.
The brand, started in 2015 as a Female Wellness brand, has evolved to FemTech- now home to India's First Period Tracker on WhatsApp.
Summary
Indian FemTech brand, Sirona, launched India's first Period Tracker on WhatsApp. This service has been launched from the company's verified business account on WhatsApp. The Period Tracker enabled an increase in brand awareness.  
Brief
The idea was to use WhatsApp Business App as a way to make it easy for menstruators to track their periods without using any additional Apps and also increase brand awareness for Sirona as a leading FemTech brand.
Execution
User-friendly WhatsApp-based Period Tracking:
Sirona recognised the need to make the process of period tracking easier, by offering a tracker on the most-used app - WhatsApp. 
This period tracking tool helped menstruators across demographics and geographies to keep a tab on their periods just by dropping a "Hi" text message to the Sirona WhatsApp Business Account. 
For people with feature phones or those who cannot manage a dedicated app for tracking periods because of storage issues & hassle of using another app, this product worked as a solution. 
The Period tracker could be used to track three goals - track periods, conceive, and avoid pregnancy. Once the menstruator entered basic details about their periods and last period details, the chatbot would keep a record and share reminders and upcoming cycle dates as per the user's goal.
The bot-led conversations helped users advice pertaining to the phase of the cycle they were in. In addition to this, users could also read educational blogs and purchase related products from the Sirona catalogue.
The motive behind collaborating with WhatsApp was that it has become an integral part of personal and professional lives. It offers the benefits of quick connectivity and convenience, making it a preferred channel for engagement even for brands. Offering a key feature like period tracking that all menstruators need, Sirona is offering another service in this category as a part of its efforts to create an ecosystem around menstrual health and hygiene.
Results
Sirona's social media presence on Instagram and YouTube alongside media dissemination through national and regional outlets helped generate awareness of India's first WhatsApp period tracker. 
In the first 3 months of its launch, over 1.5 lakh users had used the period tracking service on the Sirona WhatsApp account.
"As our world moves into digital and phy-gital space, and growing dependence on technology for shopping, work and entertainment, an essential need like period tracking was solved by curating the Sirona Bot on WhatsApp to track periods. Being a woman, I know how annoying it can be if your periods hinder plans and drop by, unannounced- if you have irregular periods or simply if you forgot your date in the rush of life," said Deep Bajaj, Founder and CEO, Sirona Hygiene.