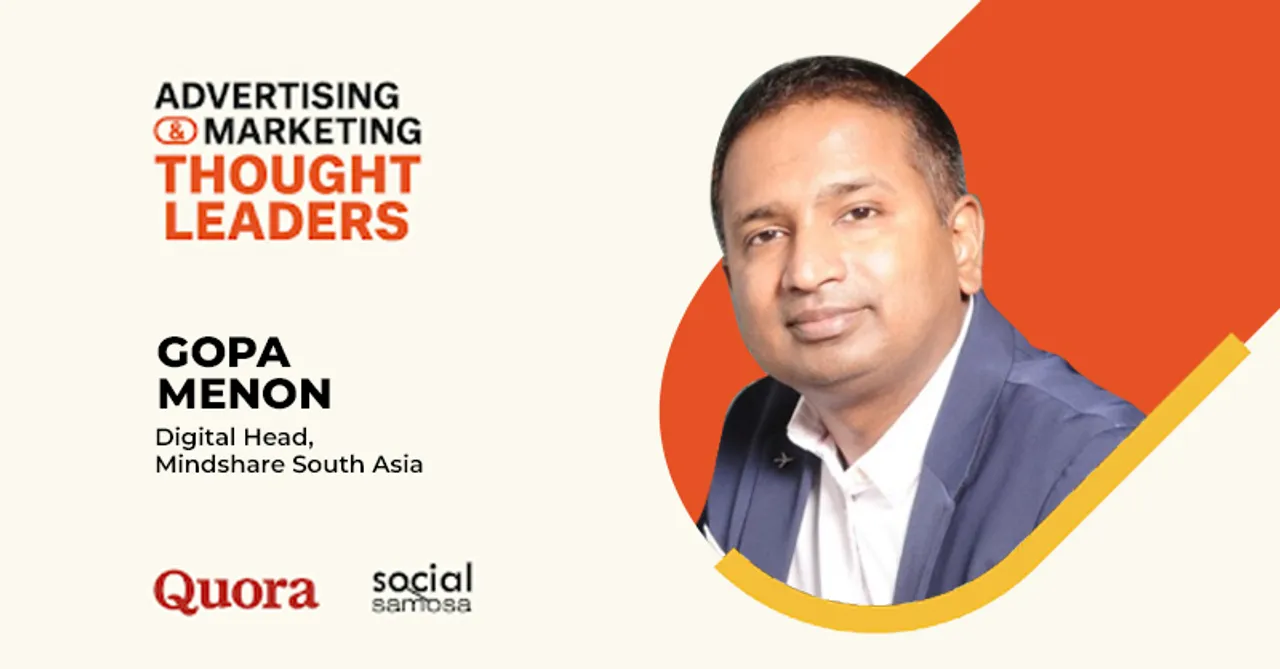 Sharing an insight into the evolving behaviour of the GenZ as consumers, Gopa Menon, Digital Head – Mindshare South Asia explains that brand Loyalty is fickle, instead, they prefer to shop around for the best deal. While Gen Z is price conscious, they aren't as price oriented only.
Gopa Menon further highlights the role of platforms such as Quora and how they occupy an integral place in the users' life.  He highlights that Quora is a huge platform for intent audiences who come together for knowledge exchange and shared experiences. 
Edited Excerpts: 
Consumer behaviour has changed dramatically in the last two years. What are some of the consumer consumption trends that have emerged in the last two years?
Some of the emerging consumer trends in the post-pandemic or new normal world are :
The pandemic has fast-forwarded a decade's worth of digital adoption in a year, forcing consumers and businesses to adopt new digital behaviour. Consumers abandoned their age-old shopping habits and adopted e-commerce & online with open arms resulting in the entire e-commerce category going into hyperdrive. 
Support for Local Business & make in India businesses: We saw people preferring to patronise local businesses and support their financial recovery from the pandemic 
During and Post pandemic: People watching, and streaming online content grew, people continue to watch and stream online content and the popularity of OTT platforms keeps on growing.
As more members of the GenZ enter the working group segment with disposable income at hand, what kind of purchase patterns are seen among the youth?
We have seen Gen Z display the following consumer behaviour: They tend to be very 'informed consumers and they will do their research and weigh all options before making a buying/purchase decision. Brand Loyalty is fickle, instead, they prefer to shop around for the best deal. While Gen Z are price conscious, they aren't as price oriented only. They tend to prefer brands who lay importance on brand ethics and corporate social responsibility. They tend to be drawn towards brand purpose and authenticity. Out of all the generations, they're the most likely to shop via social media and get influenced by Influencers and KOLs
When it comes to shopping - they have high expectations as consumers, both in terms of customer experience and product quality. They like personalised shopping experiences that can be tailored to their own personal preferences. So, for brands to stay ahead they need to focus on customer experience and personalisation becomes important tactics when they are reaching out to Genz. Focused and targeted communication with respect to their privacy will resonate well with these audiences.
While the penetration of digital marketing is way higher than it was 2 years ago - brands still tend to stick to the basics. Any tips on how brands can leverage platforms such as Quora to reach the consumers directly?
What makes Quora unique is that it's not search and it's not social media. It's somewhere in-between, with over 300 million people coming every month to conduct research, evaluate products, ask for tips.
It's a huge platform of intent audience who are coming together for knowledge exchange and shared experiences. This knowledge exchange is conducive to people who are receptive to new ideas and looking to discover new products. This includes people looking for reliable information about a company, products, competitors, or industry as a whole.
For brands to engage with audiences on Quora as a platform they need to be non- intrusive and do these more
Share: contribute to the conversation by adding and answering questions. This is how you will demonstrate your expertise.
Engage: interact with high-intent audiences and potential prospects by being an active participant on Quora. Upvoting, commenting, and resharing answers shows that the brand is interested in being a part of the community 
Thought leadership: gain authority and establish trust on topics by consistently providing valuable answers and a unique point of view.
In terms of social media marketing, what kind of success have you seen on platforms such as Quora?  
I think Quora offers a great platform for brands to tap into a huge intent audience and engage with their consumers. The engagement rate on Quora is on a higher side and since we are talking to high intent audience, the resultant business outcome metric is also very encouraging
What are some of the AdSpends trends seen in this year? Which categories will be the biggest spenders?
I think we have seen a good first half. The categories which are or were spending are e-commerce, fin-tech, fantasy game, Quick Commerce / Delivery service, Edu-tech etc.
A lot of new-age brands in the FinTech, FoodTech & EdTech categories have been actively advertising - any tips on how they can leverage digital marketing in a way that they stand out.
I think while most of them are doing great job at it, in this day and age where everyone is trying to be seen and heard and all of this gets drowned in different or overdose of marketing messages, It will be good for everyone to harness the power of data and tech more for developing solutions which are customised for their consumers.
As consumers get more aware & digital-savvy, the power of intent plays an even bigger role. As a marketing veteran, what is your opinion on the power of intent & how can it be used to drive full-funnel objectives?
At its core, buyer intent data is information about your consumers' behaviour before they even enter your sales funnel. When they click on your ad, visit your site, or fill out a form, you consider these as signs that they have some degree of purchase intent. But in reality, the process begins before prospects ever interact with your business.  
Buyer intent data is information that incorporates what research prospects are conducting online, with a focus on determining interest in certain topic areas. For example, when a consumer reads a news article online, they're considered interested in that topic. Sales and marketing teams can then use that data to better reach out to prospects and deliver a targeted marketing message. And marketers who know how to harness intent data are in a position to improve conversions and revenue significantly. So, I feel Intent plays a huge role in driving business outcomes and brands need to leverage it fully to deliver on their full-funnel objectives.