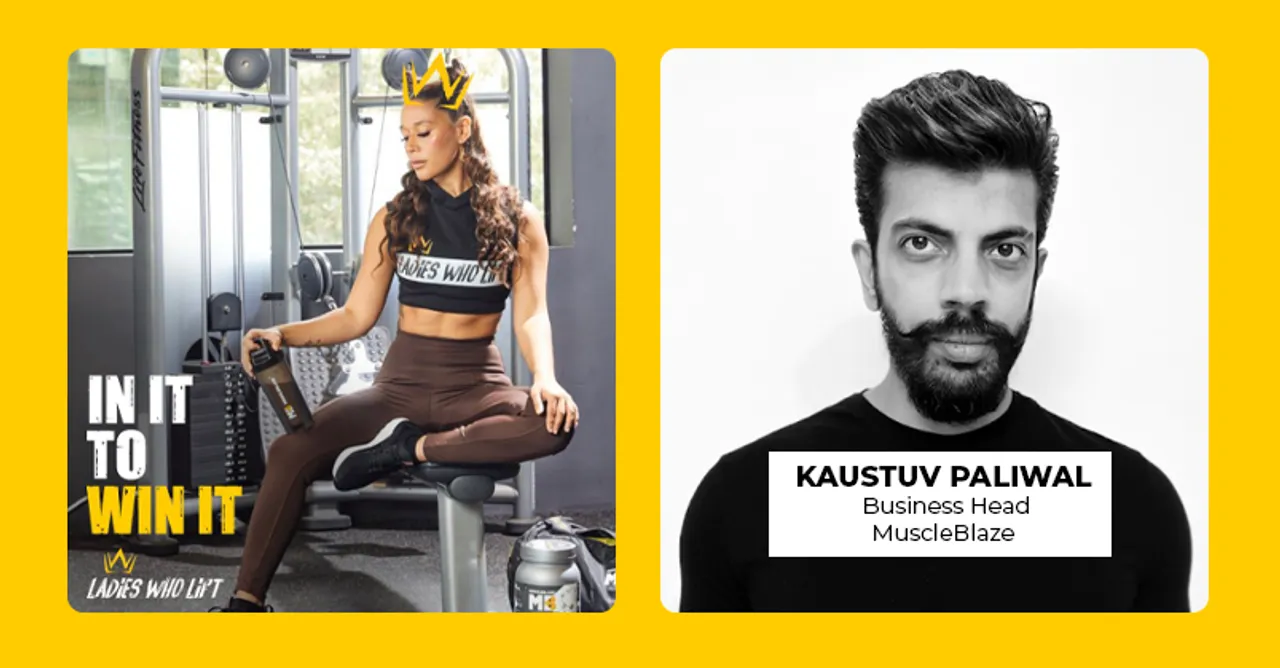 With their latest campaign Ladies Who Lift, MuscleBlaze hopes to break the norms and highlight the women in the male-dominated fitness industry. Kaustuv Paliwal shares his thoughts with Social Samosa
Fitness and bodybuilding, though a very common topic in the sports industry, is still plagued with a lot of myths and misconceptions in the Indian context. Whether it be the sheer act of bodybuilding or the consumption of supplements, due to the lack of exposure to these areas society still hasn't quite digested the reach this growing industry has. 
Contributing to this discussion, Muscleblaze - a company providing sports nutrition supplements and is focused on Indian customer needs, uses its social media platforms to reach their target audience. 
In conversation with Social Samosa, Kaustuv Paliwal, Business Head at MuscleBlaze, speaks on their latest campaign Ladies Who Lift (#LWL) which focuses on the women's unwavering spark and passion for lifting, as we take a deeper look at their social media strategy. 
Crowning the Queens
Breaking the norm of associating bodybuilding with men, Muscleblaze's recent initiative  Ladies Who Lift (#LWL) focused on honouring women in the lifting community. The brand's attempt was distributed on its social media channels by celebrating renowned sports personalities. Talking about the idea behind the campaign Kaustusv said,
"The LWL campaign was ideated keeping in mind the revolution that has taken place in the fitness space. We wanted to honour and acknowledge all those women who have conquered the fitness industry with their ability to exercise and prioritize fitness over everything."
He further mentioned how the industry is a heavily male-dominated industry and with this initiative, the brand aims at breaking these stereotypes.
The fitness industry among women is yet to become an everyday topic of discussion.
MuscleBlsze's TG in India, which covers the age bracket of 18-38 currently only consists of 5% women and according to Kaustuv with active communication with the audience in both the digital & physical world the numbers are expected to grow over 10-15% over the next 2 years. 
A Healthy Approach
MuscleBlaze's Instagram tries to provide its audience's recipes that could fit their daily diet. With whey protein being a staple for fitness enthusiasts, not many in the Indian market are aware of its importance. MuscleBlaze with its social media posts tries to be a guide and friend to all the fitness enthusiasts in the country.
Social media as a whole plays a very vital role in any brand's marketing mix. This same rule applies to MuscleBlaze's strategy as well.
Talking about social media's role in a brand's marketing mix, Kaustuv states, "Social media is used by the brand for community engagement and education to the community regarding our products. Our Key metrics are - Reach, Impressions, Engagement Percentage, Traffic to Website, Traffic to Revenue, Revenue from Social Media, Hashtags usage and mentions.
Fitness is still a largely debated topic in the Indian market. There are many myths about the consumption of protein and supplements. There are also many misconceptions about bodybuilding for fitness & event sports. As a fitness brand MuscleBlaze tries to disciple the myth around the topic which has changed the situation quite a bit says Kaustuv. He also mentions how millennials are also open to the idea of protein supplements. 
Talking about the inclusion of women in the sector he adds, "Even women have started to accept protein supplements as part of their fitness lifestyle which is depicted in our latest campaign film Ni Aar Di which salutes the Indian women arriving in the scene of health and fitness."
Influencer's at the core
The fitness industry in India an on the internet has a very niche set audience. The kind of creators the audience follows and likes to engage with is very particular as well. MuscleBlaze leverages this interest of the audience and partners with the proper set of creators. From collaborating with Vidyut Jammwal for 'The Performance'  to other such campaigns and the usual home workout series that sparked during the pandemic. 
Speaking on the content-to-commerce tactic that the brand follows, Kaustuv says, "Content to commerce is the future of e-commerce and we have ensured we have KPIs around Commerce from content in order to keep teams focussed on the larger objective of revenue contribution." 
Further adding about how the brand segregates and chooses the creators to work with, Paliwal adds, "Since the market is full of creators who might not spread the right information for the sake of garnering views and as a responsible brand we ensure we pick and choose creators who support the right flow of education to their viewers."
The Ziddi Tag
Continuing on the content creator front, the brand has worked out a specific hook for itself - the Ziddi Tag. This tag includes big and small names from the fitness industry in India that have made a name for themselves on the internet. Leveraging the audience's interest in these creators, the brand focuses on its products and their benefits. 
Along with the addition of the usual Ziddi member to the Tag, the brand organizes contests for the audience as well to keep the engagement and interest at a peak. 
Consumer Trends
The fitness industry during the pandemic has gone through many changes and updates which has resulted in significant growth in the sector. When asked about consumer trends seen in the sector after these changes and how MscleBlaze caters to them, Kaustuv gave a detailed breakdown saying,
The wellness industry as a whole is always changing, especially in these COVID times thanks to boutique workout facilities and advanced technologies. However, while discussing consumer trends that have been observed in the fitness sector and have shaped the sector, we may identify a few, such as:  
Acceptance of supplements: Supplements usage has seen an uplift, be It in covid times when people resorted to various supplements for increasing immunity from vitamin c tablets to giloy tablets, having multivitamins regularly to keep deficiencies in check or having a chyawanprash daily. What has it done is opened up consumers to include vitamins and supplements in areas they need help in to cover for deficiencies and lead a healthy life.
Self-Care: Self-care has now become an integral part of life and people have realised that they cannot ignore their health or family's health and it needs a proper designated time in one's lifestyle to focus on the same. People have adopted activities like a home gym, joining activity classes or start playing sports regularly in a post covid period as part of their self-care regimen.
Wearable gadgets that are simple: Before we all experienced the nationwide lockdown that led to the closure of fitness centres, wearable technology was already crucial. However, since the outbreak, everyone has been accustomed to consciously tracking their heart rates, pulses, and daily step counts as well as pushing themselves to continue improving their health. According to the International Data Corporation, the Indian wearables market grew 170.3% year over year (YoY) in Q1 2021, between January and March, shipping 11.4 million devices.
Easy access: Nowadays, technology is essential to customers' lives. Despite the fact that digital fitness is growing quickly, traditional gyms will still exist. Fitness enthusiasts no longer simply show up to a class at their gym and hope they receive a space because they have access to home and digital workouts. They use an app to manage their workout schedules, just like they do for the rest of their life. Also, the industry for online fitness coaching has also experienced growth. Nutritionists and fitness experts are becoming greatly in demand. The market has grown prosperous.
Focused on holistic well-being:  2020 emphasized the need to prioritize both our physical and emotional health. From online yoga and meditation courses to brands that provide holistic solutions, consumers are becoming more and more discerning. This is enabling the sector to change direction, create, and support communities.
Ending the conversation and speaking of the brand's future plans and the involvement in the festive season, Paliwal concludes, "We are completing 10 Years of MuscleBlaze this august. 10 Years of Innovation, Authenticity and being Iconic. The best way to celebrate is to empower our Ziddis and pass on this celebratory mood to our consumers with a big '10 Years of Zidd' sale from 23rd - 27th august. Discounts, Offers and Combos like never before."