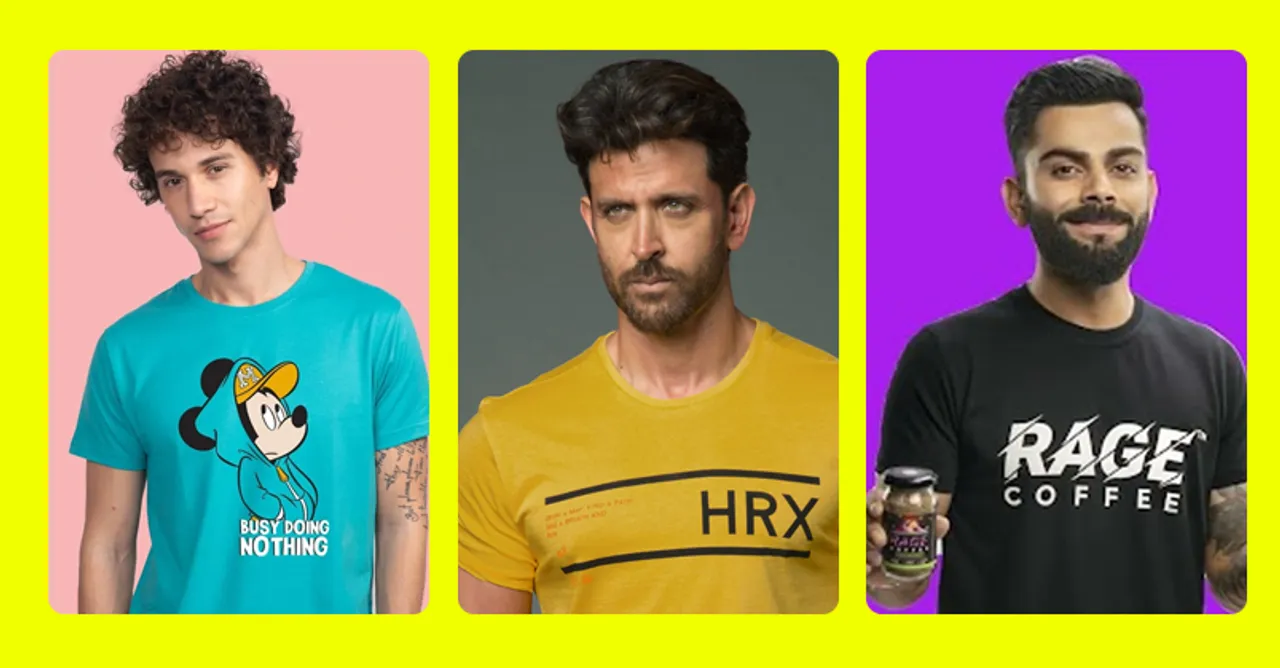 Here we explore how Indian D2C brands have been harnessing conversions through their social media audience and leading their journey from content to commerce.
As content-led commerce does not stop at the primary objective of content marketing which is garnering engagement and building the brand, the core metric that holds the highest significance is sales, and here we explore how brands with a D2C model lead their consumers.
The Business Chapter
The retail market in India still remains to be largely unorganized, and we all observed COVID-19 accelerate the surge of online shopping by multi-folds, and the temporary effect on buying behavior caused a permanent shift in consumer inclination, while brick and mortar stores have bounced back after the lockdown restrictions eased, a substantial chunk of consumers still remain to shop online and prioritize their convenience.
The growing dependence on and consumption of the internet and the evolved consumer behavior conceived the D2C business model, wherein the retail sale strategy of the brand develops, markets, ships, and sells the products directly to consumers.
India is at the forefront of this business model, with 800+ D2C brands as of (April 2021) catering to 100 Mn+ online shoppers and creating a 100+ Bn USD D2C market opportunity by 2025. This section of the retail market has steadily grown since 2015 and has shown no downward trend, with an expected CAGR of 25% during the 2020-2025 period.
The Social Chapter
Social networks are the fundamental advertising and marketing for these brands. Several of these brands, irrespective of their industry, have been built on social media. D2C brands have gone from entering the market with no brand awareness to generating top-of-the-mind recall only through digital mediums, mainly social media platforms.
In a conversation with Social Samosa, Bharat Sethi, Founder of Rage Coffee, stated, "Social media conversations have been key in establishing a connection with the end consumer." He further elaborated by saying that the relevance of the consumer is maintained by focusing on the channel for establishing dialogue and garnering product feedback.
Rohin Samtaney, Co-Founder, of The Souled Store, mentioned, "Over 90% of The Souled Store's marketing budget is spent on digital, which includes Facebook, Instagram, Google, and YouTube".
Rumi Ambastha, Director - Brand Marketing, The Man Company, reckoned, "Today you are living and breathing digital given D2C brands are consumer-focused". She further added that an additional advantage is that direct to consumer marketing is that the message is out there at the right time.
Hrithik Roshan, Co-Founder of HRX, told Social Samosa that the brand uses the powerful tool and constantly stays in touch with its fans, followers, and community members with helpful information that aids them in their wellness journey.
The Brand-Building Chapter
Boosting brand awareness through social media has been one of the essential strategies for brands that have no background or recognition. This aspect includes expanding the audience base and community through content, and keeping them engaged to promote offerings as and when required, and often layer engaging content with promotional offerings.
Prabhkiran Singh, Founder & CEO, Bewakoof.com, mentioned, "In line with our brand philosophy of adding lightheartedness to life, we create and post content that is relatable and is around contemporary humor. This has built an organic following for the brand of 4.4 Mn fans on Facebook and 1.5 Mn fans on Instagram".
Hrithik Roshan mentioned, "The vision is set at touching a billion lives over the next few years. We Keep Going, basically. The brand's vision is that it is not just a brand but a mission that helps it enable and support people to be the fittest, happiest, and most confident version of themselves".
The Content Chapter
The cost of customer acquisition and paid media marketing have always been high, D2C brands in this day and age are inadvertently also digital-first brands, which organically creates unification of content and commerce.
The fusion of content and product marketing is the most prominent element of the content-to-commerce journey. Seamless integration of products in consumable formats is the backbone of this marketing strategy. Modern consumers are not inclined towards overtly promotional content or rather content that only has a promotional objective. Alike viewers and content consumers across platforms, all of them avoid ads.
And most D2C brands being social-first brands, are well-versed with this consumer inclination and have formulated content strategies that not just enable product discovery and promote their offerings but also create content properties and build a slate of entertaining or engaging pieces.
Bewakoof.com has constructed a social presence that is packed with relatable memes, comedic sketches, long-format content series by Bewakoof Studio, crossovers of internet personalities or popular web series, a line-up of interviews with popular personalities, and snackable Reels. "Bewakoof was built on social media, and content marketing and memes have been a key strategy for us," states Prabhkiran.
As merchandising and apparel themed around movies and TV Series is one of the eminent offerings by The Souled Store, their social media content is layered with references and dialogues from movies and series that dominate pop culture.
"We want to be known as a brand that mixes pop culture and fashion seamlessly in their products. We're also slowly building a stronger content strategy as well where we have more of a voice on pop culture topics such as films, TV shows, cartoons, etc. We also place a strong emphasis on the way we speak online – our tone and voice," shares Samtaney.
Although performance is the base of all marketing activities. Sujoy Dutta, Sr Vice President, Marketing at The Souled Store stated "The topic of conversation, and of course, your products need to be valid. We did not approach with the lens of what can we do that makes us viral".
Content-led performance has been a common trait amongst most D2C brands, content and performance are not treated as two interchangeable elements, both support each other. Recently, HRX leveraged its community to create a Reels challenge that organically received 6 lakh+ views from 5 videos created in-house and received 316 entries from the brand community that went on to generate sales of over 3,000 audio products.
The 316 participants resulted in a 1,14,707% spike in content interactions + 336.8% spike In accounts reached, a reach of 18 lakh+ on Instagram, and over 4 lakh views on Instagram.
The Next Chapter
Pallavi Barman, Business Head & Fitness Ambassador, HRX, recently at Modernizing Biz Podcast, mentioned the brand had hit an 800 Cr mark whilst purely remaining an e-commerce brand. The Souled Store has over 4 Mn customers.
Several other brands in the start-up phase are receiving matured rounds of funding and are experiencing elevated product sales. With a concrete content-to-commerce strategy, D2C brands are on their way to unlocking the 100 Bn USD market opportunity.