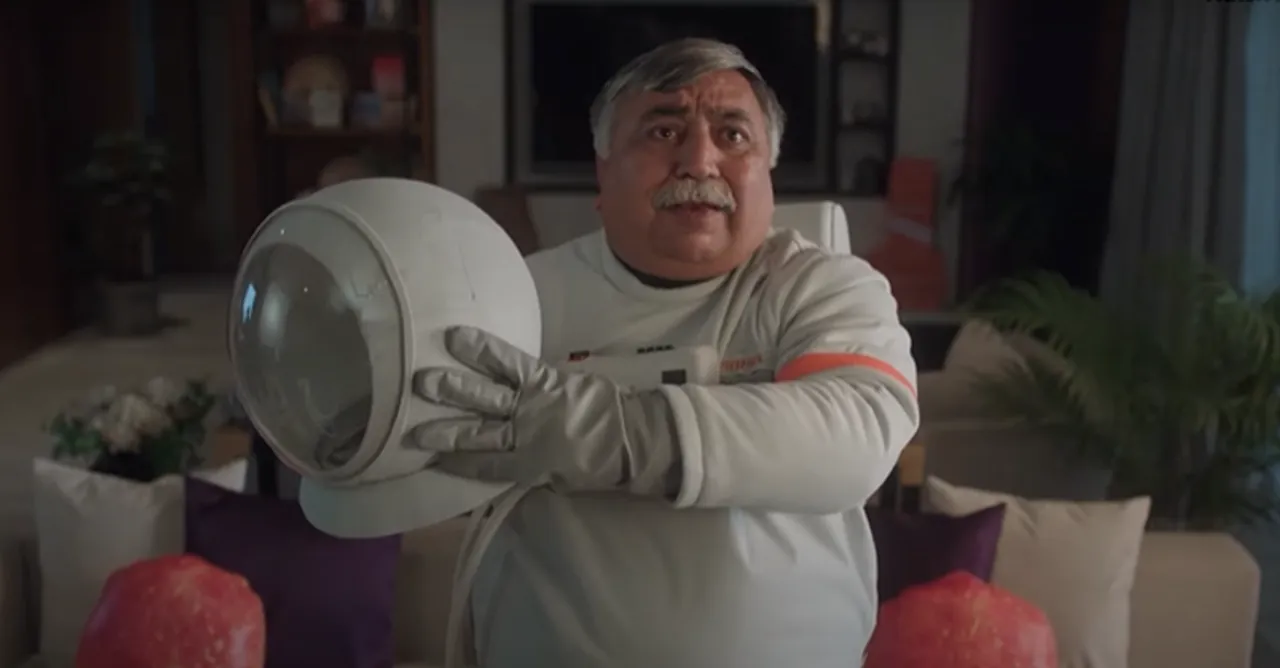 Using the best potential of UGC format, Swiggy asked the audience a simple question - 'Why Is This A Swiggy Ad?' and had thousands talking about it. Here's a Case Study on all the details of this campaign.
Recently Swiggy, the food-delivery app, came up with their extensive campaign titled - 'Why Is This A Swiggy Ad?'. Quickly, this single sentence gained much traction on the internet and had the users confused. This user-generated campaign (UGC) had thousands of people discussing a simple question on a live stream and more. This case study explores how exactly the brand pulled this off.
Category Introduction
Founded in 2014 as a food delivery platform, Swiggy has slowly become the platform with every convenience at your fingertips - with its quick commerce offering Swiggy Instamart and its Pick Up and Drop service Swiggy Genie. 
Brand Introduction 
Swiggy's mission is to elevate the quality of life for the urban consumer by offering convenience. The brand has partnered with over 200,000 restaurants spread across 500+ cities in the country. Swiggy also offers instant grocery delivery service Instamart, pick up and drop service Swiggy Genie, meat delivery, and daily grocery delivery service Supr Daily.
Along with the product innovation and ongoing pivot of the business model, Swiggy has also been at the forefront with its marketing playbook. Its campaigns over the years have been talked about for their engaging creative storytelling, with a notable loyal fan following on its social media pages.
Summary
In the second week of October, Swiggy launched their campaign, 'Why Is This A Swiggy Ad?' through OOH, front-page print ads across top metros and on social media. A single picture that made the internet speak a thousand words. A brainchild of Talented, "WITASA", has evidently since then, seen nearly 800,000 people participating through their own theories, Livestream debates and online discussions, all wondering why this was actually a Swiggy ad. WITASA is now Swiggy's most successful UGC-first campaign so far, reminding us of what advertising is really about: getting attention. The attention that made "Why is this a Swiggy Ad" one of India's top searched questions on Google that week.
Problem Statement/Objective 
Swiggy has become such an integral part of your lifestyle. Beyond just-food. Whether it comes to your dating life, eating habits, PG life, budgeting, work-life etc. there are clear traces of Swiggy now being a core part of it. It has even become part of mainstream pop culture in a way that is not functional but instead entertaining. It's called 'Swiggy Culture'. It's the culture, codes and new behaviours that come with using an app like Swiggy.


Brief
Bring alive the 'Swiggy Culture' and establish Swiggy as the pop-culture brand amongst Gen-Z and millennials by generating conversations and earning media attention for the brand.
Creative Idea 
"Why Is This A Swiggy Ad?" - a user-generated imagination campaign, where one image turned the advertising premise on its head and made Indian Gen-Z and millennials forget about their short attention span - all through thumb-stopping visuals and an engaging airtight social plan.
Challenges
Will they see it?
Will they get it?
Will they keep guessing?
All questions were at the top of TALENTED's mind, every day since the idea was conceived but a good social and influencer plan could easily tackle that. 
Execution 
'Why Is This A Swiggy Ad?' was launched through print, OOH, and social media - all leading to whyisthisaswiggyad.com. The campaign website was designed to help fans of the campaign explore each element in extreme detail, and unlock hidden clues to help them crack the mystery. Users could participate with their best and weirdest theories through Twitter, Instagram, and LinkedIn to win ₹1 Lakh Swiggy Money. 
Swiggy even made fun posts to showcase the lovely entries they were getting throughout the campaign with fun formats along with paid partnerships with the right mix of influencers to get maximum eyeballs on the campaign.
Results 
Over the course of 8 days, people on the internet (and off it) racked their brains to come up with the most interesting theories. From long Twitter threads, and 3-scroll LinkedIn posts to mind-boggling videos, and at one point - hundreds of thousands of people on a live stream discussing the ad. The more discerning participants even discovered that they could unlock the full ad through a cryptic password. But were any of their theories correct? 
"Why is this a Swiggy Ad" became one of India's top searched questions that week on Google - one even Google couldn't ignore talking about!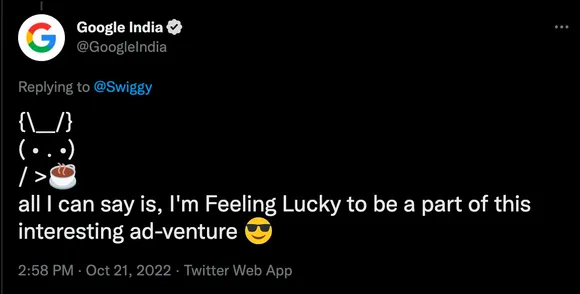 Swiggy then dropped a video to announce ten winning theories, and in true spirit of the campaign's absurdity, the video is possibly the strangest thing you'll see on the internet today. In what's a genius use of a brand icon, Gulab Jamun uncle - who we've seen thus far on the WITASA illustration, came to life… in what's likely to be his weirdest role yet. 
Followed by an 18-minute long video where uncle announced winners at sporadic intervals, so users had to watch the whole video to figure out if their theory won. There are 10 winners in all who took home ₹1 Lakh Swiggy Money. Who made the cut? Find out here:
Speaking of starring in this video, Gulab Jamun uncle aka Naresh Gosain says, "I've done so many Swiggy films. But this one honestly has been the weirdest. Even until the day of the shoot, I couldn't understand why I was doing what I was doing. They also put me in a space suit. But I think they were happy with my performance, and that's all that matters."
Ashish Lingameni, Head - Brand, Product Marketing and Sustainability at Swiggy adds, "Among our many objectives with WITASA, the biggest was conversations, the share of Voice and engagement. This campaign has been fulfilled beyond expectations. There's also science to this madness. Swiggy food delivery, Instamart and Genie are all top of mind through just one campaign and that's what defines the success of this campaign."
PG Aditiya, CCO and Co-founder, Talented says, "No other brand could have done this campaign. It took a brand that had immense existing brand love, woven into our cities' cultural fabric & with tons of personal memories for each user to qualify for something as absurd as this campaign. To us, WITASA is design-thinking & culture-marketing at its best. It also proved that Gen-Z has longer attention spans than we think. You, me, all of us - we all became Swiggy's ad agency for a whole week. And while we've (kinda) answered the burning question… we won't blame you for not being convinced. Maybe we'll never know why it was a Swiggy ad. But as long as we keep thinking about it, we're answering our own question." 
Creative Agency: Talented
Illustrator: Nishikant Palande
Technology Partner: Web Dimension (Kalpit Dwivedi)
Production Partners: Rooted Films, Trinity Films 
Content Partners: Stonk Studios
Content & Distribution Partners: Youngun India