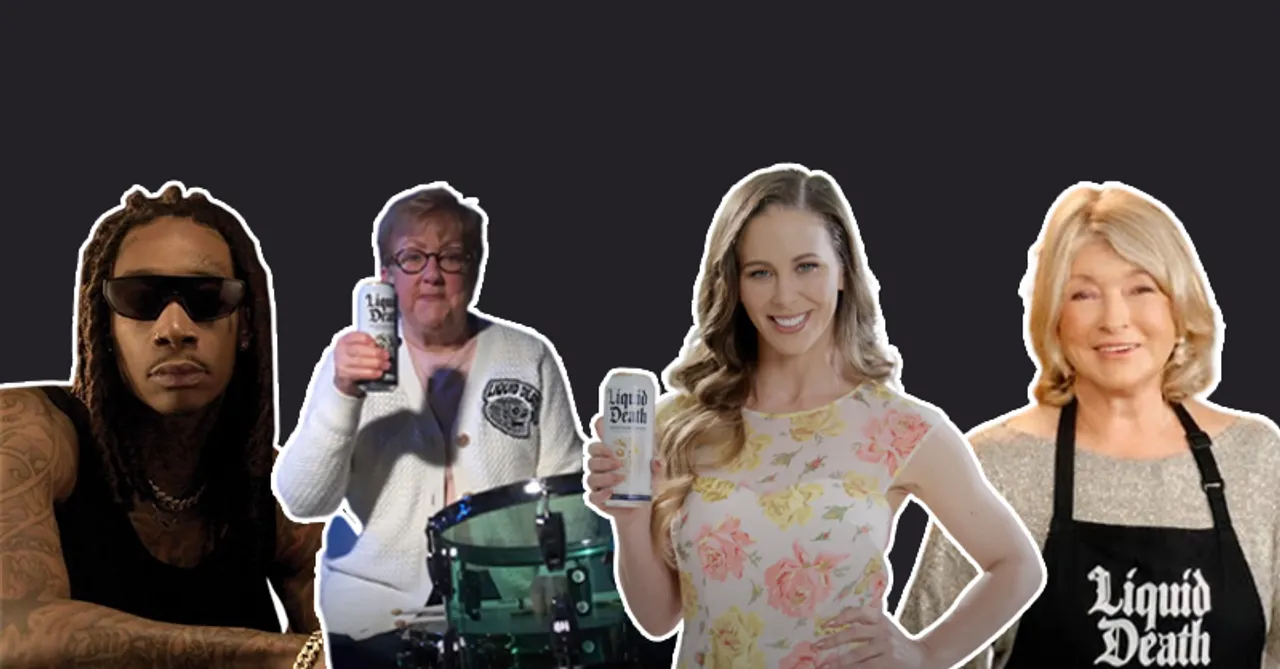 Diving into some of the best campaigns of the mountain water brand, get a view into the elements under the surface of Liquid Death content and campaigns.
The brand that describes itself as "just a funny beverage company who hates corporate marketing as much as you do" stays true to its essence till the last drop. Liquid Death marketing campaigns can very well be mistaken for a meme page's content or a brand playing a prank on April Fool's Day.
It has launched to the mountaintop in terms of awareness and consumption in a relatively shorter span since being launched in 2017. Packaged in aluminium cans, the brand is valued at 700 Mn USD after recent funding.
Mike Cessario, the former Creative Director at Netflix, and the Founder of Liquid Death has given the brand a unique direction in terms of marketing that leads to conversion. His vision and inclination have put the brand on a path that he himself paved, and it has got to do more with his understanding of consumers.
He realized that 98% of consumers hate marketing, and making people laugh was the way to have a deeper connection with the consumers. Sustainability and healthy habits are at the center of this approach.
In a conversation with Marketplace, he mentioned, "We're trying to make health and sustainability 50 times more fun. Typically, all the most fun, hilarious marketing over the last 30 years is all for junk food — alcohol, energy drinks, candy. Like, what is the funniest campaign most people remember? It's Bud Light, Snickers, Carls Jr., whereas healthy food doesn't really ever market in that fun, irreverent, youth culture way".
The Bold Campaigns
From Wiz Khalifa and Travis Barker to mogul Martha Stewart, the brand has successfully churned out campaigns with personalities that align with the functionalities of their products and brand values. The creative concepts of these campaigns have also maintained the overall tonality despite being tailored to fit each celebrity endorser.
Whether it's the fictional character The Deep talking about marine sustainability, the skateboarding legend Tony Hawk who grounds the brand to its genesis roots, or the adult entertainer Cherie DeVille, all of them have helped expand the reach to different demographics. The brand also tapped the credibility of these individuals to appeal to their fan bases. The association with such renowned figures adds a layer of coolness and cultural relevance to Liquid Death's brand image.
Their bold and opinionated nature takes a strong and hilarious stance on environmental issues, whether it's the cosmetic use of single-use plastic bottles or the medical concerns down at the bottom. The bottled water industry has gotten a run for their money and consumers have been encouraged to opt for sustainable alternatives.
Recycled Plastic Surgery Center Ft. Whitney Cummings
Don't F*** The Planet Ft. Cherie DeVille
Enema OfThe State Ft. Travis Barker
Their Bizarre Content
The unconventional and bizarre content, stands out in the sea with dark and humorous elements, poking a laugh at the traditional marketing tactics of bottled water brands. This approach has resonated with younger demographics who are more digital savvy. The brand's content strategy includes humorous social media posts, engaging videos, and unconventional advertisements.
The edgy branding and unconventional approach are characterized by a nonconformist marketing strategy. Humor, irreverence, and a rebellious attitude have appealed to the younger audience which resonates with their messaging.
Celebrity endorsements and partnerships with influential personalities have provided a powerful platform for their voice, to reach and engage with diverse audiences. This strategy helps increase brand awareness and also reinforces the brand's unconventional image.
Murder Your Thirsty
Beef Up Your Hydration Game
Safe Hydration
Hoop Heads
The Mountain Top
This strategy breaks the mold and norms of the bottled water industry. By leveraging endorsements, bizarre content, and bold campaigns, the brand has fostered a strong brand identity. The brand's alignment with environmental causes and focus on sustainable packaging resonates with eco-conscious consumers who seek alternatives to plastic bottles.
This has propelled the brand in the highly competitive water industry. Liquid Death continues to carve its niche as a fun and environmentally conscious alternative in the world of canned water. This has helped Liquid Death rank 1st among 109 active competitors, according to reports.